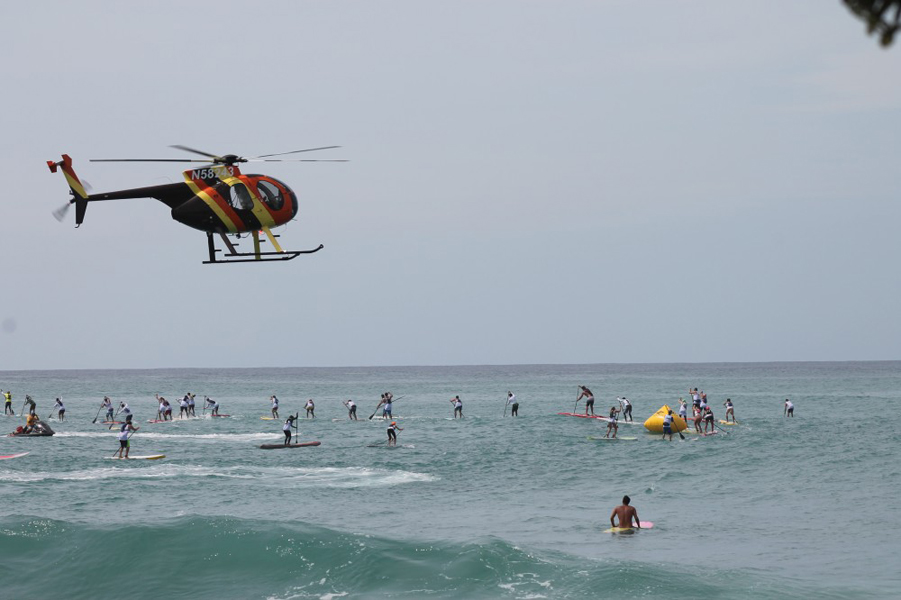 October 13, 2013
by Christopher Parker (@wheresbossman)
World Series Finals: Jake Jensen Wins The Weekend, Kai Lenny Wins The Sprints + Steals The Overall 2013 Title From Connor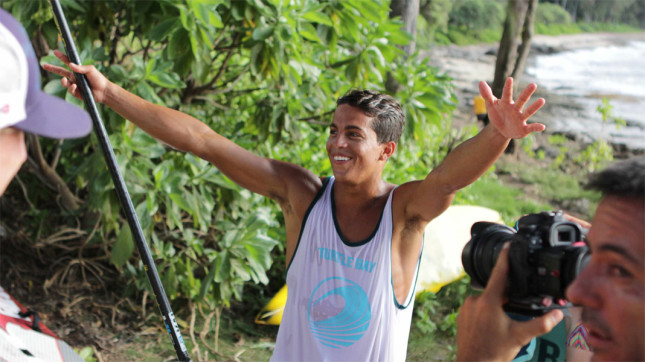 Day Two UPDATE: Jake Jensen Takes The Event While Kai Lenny Survives The Waves, Just, To Win The Sprint Race And Steal Connor's Overall Season Title In The Process
Kai Lenny has just won the 2013 Stand Up World Series title in rather dramatic fashion, claiming today's sprint race while Connor finished in 7th, which was enough to change the overall standings for the year right at the final moment.
Kai had all the work to do in the sprints: He had to win and hope Connor finished 6th or worse. It was an unlikely scenario but the Naish superstar had a simple strategy: gun it for the lead and hope Connor would get caught up among the other six elite guys who'd made the final. And that's exactly what happened…
For much of the sprint race final, which consisted of two laps around a relatively short course in and out through the solid waves, Kai Lenny led the pack while Connor, who in fairness has been battling serious back pain all week and had to will himself through this event, struggled to find his rhythm and get past the likes of Jake Jensen, Casper Steinfath, Mo Freitas, Paul Jackson, Arthur Arutkin and Vinnicius Martins, who shared the final with himself and Kai.
UPDATE: Check out the World Series Finals VIDEO Highlights  to watch the drama
Connor has dominated the 2013 season, claiming six of the eight regular-season World Series events in the lead-up to this weekend's "Finals" while Kai has taken the other two. In many sports that would seem enough to have the overall season title wrapped up ahead of time, but the Stand Up World Series uses a rankings system that was apparently drafted by a script writer, as it basically meant everything came down to the final lap of the final race of the final event… and what a final lap it was.
Kai Lenny, comfortably in the lead, rounded the final buoy and looked set to surf over the finish line for a victory. With Connor struggling to puncture the field, it looked like the impossible would happen and Kai would snatch the 2013 title at the last second. But then the set of the day rolled through and Kai had no choice but to drop into a bomb wave…
Despite being the two-time SUP surfing world champ, even Kai couldn't hold his 12'6 board through this one, eating it at the bottom and leaving the crowd gasping as they all assumed his legrope (or board) would be snapped in half by the time he surfaced. But somehow Kai's equipment stayed intact and, even after taking another set on the head and then having to scramble for his paddle, was still in the lead just 100 metres out from the line.
UPDATE: Check out a close-up of Kai Lenny's Epic Wipeout
By the time Kai was on his feet and able to catch another little wave, France's young gun Arthur Arutkin – who survived the set-of-the-day better than anyone – had caught right up and looked set to spoil Kai's miraculous win… But in a sprint to the line, reminiscent of Kai's performance exactly twelve months ago in the same place, the Maui boy held on to win by half a nose and take the sprint race victory.
From there, Kai had to wait half a minute until the next group of guys crossed the line; Jake and Casper – locked in a personal battle for the end-of-season #3 ranking – had caught one of the big set waves behind Kai and suffered a similar fate. Jake recovered fastest though, crossing in third to secure the overall event victory as well as the #3 ranking for the season. The Aussie young gun was followed by his training partner Paul Jackson, with Mo Freitas in 5th and Casper Steinfath 6th.
Then came Connor Baxter in a position he doesn't usually find himself: 7th. That gifted Kai Lenny the 2013 Stand Up World Series title and capped off an incredible final day of the season, one the organisers of the World Series couldn't have scripted better if they tried.
Jake Jensen's mightily impressive overall win for the weekend suggests that 2014 could see a slightly different dynamic than the one we witnessed this year, where the World Series turned into the Kai/Connor show. There were also very strong performances from rising star Casper Steinfath as well as the "old guard" veteran Paul "Jacko" Jackson, who took fourth in the sprints and third place overall for the weekend.
Meanwhile in the women's race there was just as much carnage as the ladies battled with the solid waves all day. In the end it was France's Olivia Piana who took the sprint race win after a tie-breaker for first with Mariko Strickland. Though after her dominant display yesterday Mariko still did enough to take the overall event title ahead of Olivia and Australia's Angie Jackson. The Aussie would later step up on the podium to claim the runner-up trophy for the overall 2013 season, behind the uber-dominant Annabel Anderson (who was so far ahead after the regular season that she didn't even need to compete in this weekend's event).
So there you have it, Kai Lenny and Annabel Anderson are the World Series champions for 2013, defending the titles they won last year and capping off a stellar couple of weeks (they both won a little race called the Battle in case you've forgotten…).
Anyway the unofficial results are below and you can also scroll down for the recap, results and pics from Saturday's Distance Race. We'll have the official results and some very, very entertaining photos of the action up by Monday afternoon.
Men's Sprint Race
1st: Kai Lenny
2nd: Arthur Arutkin
3rd: Jake Jensen
4th: Paul Jackson
5th: Mo Freitas
6th: Casper Steinfath
7th: Connor Baxter
8th: Vinnicius Martins
9th: …
Men's World Series Finals overall event results
1st: Jake Jensen
2nd: Kai Lenny
3rd: Paul Jackson
4th: Connor Baxter
5th: Casper Steinfath
6th:…
2013 Stand Up World Series OVERALL SEASON results
1st: Kai Lenny
2nd: Connor Baxter
3rd: Jake Jensen
4th: Casper Steinfath
5th: Zane Schweitzer
6th: Kody Kerbox
7th: Mo Freitas
8th: Paul Jackson
9th: Eric Terrien
10th: Noa Ginella
Women's Sprint Race
1st: Olivia Piana
2nd: Mariko Strickland
3rd: Halie Harrison
4th: Angela Jackson
5th: Lara Claydon
Women's World Series Finals overall event results
1st: Mariko Strickland
2nd: Olivia Piana
3rd: Angela Jackson
4th: Halie Harrison
5th: Noelani Sach
Women's 2013 Stand Up World Series OVERALL SEASON results
1st: Annabel Anderson
2nd: Angie Jackson
3rd: Olivia Piana
4th: Halie Harrison
5th: Noelani Sach
(scroll down for results from yesterday's distance race)
Day One UPDATE: Jake Jensen Smashes The Field To Claim Distance Race While Connor Holds Off Kai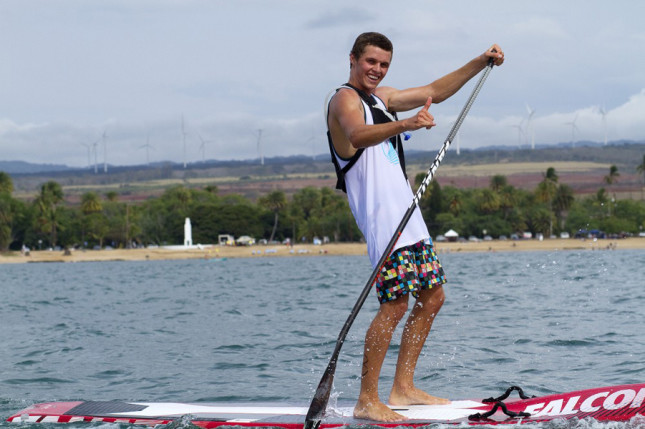 Jake Jensen has just won the Long Distance event on the opening day of the World Series Finals. The Aussie young gun defeated an all-star field to take out the race on Oahu's North Shore, beating home local ace Andrew Logreco. Meanwhile Series leader Connor Baxter was third ahead of key rival Kai Lenny, while another Aussie Paul Jackson performed very strongly to round out the top five.
In the women's race it was Kauai's Mariko Strickland taking the win after a surging paddle in the second half of the race. Mariko finished four minutes ahead of Angie Jackson from Australia, who had led for most of the first half, while France's Olivia Piana rounded out the podium.
Although Jake Jensen stole the show today, Connor's finish puts him in a good position to win the 2013 Stand Up World Series title tomorrow. Kai Lenny, the only other guy who can realistically win the overall season, now has to get 1st in tomorrow's sprints and hope that Connor finishes 6th or worse.
Of course now that Jake Jensen is in red hot form (he also won the recent Huntington Beach distance event to go along with today's scalp) it adds a new mix to the equation. The overall title is still just between Kai and Connor, but with a good result tomorrow Jake can leapfrog three guys and finish 3rd overall for the season (he's currently in 6th).
This will add a new dynamic to the sprint races, as the likes of Casper Steinfath and Zane Schweitzer will have added motivation to get a top placing tomorrow, as their positions are under threat. We all thought it was Casper and Zane going for third, but now four or five guys can snatch that final spot in the overall top three for the season.
Throw in names such as Kody Kerbox, Noa Ginella, Eric Terrien plus two strong performers from today in Andrew Logreco and Paul Jackson… and suddenly tomorrow's sprint races are definitely no longer just about Kai and Connor. With half a dozen other guys paddling for glory, it's entirely possible that Connor's or Kai's overall season victory will be decided by someone else knocking one of the two stars out in the semi-finals or finishing ahead of them in the final. [EDIT: in hindsight that last bit was a rather prophetic statement, just sayin'…]
Check out the full results from the Distance Race below. Notice Jake's time? Over two whole minutes ahead of his nearest rival and over three minutes in front of newly crowned BOP champ Kai Lenny… not a bad little performance by the Aussie.
*****
2013 Stand Up World Series Finals @ Turtle Bay
MEN'S DISTANCE RACE
1st: Jake Jensen – 1:38:27:06
2nd: Andrew Logreco – 1:40:38:06
3rd: Connor Baxter – 1:41:07:06
4th: Kai Lenny – 1:41:38:06
5th: Paul Jackson – 1:42:14:09
6th: Riggs Napoleon – 1:42:27:06
7th: Kody Kerbox – 1:43:04:00
8th: Casper Steinfath – 1:44:22:08
9th: Zane Schweitzer – 1:44:22:10
10th: Kaeo Abbey – 1:45:08:02
11th: Eric Terrien – 1:45:09:14
12th: Vinnicius Martins – 1:45:10:18
13th: Arthur Arutkin – 1:45:50:02
14th: Josh Riccio – 1:46:53:06
15th: Noa Ginella – 1:47:41:08
16th: Vincent Veerhoven – 1:52:15:09
17th: Beau O'Brian – 1:52:51:06
18th: Bart de Swart – 1:53:45:05
19th: Fritchof Sach – 2:13:23:04
20th: Stuart Howells – 2:51:21:07
WOMEN'S DISTANCE RACE
1st: Mariko Strickland – 1:55:53:02
2nd: Angela Jackson – 2:00:25:06
3rd: Olivia Piana – 2:05:25:03
4th: Halie Harrison – 2:08:34:06
5th: Noelani Sach – 2:19:00:00
6th: Lara Claydon – 2:31:33:09