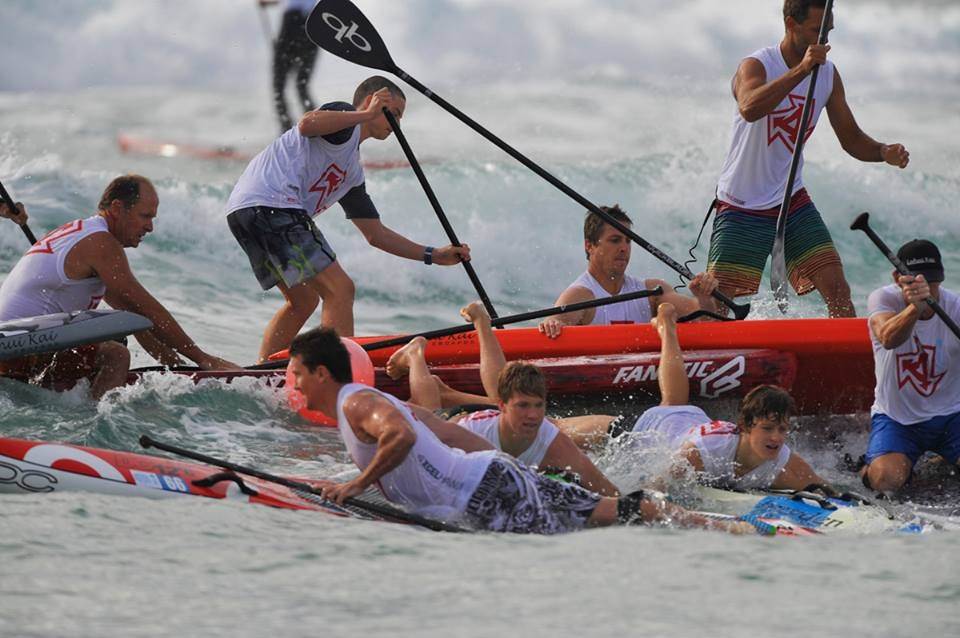 June 12, 2013
by Christopher Parker (@wheresbossman)
[RESULTS] Lincoln Dews, Karla Gilbert Dominate Queensland State Titles
Take a look at the results from the 2013 Queensland State SUP Titles, which were held on the Gold Coast this past weekend. Young gun Lincoln Dews dominated the men's racing, taking out both the 17km Distance Race and the BoP-style Technical Race ahead of his new Lahui Kai racing team manager Kelly Margetts. Meanwhile Ironwoman Queen Karla Gilbert was similarly impressive in the women's, claiming both races and booking a spot in the Aussie Titles later this year.
The QLD State Titles were a qualifier for the 2013 Austalian Stand Up Paddle Titles, which are set to be held at the same spot (at the paddling mecca of Currumbin) in five months.
The Marathon Course was interesting on the weekend, with the first half an open ocean downwinder and the second half a pure flat water race up and down Currumbin Creek.
Scroll down for the full results.
…though you may notice that a few big names were missing, as leading Queenslanders paddlers Beau O'Brian, Travis Grant, Jamie Mitchell, Jake Jensen and Angela Jackson were bus in Europe while this event was happening.
Watch the event recap video below and check out more pics over on the Breeze.
*****
MARATHON RACE
Lincoln Dews 1:55:08 (Men's 12'6)
Kelly Margetts 1:55:09 (Men's 12'6)
Tanyn Lyndon 1:55:10 (Men's 12'6)
Paul Jones 1:55:12 (Over 40's 14 & under)
Peter Dorries 1:55:12 (Over 40's 14 & under)
Troy Pease 1:55:13 (Over 40's 14 & under)
Jon Locke 1:57:42 (Open 14′)
steve Walker 1:57:59 (Open 14′)
ryan keck 1:58:00 (Open 14′)
Wayne Johnstone 1:58:33 (Over 40's 14 & under)
Jayden Jensen 1:58:39 (Men's 12'6)
Brad Rodgers 2:00:35 (Men's 12'6)
stephen roberts 2:00:53 (Open 14′)
Sean Bicknell 2:03:36 (Over 40's 14 & under)
Dale Chapman 2:05:56 (Over 40's 14 & under)
Karla Gilbert 2:07:03 (Women's 12'6)
Greg Beer 2:07:30 (Over 40's 14 & under)
Molly Walker 2:10:05 (Women's 12'6)
Rob Walton 2:12:20 (Over 40's 14 & under)
Shane Lynch 2:12:21 (Over 50's 14 & under)
sondra purser 2:12:30 (Women's 12'6)
Jonathan Walker 2:13:48 (Over 50's 14 & under)
Duncan Corbett 2:16:37 (Over 50's 14 & under)
Marco Bertossa 2:17:03 (Open 14′)
John Townsend 2:17:43 (Over 50's 14 & under)
Sue Dorries 2:18:45 (Women's 12'6)
Dave Eyre 2:24:43 (Open 14′)
Kevin Johnson 2:27:42 (Over 50's 14 & under)
Craig Wright 2:29:33 (Open 14′)
Sascha Lahey 2:40:24 (Women's 12'6)
(Elite times only. For the Open division times click here)
TECHNICAL COURSE RACE
OPEN MEN
1st: Lincoln Dews
2nd: Kelly Margetts
3rd: Jon Locke
4th: Tanyn Lyndon
5th: Dylan Magee
6th: Brad Rogers
7th: Jayden Jensen
8th: Tim Cyprien
9th: Steve Walker
10th: Ryan Keck
11th: Simon Hunnybun
OPEN WOMEN
1st: Karla Gilbert
2nd: Sondra Purser
3rd: Molly Walker
OVER 40 MEN
1st: Peter Dorries
2nd: Troy Pease
3rd: Paul Jones
4th: Dale Chapman
5th: Wayne Johnstone
OVER 50 MEN
1st: Jonno Walker