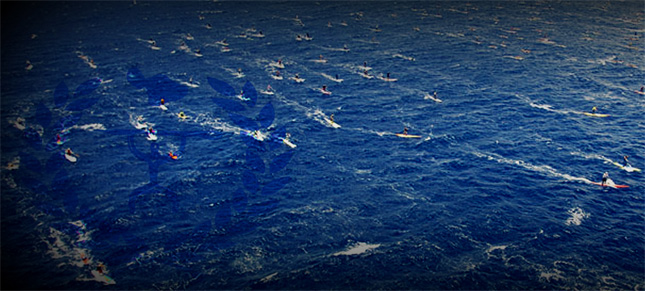 July 18, 2013
by Christopher Parker (@wheresbossman)
Only 72 Hours Until The 8th Annual Maui Paddle Champs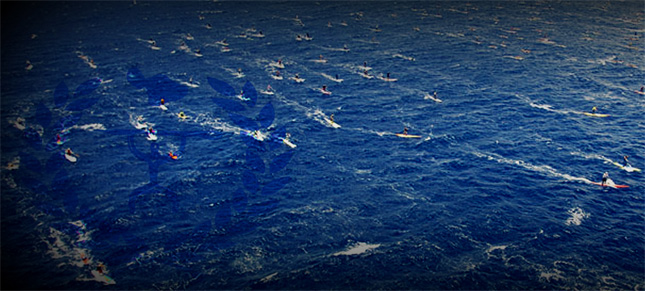 >>> UPDATE: Check out the RESULTS of the 2013 Maui Paddleboard Champs
We're just three days out from seeing the next chapter in one of the longest running races in the sport, the Maui Paddle Championships. 2013 marks the 8th edition of this event, which started in 2006 as a way of providing Maui's paddleboarders with an international-level event in their own waters.
The Maui Paddle Champs (formerly known as the "Naish Race") take place on the island's world famous Maliko downwind run and the event has traditionally acted as a warm-up for Molokai-2-Oahu, which takes place seven days later. Jamie Mitchell won this race countless times while Connor Baxter and Dave Kalama have dominated the SUP division in recent years.
But who's going to take out 2013?
It'll be a fascinating battle and could give us an early indicator of who to watch in the M2O. Connor Baxter has to start favourite. This is his home spot. He knows the Maliko Run like the back of his hand. And even if he didn't, even if he'd never paddled here before, the young gun has been in such fine form so far this year that he's an instant favourite in every race he enters (and he enters a LOT of races…).
However there's one guy who'll be looking to make a mark and perhaps take a psychological edge into Molokai; Connor's chief rival Kai Lenny.
The two young guns will have plenty of company though. If Dave Kalama races he'll start as an instant podium threat (the big guy finished 2nd at OluKai, losing to Connor but beating home Kai). Slater Trout calls the Maliko run home as well, and was just a few seconds behind Kai at OluKai. Then there are the local wildcards such as Livio Menelau and Jeremy Riggs, as well as the huge international contingent who've been on Maui for "Downwind Month" (I'm calling Sydney's Dave Kissane as a roughy for the overall top three).
So yeah, it's going to be a cracker of a race. And that's just the men's division… look for an intriguing duel in the women's race between the top two ladies from Molokai 2012, Talia Decoite (née Gangini) and Downwind Queen Andrea Moller.
Another chance at the title is Aussie dark horse Terrene Black, third at Molokai 2012 and on a winning streak in Hawaii this month. Terrene recently signed with NSP, giving her some added motivation as she now rides for the same team as world beater Travis Grant.
But no matter who wins, we'll give you the results right after the race here on SUPracer.com. So make sure to check back on Sunday afternoon Hawaiian time (that's early Monday European time, lunchtime Monday Aussie time) to find out who claimed the 2013 Maui Paddle Championships crown.
…and as a random side point, it's fascinating to read the "History" of the event. The text was obviously written in 2008 (there's a mention in there about the upcoming "third annual event") and is a bit of a curious time capsule, containing this slightly prophetic section…
Paddleboards Used: … … The third board type – and a recent addition to the paddleboard racing scene – is the stand-up board. Very popular on Maui, this discipline can also be traced back to the Waikiki Beachboy days, with paddlers standing on the deck of a very large surfboard and using a modified canoe paddle for propulsion.
Very popular indeed…