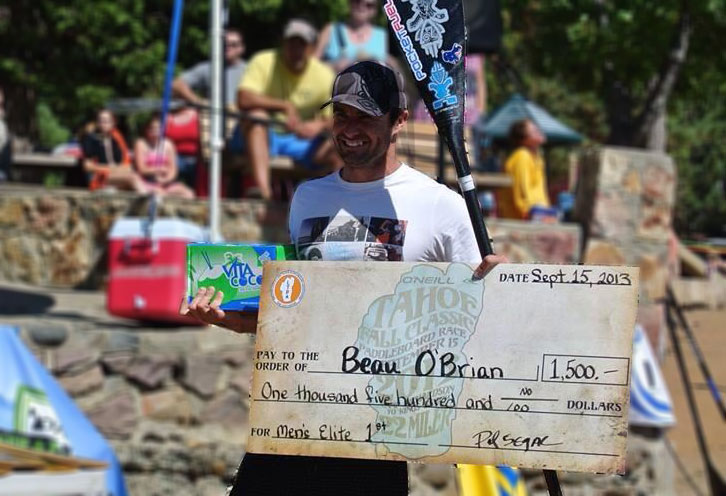 Aussie Beau O'Brian Wins Tahoe Fall Classic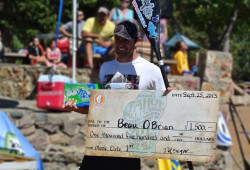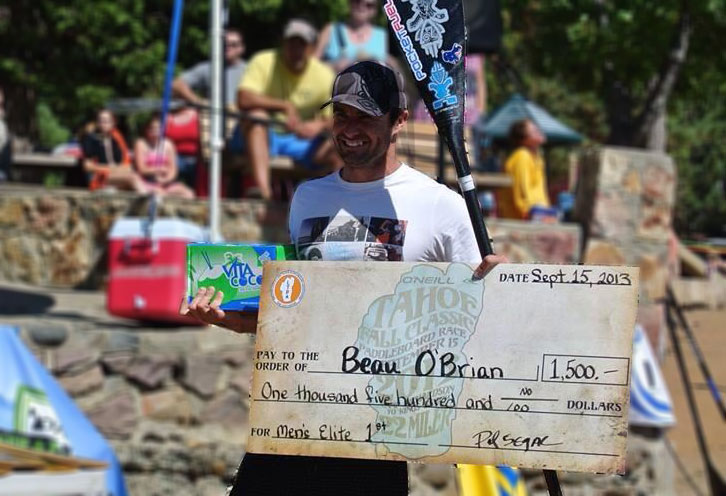 Results are in from yesterday's Tahoe Fall Classic, where Aussie Beau O'Brian took out the 22 miler to continue his solid pre-Battle form. Ben Sarrazin and Rob Rojas filled out the 14 foot podium while Gail Vento dominated the women's race.
The Fall Classic was the third and final leg of the 2013 Tahoe Cup, following on from the Donner Lake and Jam From The Dam races.
Beau isn't the most well known name here in the States, though everyone back home in Australia knows how strong the guy is. At 29 years of age, Beau is in his prime and, in my opinion, a very strong pick for the BOP podium (top 10) and a chance for the top 5. So keep your eye on Beau in a couple of weeks but for now check out full results from Lake Tahoe below…
*****
2013 Tahoe Fall Classic SUP Race RESULTS
Click "M/F" to switch between Men's and Women's Results
Click "Class" to sort results by the different board classes
Click "Time" to reset the results…

| # | M/F | M/F # | Name | Time | Class | Class # | Age |
| --- | --- | --- | --- | --- | --- | --- | --- |
| 1 | M | 1 | Beau O'Brian | 3:38:17 | 14' | 1 | 29 |
| 2 | M | 2 | Michael Valenzuela | 3:41:36 | Unlim | 1 | 38 |
| 3 | M | 3 | Benjamin Sarrazin | 3:44:51 | 14' | 2 | 39 |
| 4 | M | 4 | Rob Rojas | 3:46:20 | 14' | 3 | 40 |
| 5 | M | 5 | Rand Carter | 3:51:32 | 14' | 4 | 49 |
| 6 | M | 6 | Seth Springer | 3:51:52 | 14' | 5 | 36 |
| 7 | M | 7 | Phil Coffman | 3:54:22 | 14' | 6 | 44 |
| 8 | M | 8 | Eric Walker | 3:55:29 | Unlim | 2 | 40 |
| 9 | M | 9 | Christopher Strout | 3:55:50 | Unlim | 3 | 33 |
| 10 | M | 10 | Dax Willard | 3:57:11 | 14' | 7 | 35 |
| 11 | M | 11 | MacRae Wylde | 3:57:55 | 14' | 8 | 49 |
| 12 | M | 12 | Ronnie Ayres | 3:58:51 | 14' | 9 | 45 |
| 13 | M | 13 | Dale Plant | 3:58:53 | 14' | 10 | 49 |
| 14 | M | 14 | Taylor Roertson | 3:59:09 | 14' | 11 | 34 |
| 15 | M | 15 | Karl Schwiesow | 3:59:25 | Unlim | 4 | 33 |
| 16 | M | 16 | John Merryfield | 3:59:30 | 14' | 12 | 47 |
| 17 | M | 17 | Mike Bond | 3:59:42 | 14' | 13 | 58 |
| 18 | F | 1 | Gail Vento | 4:04:03 | F12'6 | 1 | 37 |
| 19 | M | 18 | Joseph Fellner | 4:06:51 | 14' | 14 | 43 |
| 20 | M | 19 | Scott Estrada | 4:07:41 | 14' | 15 | 46 |
| 21 | F | 2 | Jen Fuller | 4:07:48 | F12'6 | 2 | 50 |
| 22 | M | 20 | Doug Furano | 4:08:38 | 14' | 16 | 32 |
| 23 | F | 3 | Fiona Wylde | 4:09:58 | F12'6 | 3 | 16 |
| 24 | M | 21 | Matt Lund | 4:11:02 | 14' | 17 | 39 |
| 25 | M | 22 | Larry Ferguson | 4:11:34 | Unlim | 5 | 54 |
| 26 | M | 23 | Kevin Scott | 4:11:36 | 14' | 18 | 51 |
| 27 | M | 24 | Ryan Delariva | 4:12:55 | 14' | 19 | 28 |
| 28 | M | 25 | Chris Werner | 4:13:05 | 14' | 20 | 34 |
| 29 | F | 4 | Nina Oakley | 4:14:13 | F12'6 | 4 | 31 |
| 30 | M | 26 | John Troppmann | 4:14:14 | 14' | 21 | 57 |
| 31 | M | 27 | Jim Moore | 4:15:06 | 14' | 22 | 50 |
| 32 | M | 28 | Richard Slye | 4:15:21 | 14' | 23 | 45 |
| 33 | M | 29 | Ben Mitchell | 4:16:13 | 12'6 | 1 | 32 |
| 34 | M | 30 | Danny Jiminenez | 4:19:06 | 14' | 24 | 29 |
| 35 | M | 31 | John Allen | 4:19:37 | 14' | 25 | 52 |
| 36 | M | 32 | Michael Jones | 4:21:12 | Unlim | 6 | 60 |
| 37 | M | 33 | Gary Wimberly | 4:22:18 | 12'6 | 2 | 49 |
| 38 | M | 34 | Leo Robinton | 4:23:41 | 14' | 26 | 23 |
| 39 | M | 35 | Ethan Westwood | 4:25:23 | 14' | 27 | 35 |
| 40 | M | 36 | Wayne Prouty | 4:29:30 | 14' | 28 | 34 |
| 41 | M | 37 | Granger Jim | 4:31:12 | 14' | 29 | 60 |
| 42 | M | 38 | Brian Thomas | 4:31:37 | 14' | 30 | 49 |
| 43 | F | 5 | Ashton Woods | 4:33:17 | F12'6 | 5 | 24 |
| 44 | F | 6 | Wendy Ackermann | 4:36:00 | F12'6 | 6 | 47 |
| 45 | F | 7 | Lindsay Gonzales | 4:36:43 | F14' | 1 | 30 |
| 46 | M | 39 | Joe Woodman | 4:37:28 | 14' | 31 | 54 |
| 47 | M | 40 | Geoffrey James | 4:37:32 | 14' | 32 | 50 |
| 48 | M | 41 | Bill Kemble | 4:37:43 | 14' | 33 | 49 |
| 49 | F | 8 | Jessica Gates | 4:37:44 | F12'6 | 7 | 41 |
| 50 | M | 42 | Gary Leong | 4:42:53 | 14' | 34 | 66 |
| 51 | M | 43 | Pablo Bori | 4:45:26 | 14' | 35 | 37 |
| 52 | M | 44 | Dave Harris | 4:47:03 | 12'6 | 3 | 58 |
| 53 | M | 45 | Cooper Birich | 4:47:29 | 12'6 | 4 | 27 |
| 54 | M | 46 | Craig McMannis | 4:49:15 | 14' | 36 | 54 |
| 55 | M | 47 | Bill Owens | 4:49:35 | 14' | 37 | 55 |
| 56 | M | 48 | Thomas Leith | 4:50:36 | 14' | 38 | 35 |
| 57 | M | 49 | Summit Moulton | 4:53:09 | 12'6 | 5 | 14 |
| 58 | M | 50 | Jared Marchese | 4:53:24 | 12'6 | 6 | 26 |
| 59 | M | 51 | Tom Kalange | 4:54:11 | Unlim | 7 | 51 |
| 60 | F | 9 | Brie Moore | 4:54:23 | F12'6 | 8 | 37 |
| 61 | M | 52 | Adrian Tieslau | 4:56:55 | 14' | 39 | 41 |
| 62 | M | 53 | Brady Flaherty | 4:57:32 | 14' | 40 | 42 |
| 63 | M | 54 | Chris Mahan | 5:00:44 | Unlim | 8 | 49 |
| 64 | F | 10 | Heidi Hauenstein | 5:01:00 | F14' | 2 | 30 |
| 65 | F | 11 | Francine Tone | 5:03:04 | F12'6 | 9 | 57 |
| 66 | F | 12 | Deborah Fajans | 5:06:11 | F12'6 | 10 | 34 |
| 67 | M | 55 | William Boosman | 5:09:24 | 14' | 41 | 51 |
| 68 | F | 13 | Heather Davis | 5:11:25 | F12'6 | 11 | 25 |
| 69 | F | 14 | Jennifer Gilanfarr | 5:12:25 | F12'6 | 12 | 26 |
| 70 | F | 15 | Leslie Clohan | 5:13:08 | F12'6 | 13 | 49 |
| 71 | M | 56 | Roderick Clohan | 5:13:39 | 12'6 | 7 | 51 |
| 72 | F | 16 | Nancie Schoener | 5:17:43 | F12'6 | 14 | 54 |
| 73 | F | 17 | Lauren Robinson | 5:19:00 | F12'6 | 15 | 23 |
| 74 | M | 57 | Alex Medveczky | 5:23:20 | 12'6 | 8 | 42 |
| 75 | M | 58 | Martin Frye | 5:24:30 | 12'6 | 9 | 25 |
| 76 | F | 18 | Sasha Spiegel | 5:27:20 | F12'6 | 16 | 49 |
| 77 | M | 59 | Chris Whittingham | 5:37:06 | 14' | 42 | 65 |
| 78 | F | 19 | Emily Matthews | 5:38:56 | F12'6 | 17 | 45 |