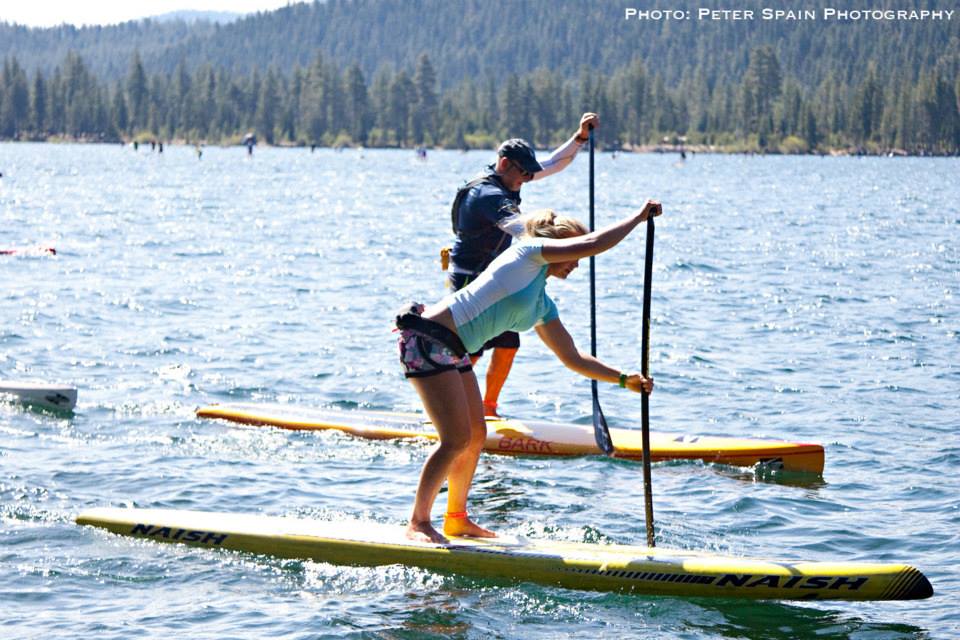 May 27, 2013
by Christopher Parker (@wheresbossman)
[RESULTS] Tahoe Cup Race #1: Donner Lake
Over 100 paddlers hit Lake Tahoe on Saturday for the first event of the 2013 O'Neill Tahoe Cup series, the Donner Lake SUP race.
It's great to see so many paddlers out on the water so early in the Lake Tahoe racing season, with this is one part of the world fast becoming a hub of the sport. Rob Rojas claimed the men's race while young gun Fiona Wylde cleaned up in the women's division, which alone featured 40 competitors.
Check out some pics of the action below (thanks to Peter Spain from Crown Paddle Grips) then scroll down for the full race results.
*****
*****
2013 Tahoe Cup: Donner Lake SUP Race RESULTS
Click "M/F" to switch between Men's and Women's Results
Click "Class" to show results from the different board classes

| # | M/F | M/F # | Name | Time | Class | Class # |
| --- | --- | --- | --- | --- | --- | --- |
| 1 | M | 1 | Rob Rojas | 0:45:52 | 14' | 1 |
| 2 | M | 2 | Jay Wild | 0:47:07 | 14' | 2 |
| 3 | M | 3 | Benjamin Sarrazin | 0:47:11 | 14' | 3 |
| 4 | M | 4 | Jeramie Vaine | 0:48:19 | 14' | 4 |
| 5 | M | 5 | Seth Springer | 0:48:21 | 14' | 5 |
| 6 | M | 6 | Ronnie Ayres | 0:48:23 | 14' | 6 |
| 7 | M | 7 | Austin Young | 0:48:27 | 14' | 7 |
| 8 | M | 8 | Rand Carter | 0:50:04 | 14' | 8 |
| 9 | M | 9 | David Meyer | 0:51:10 | 14' | 9 |
| 10 | M | 10 | Evan Derdowski | 0:51:19 | 14' | 10 |
| 11 | M | 11 | Michael Valenzuela | 0:51:59 | Unlim | 1 |
| 12 | M | 12 | MacRae Wylde | 0:52:04 | 14' | 11 |
| 13 | M | 13 | Fred Andersen | 0:52:22 | 14' | 12 |
| 14 | M | 14 | Mike Bond | 0:52:37 | 14' | 13 |
| 15 | F | 1 | Fiona Wylde | 0:52:37 | F12'6 | 1 |
| 16 | M | 15 | Kenny Puckett | 0:52:45 | 14' | 14 |
| 17 | M | 16 | Tim Boyer | 0:52:49 | 14' | 15 |
| 18 | M | 17 | Dax Willard | 0:52:49 | 14' | 16 |
| 19 | M | 18 | Marcus Tingle | 0:53:15 | 14' | 17 |
| 20 | M | 19 | Scott Estrada | 0:53:32 | 14' | 18 |
| 21 | M | 20 | Jean Rathle | 0:53:43 | 12'6 | 1 |
| 22 | M | 21 | Tai Boutell | 0:53:47 | 14' | 19 |
| 23 | M | 22 | Mike Day | 0:53:50 | 14' | 20 |
| 24 | F | 2 | Anik Wild | 0:53:55 | F12'6 | 2 |
| 25 | F | 3 | Jen Fuller | 0:53:57 | F12'6 | 3 |
| 26 | M | 23 | Doug Furang | 0:54:11 | 14' | 21 |
| 27 | M | 24 | Johnny Albrecht | 0:54:26 | 14' | 22 |
| 28 | M | 25 | Dino Wilson | 0:54:31 | 12'6 | 2 |
| 29 | F | 4 | Julianne Brackett | 0:54:54 | F12'6 | 4 |
| 30 | M | 26 | Jeff Erickson | 0:54:57 | 12'6 | 3 |
| 31 | M | 27 | Jeremiah Murphy | 0:55:02 | 12'6 | 4 |
| 32 | M | 28 | Brian Martinez | 0:55:04 | 14' | 23 |
| 33 | F | 5 | Nina Oakley | 0:55:14 | F12'6 | 5 |
| 34 | M | 29 | Miguel Sloane | 0:55:46 | 12'6 | 5 |
| 35 | M | 30 | Damien Estrada | 0:55:57 | 14' | 24 |
| 36 | M | 31 | Jim Moore | 0:56:19 | 14' | 25 |
| 37 | M | 32 | David White | 0:56:37 | Unlim | 2 |
| 38 | M | 33 | Eli Delaunay | 0:56:42 | 12'6 | 6 |
| 39 | M | 34 | Josiah Brackett | 0:56:46 | 14' | 26 |
| 40 | M | 35 | Geoffrey James | 0:56:49 | 12'6 | 7 |
| 41 | M | 36 | Brian Thomas | 0:56:55 | 14' | 27 |
| 42 | M | 37 | Phil Moulton | 0:56:57 | 14' | 28 |
| 43 | M | 38 | Bubba Henderson | 0:57:58 | 12'6 | 8 |
| 44 | M | 39 | Jim Granger | 0:58:21 | 14' | 29 |
| 45 | M | 40 | Mitch Cohen | 0:58:27 | 14' | 30 |
| 46 | M | 41 | Matt Ivey | 0:58:33 | 14' | 31 |
| 47 | M | 42 | Pablo Bori | 0:58:33 | 12'6 | 9 |
| 48 | M | 43 | Nick Vivar | 0:58:41 | 14' | 32 |
| 49 | M | 44 | Ken Altman | 0:58:56 | 14' | 33 |
| 50 | M | 45 | Dave Harris | 0:59:22 | 12'6 | 10 |
| 51 | M | 46 | Charlie Bowman | 1:00:20 | 14' | 34 |
| 52 | M | 47 | Matt Fraser | 1:01:21 | 14' | 35 |
| 53 | M | 48 | Joe Quinn | 1:01:48 | 14' | 36 |
| 54 | M | 49 | Mark Moragne | 1:01:50 | 12'6 | 11 |
| 55 | M | 50 | Michael Lefrancois | 1:01:57 | 14' | 37 |
| 56 | M | 51 | Greg Felsch | 1:02:10 | 14' | 38 |
| 57 | M | 52 | Shane Rathle | 1:02:22 | 14' | 39 |
| 58 | F | 6 | Alyssa Waltze | 1:02:32 | F12'6 | 6 |
| 59 | M | 53 | Vincent Huang | 1:02:54 | 14' | 40 |
| 60 | M | 54 | Tom Kalange | 1:03:08 | 12'6 | 12 |
| 61 | F | 7 | Wendy Ackermann | 1:03:17 | F12'6 | 7 |
| 62 | M | 55 | Mitch Boothe | 1:03:58 | 14' | 41 |
| 63 | M | 56 | Gary Leong | 1:04:03 | 12'6 | 13 |
| 64 | F | 8 | Jennifer Gilanfarr | 1:04:11 | F12'6 | 8 |
| 65 | F | 9 | Cathy Huang | 1:04:12 | F12'6 | 9 |
| 66 | M | 57 | Steven Becker | 1:04:20 | 14' | 42 |
| 67 | M | 58 | Dustin Ford | 1:04:42 | 12'6 | 14 |
| 68 | M | 59 | John Walsh | 1:05:12 | 14' | 43 |
| 69 | M | 60 | Thomas Leith | 1:05:27 | 14' | 44 |
| 70 | F | 10 | Julie Stevens | 1:05:34 | F12'6 | 10 |
| 71 | M | 61 | Paul Zarubin | 1:05:53 | 14' | 45 |
| 72 | M | 62 | Summit Moulton | 1:05:59 | 12'6 | 15 |
| 73 | F | 11 | Connie Altman | 1:06:28 | 14' | 46 |
| 74 | F | 12 | Nancie Schoener | 1:06:52 | F12'6 | 11 |
| 75 | F | 13 | Hilary Andersen | 1:06:59 | F12'6 | 12 |
| 76 | M | 63 | Steve Hunt | 1:07:03 | 12'6 | 16 |
| 77 | M | 64 | Matthew Rowe | 1:07:04 | 12'6 | 17 |
| 78 | M | 65 | Josh Brackett | 1:07:13 | 12'6 | 18 |
| 79 | F | 14 | Teressmarie Tucker | 1:07:22 | 14' | 47 |
| 80 | M | 66 | Andrew Meinnert | 1:07:25 | 14' | 48 |
| 81 | F | 15 | Maria Bowman | 1:07:42 | F12'6 | 13 |
| 82 | M | 67 | Trevor O'Sullivan | 1:07:50 | 12'6 | 19 |
| 83 | F | 16 | Debbie Brown | 1:07:55 | F12'6 | 14 |
| 84 | M | 68 | Connor Hollingsworth | 1:08:19 | 12'6 | 20 |
| 85 | M | 69 | Kevin Murnane | 1:08:37 | 14' | 49 |
| 86 | M | 70 | Trent Carter | 1:08:53 | 12'6 | 21 |
| 87 | F | 17 | Francine Tone | 1:09:09 | F12'6 | 15 |
| 88 | M | 71 | J.J. Myatt | 1:09:16 | 12'6 | 22 |
| 89 | M | 72 | Phil Segal | 1:09:40 | 14' | 50 |
| 90 | F | 18 | Brenda McGirr | 1:09:44 | 14' | 51 |
| 91 | M | 73 | Randy Flannery | 1:10:20 | 14' | 52 |
| 92 | M | 74 | Lorenzo Alvarez Roos | 1:10:40 | 12'6 | 23 |
| 93 | M | 75 | Ernie Brassard | 1:10:46 | 12'6 | 24 |
| 94 | M | 76 | Nick Zaharias | 1:10:53 | 14' | 53 |
| 95 | F | 19 | Emily Matthews | 1:11:00 | F12'6 | 16 |
| 96 | M | 77 | Matt Morgukis | 1:11:18 | 12'6 | 25 |
| 97 | F | 20 | Kimmie Field | 1:11:50 | F12'6 | 17 |
| 98 | F | 21 | Lindsey Felsch | 1:12:35 | 14' | 54 |
| 99 | F | 22 | Iris Lazzabesch | 1:12:52 | 14' | 55 |
| 100 | M | 78 | Travis Wade | 1:13:17 | 12'6 | 26 |
| 101 | M | 79 | Bill Dupre | 1:14:15 | 12'6 | 27 |
| 102 | F | 23 | Cheryl Schrady | 1:16:45 | F12'6 | 18 |
| 103 | M | 80 | Kyle Grant | 1:16:51 | 12'6 | 28 |
| 104 | M | 81 | Matix Springer | 1:18:42 | 12'6 | 29 |
| 105 | F | 24 | Michelle Singh | 1:19:00 | F12'6 | 19 |
| 106 | F | 25 | Mary Beth Hamilton | 1:19:07 | 14' | 56 |
| 107 | M | 82 | Charles Walter | 1:19:30 | 14' | 57 |
| 108 | M | 83 | Tom Madigan | 1:19:44 | 12'6 | 30 |
| 109 | F | 26 | Carrie Johnson | 1:20:36 | F12'6 | 20 |
| 110 | F | 27 | Karen Kucharski | 1:21:23 | F12'6 | 21 |
| 111 | M | 84 | Barney Pugh | 1:24:10 | 14' | 58 |
| 112 | F | 28 | Cassandra Sharpe | 1:24:44 | F12'6 | 22 |
| 113 | F | 29 | Nancy Barna | 1:25:05 | 14' | 59 |
| 114 | F | 30 | Lauren Robinson | 1:26:26 | F12'6 | 23 |
| 115 | F | 31 | Laurie Vismara | 1:26:35 | F12'6 | 24 |
| 116 | F | 32 | Mercie Galvin | 1:27:18 | F12'6 | 25 |
| 117 | F | 33 | Leslie Clohan | 1:29:52 | F12'6 | 26 |
| 118 | M | 85 | Roderick Clohan | 1:29:56 | 12'6 | 31 |
| 119 | M | 86 | Robert Moon | 1:31:37 | 14' | 60 |
| 120 | F | 34 | Brie Moore | 1:32:20 | F12'6 | 27 |
| 121 | F | 35 | Minette Kuerzi | 1:32:20 | F12'6 | 28 |
| 122 | F | 36 | Kacie Dennison | 1:36:48 | F12'6 | 29 |
| 123 | F | 37 | Dane Welch | 1:38:54 | F12'6 | 30 |
| 124 | F | 38 | Julie Brisbin | 1:42:06 | F12'6 | 31 |
| 125 | F | 39 | Tina Cook | 1:43:41 | F12'6 | 32 |
| 126 | F | 40 | Pam McKenna | 1:47:27 | F12'6 | 33 |
| 127 | M | 87 | Caden Hollingsworth | 1:49:52 | 12'6 | 32 |
| 128 | M | 88 | Cole Hollingsworth | 1:49:53 | 14' | 61 |