July 15, 2013
by Christopher Parker (@wheresbossman)
Jay Wild Jams It At The Dam, As "Tahoe Cup" Race #2 Draws Over 150 Paddlers To The Lake

Jay Wild has taken out the Jam From The Dam on Lake Tahoe, the second of three stops in the 2013 O'Neill Tahoe Cup Series. The Tahoe local was the first across the line in a race featuring 154 paddlers (including over 40 women), highlighting once again that Tahoe is one of the leading hotspots for SUP racing.
Jay won ahead of Ben Sarrazin and Seth Springer, while Rob Rojas was 4th and America's Cup winning skipper Jimmy Spithill finished 5th. Young gun Fiona Wylde was impressive in the women's race, finishing two minutes clear of Jen Fuller and beating most of the men while she was at it.
This was race #2 in the 2013 Tahoe Cup, after the Donner Lake race in May and with the Tahoe Fall Classic set to wrap up the $20,000 series on September 15th.
Scroll down past the pics of the winners to inspect the full results…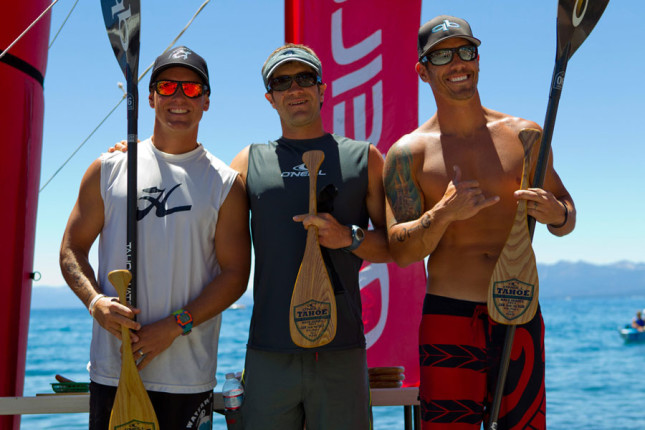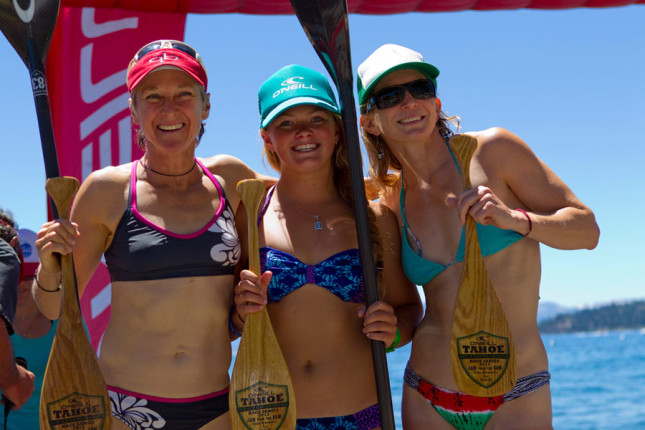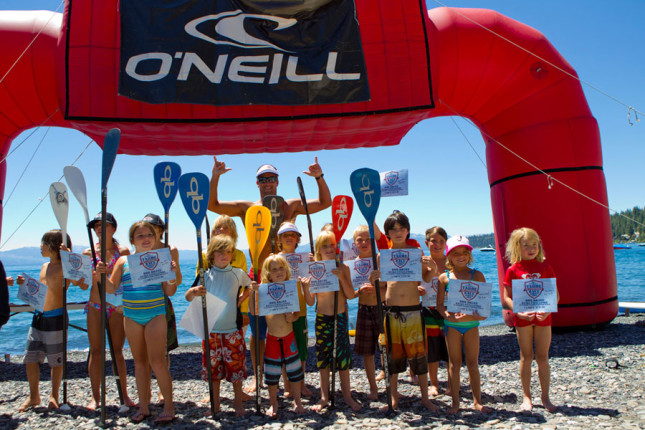 2013 Jam From The Dam SUP Race RESULTS
Click "M/F" to switch between Men's and Women's results
Click "Class" to sort results by board class
Click "Time" to reset the results
| # | M/F | M/F # | Name | Time | Class | Class # | Age |
| --- | --- | --- | --- | --- | --- | --- | --- |
| 1 | M | 1 | Jay Wild | 0:58:59 | 14 | 1 | 33 |
| 2 | M | 2 | Benjamin Sarrazin | 0:59:07 | 14 | 2 | 39 |
| 3 | M | 3 | Seth Springer | 1:00:09 | 14 | 3 | 36 |
| 4 | M | 4 | Rob Rojas | 1:00:29 | 14 | 4 | 39 |
| 5 | M | 5 | James Spithill | 1:01:04 | 14 | 5 | 34 |
| 6 | M | 6 | Ronnie Ayres | 1:01:09 | 14 | 6 | 45 |
| 7 | M | 7 | Jake Lamberth | 1:01:37 | Unlim | 1 | 50 |
| 8 | M | 8 | Michael Gabor | 1:01:52 | 14 | 7 | 44 |
| 9 | M | 9 | Brad Seyffer | 1:01:52 | 14 | 8 | 40 |
| 10 | M | 10 | Rand Carter | 1:02:22 | 14 | 9 | 49 |
| 11 | M | 11 | David Meyler | 1:02:45 | 14 | 10 | 41 |
| 12 | M | 12 | Evan Derdowski | 1:03:14 | 14 | 11 | 25 |
| 13 | M | 13 | David Jensen | 1:03:56 | 14 | 12 | 49 |
| 14 | M | 14 | Austin Young | 1:04:19 | 12'6 | 1 | 21 |
| 15 | M | 15 | Michael Venezuela | 1:04:45 | Unlim | 2 | 38 |
| 16 | M | 16 | Damion Estrada | 1:04:57 | Unlim | 3 | 37 |
| 17 | M | 17 | Dax Willard | 1:04:59 | 14 | 13 | 34 |
| 18 | M | 18 | Tom Sykes | 1:05:06 | Unlim | 4 | 38 |
| 19 | M | 19 | Michael Bond | 1:05:35 | 14 | 14 | 57 |
| 20 | M | 20 | Rukin Jelks | 1:06:14 | 14 | 15 | 20 |
| 21 | M | 21 | Scott Estrada | 1:06:25 | 14 | 16 | 45 |
| 22 | F | 1 | Fiona Wylde | 1:06:38 | F12'6 | 1 | 16 |
| 23 | M | 22 | Fred Andersen | 1:06:46 | 14 | 17 | 61 |
| 24 | M | 23 | Loren White | 1:06:48 | 14 | 18 | 47 |
| 25 | M | 24 | Daron Rahlves | 1:06:51 | 14 | 19 | 40 |
| 26 | M | 25 | Josiah Brackett | 1:06:53 | 12'6 | 2 | 13 |
| 27 | M | 26 | Luca Genasci | 1:06:57 | 12'6 | 3 | 20 |
| 28 | M | 27 | Mike Day | 1:06:59 | 14 | 20 | 61 |
| 29 | M | 28 | MacRae Wylde | 1:07:02 | 14 | 21 | 49 |
| 30 | M | 29 | Taylor Robertson | 1:07:39 | 14 | 22 | 34 |
| 31 | M | 30 | Steve Funk | 1:07:53 | 14 | 23 | 46 |
| 32 | M | 31 | Jeff Pearson | 1:08:04 | 14 | 24 | 42 |
| 33 | M | 32 | Tai Boutell | 1:08:25 | 14 | 25 | 43 |
| 34 | M | 33 | Kenny Puckett | 1:08:30 | 14 | 26 | 41 |
| 35 | F | 2 | Jen Fuller | 1:08:36 | F12'6 | 2 | 50 |
| 36 | M | 34 | Michael Hammer | 1:08:52 | 12'6 | 4 | 50 |
| 37 | M | 35 | Marcus Tingle | 1:09:01 | 14 | 27 | 44 |
| 38 | M | 36 | Doug Furano | 1:09:03 | 14 | 28 | 32 |
| 39 | M | 37 | Geoffrey James | 1:09:09 | 14 | 29 | 50 |
| 40 | M | 38 | Stephen Pugh | 1:09:09 | 14 | 30 | 56 |
| 41 | M | 39 | John Albrecht | 1:09:18 | 14 | 31 | 46 |
| 42 | M | 40 | John Allen | 1:09:28 | 14 | 32 | 52 |
| 43 | M | 41 | Dino Wilson | 1:09:33 | 12'6 | 5 | 51 |
| 44 | M | 42 | Joel Fellner | 1:09:37 | 14 | 33 | 43 |
| 45 | M | 43 | Jim Moore | 1:09:44 | 12'6 | 6 | 50 |
| 46 | M | 44 | Roger Knowlton | 1:09:49 | 14 | 34 | 49 |
| 47 | M | 45 | John Merryfield | 1:09:52 | 14 | 35 | 47 |
| 48 | F | 3 | Nina Oakley | 1:09:54 | F12'6 | 3 | 31 |
| 49 | M | 46 | Dave Harris | 1:10:48 | 12'6 | 7 | 58 |
| 50 | M | 47 | Brian Thomas | 1:10:54 | Unlim | 5 | 49 |
| 51 | M | 48 | Mike Keck | 1:11:05 | 14 | 36 | 47 |
| 52 | M | 49 | Ryan Delariva | 1:11:15 | 14 | 37 | 28 |
| 53 | M | 50 | Doug Penny | 1:11:19 | 12'6 | 8 | 50 |
| 55 | M | 52 | Doug Stoup | 1:11:23 | 14 | 38 | 49 |
| 54 | M | 51 | Nate Ludwig | 1:11:23 | 12'6 | 9 | 35 |
| 57 | M | 54 | Joe Quinn | 1:11:25 | 14 | 39 | 47 |
| 56 | M | 53 | Josh Brackett | 1:11:25 | 12'6 | 10 | 11 |
| 58 | M | 55 | Phil Moulton | 1:11:31 | 14 | 40 | 49 |
| 59 | M | 56 | Kevin Lynch | 1:12:01 | 14 | 41 | 43 |
| 60 | M | 57 | Mitch Cohen | 1:12:09 | 14 | 42 | 50 |
| 61 | M | 58 | Brett McCann | 1:12:36 | Unlim | 6 | 52 |
| 62 | M | 59 | Pablo Bori | 1:12:53 | 12'6 | 11 | 37 |
| 63 | M | 60 | Kevin Murnane | 1:13:00 | 14 | 43 | 42 |
| 64 | M | 61 | Chris Lieto | 1:13:20 | 12'6 | 12 | 41 |
| 65 | M | 62 | Steven Rawiszer | 1:13:23 | 14 | 44 | 51 |
| 66 | M | 63 | John Walsh | 1:13:46 | 14 | 45 | 49 |
| 67 | M | 64 | Larry Ferguson | 1:14:07 | 14 | 46 | 54 |
| 68 | M | 65 | Ken Altman | 1:14:09 | 14 | 47 | 70 |
| 69 | M | 66 | Jim Granger | 1:14:15 | 14 | 48 | 60 |
| 70 | M | 67 | Jay Prigge | 1:14:38 | 12'6 | 13 | 46 |
| 71 | M | 68 | Thomas Leith | 1:14:57 | 14 | 49 | 34 |
| 72 | M | 69 | Paul Genasci | 1:15:04 | 12'6 | 14 | 51 |
| 73 | M | 70 | Andre Kuperus | 1:15:06 | 12'6 | 15 | 48 |
| 74 | M | 71 | Travis Wade | 1:15:30 | 12'6 | 16 | 25 |
| 75 | M | 72 | Summit Morlton | 1:15:44 | 12'6 | 17 | 13 |
| 76 | M | 73 | Steven Becker | 1:15:54 | 14 | 50 | 53 |
| 77 | F | 4 | Wendy Ackermann | 1:15:58 | F12'6 | 4 | 47 |
| 78 | M | 74 | Matt Smart | 1:16:04 | 12'6 | 18 | 34 |
| 79 | M | 75 | Tom Kalange | 1:16:13 | 12'6 | 19 | 51 |
| 80 | F | 5 | Maya Sprinsock | 1:16:21 | F12'6 | 5 | 20 |
| 81 | M | 76 | Joel Kivo | 1:16:24 | 14 | 51 | 38 |
| 82 | M | 77 | Scott McConaughey | 1:16:25 | 12'6 | 20 | 53 |
| 83 | M | 78 | Matt Fraser | 1:16:48 | 14 | 52 | 39 |
| 84 | M | 79 | Ian Wallace | 1:16:58 | 12'6 | 21 | 37 |
| 85 | F | 6 | Madeleine King | 1:17:07 | F12'6 | 6 | 52 |
| 86 | M | 80 | Tim Anachillo | 1:17:16 | 14 | 53 | 62 |
| 87 | F | 7 | Deborah Fajans | 1:17:30 | F12'6 | 7 | 34 |
| 88 | F | 8 | Jennifer Gilanfarr | 1:18:10 | F12'6 | 8 | 26 |
| 90 | M | 82 | Cameron Valois | 1:18:27 | 12'6 | 23 | 13 |
| 89 | M | 81 | Drewry Cook | 1:18:27 | 12'6 | 22 | 32 |
| 91 | M | 83 | Craig Eisenberg | 1:18:40 | 12'6 | 24 | 55 |
| 92 | M | 84 | Brandon Walsh | 1:18:43 | 14 | 54 | 34 |
| 93 | F | 9 | Maria-Elaina Bowman | 1:18:52 | F14 | 1 | 37 |
| 94 | M | 85 | Julien Bordes | 1:19:13 | 14 | 55 | 15 |
| 95 | F | 10 | Robin Demartini | 1:19:44 | F12'6 | 9 | 49 |
| 96 | M | 86 | Mitch Boothe | 1:20:01 | 14 | 56 | 53 |
| 97 | M | 87 | Andrew Meinnert | 1:20:03 | 14 | 57 | 43 |
| 98 | F | 11 | Brie Moore | 1:20:05 | F12'6 | 10 | 37 |
| 99 | F | 12 | Jessica Gates | 1:20:09 | F12'6 | 11 | 41 |
| 100 | M | 88 | Jeff Timmons | 1:20:13 | 12'6 | 25 | 33 |
| 101 | M | 89 | Troy Franklin | 1:20:19 | 14 | 58 | 50 |
| 102 | M | 90 | Tom Quinn | 1:20:34 | 14 | 59 | 21 |
| 103 | M | 91 | Alain Bordes | 1:20:38 | 14 | 60 | 46 |
| 104 | F | 13 | Joel McAvoy | 1:20:45 | F14 | 2 | 52 |
| 105 | M | 92 | Gary Leong | 1:20:52 | 12'6 | 26 | 66 |
| 106 | M | 93 | Jesse Passafiume | 1:21:13 | 14 | 61 | 38 |
| 107 | M | 94 | Michael Berry | 1:21:15 | 12'6 | 27 | 30 |
| 108 | M | 95 | Vincent Huang | 1:21:28 | 14 | 62 | 60 |
| 109 | F | 14 | Nancie Schoener | 1:22:04 | F12'6 | 12 | 54 |
| 110 | F | 15 | Teressmake Tucker | 1:22:05 | F14 | 3 | 54 |
| 111 | F | 16 | Connie Altman | 1:22:11 | F14 | 4 | 62 |
| 112 | M | 96 | Tim Hopkins | 1:22:13 | 12'6 | 28 | 52 |
| 113 | M | 97 | Trent Carter | 1:22:21 | 12'6 | 29 | 11 |
| 114 | F | 17 | Hilary Andersen | 1:22:28 | F12'6 | 13 | 49 |
| 115 | F | 18 | Francine Tone | 1:23:30 | F12'6 | 14 | 57 |
| 116 | M | 98 | Dylan Pace | 1:23:34 | 12'6 | 30 | 15 |
| 117 | M | 99 | Lucas Valois | 1:23:58 | 12'6 | 31 | 11 |
| 118 | M | 100 | Ryan Funk | 1:24:33 | 14 | 63 | 12 |
| 119 | M | 101 | Rich Palesano | 1:24:37 | 14 | 64 | 37 |
| 120 | M | 102 | Kenneth Fairchild | 1:25:21 | 14 | 65 | 52 |
| 121 | M | 103 | Kevin Drake | 1:25:27 | 12'6 | 32 | 35 |
| 122 | F | 19 | Jenna Granger | 1:25:34 | F12'6 | 15 | 28 |
| 123 | F | 20 | Lauren Robinson | 1:25:59 | F12'6 | 16 | 23 |
| 124 | F | 21 | Kimmie Field | 1:26:03 | F12'6 | 17 | 40 |
| 125 | F | 22 | Alison Ganong | 1:26:16 | F12'6 | 18 | 35 |
| 126 | F | 23 | Molly Holiday | 1:26:50 | F12'6 | 19 | 42 |
| 127 | F | 24 | Sofia Sanchez | 1:27:09 | F12'6 | 20 | 12 |
| 128 | F | 25 | Jaime Emery | 1:27:49 | F12'6 | 21 | 37 |
| 129 | F | 26 | Angela Gardner | 1:28:55 | F12'6 | 22 | 41 |
| 130 | F | 27 | Patty Robbins | 1:29:07 | F12'6 | 23 | 58 |
| 131 | F | 28 | Cathy Huang | 1:29:17 | F12'6 | 24 | 58 |
| 132 | M | 104 | Bill Dupre | 1:29:25 | 12'6 | 33 | 37 |
| 133 | F | 29 | Melissa Czeczok | 1:29:27 | F12'6 | 25 | 41 |
| 134 | F | 30 | Marni Bistany | 1:30:56 | F12'6 | 26 | 51 |
| 135 | F | 31 | Nancy Barna | 1:32:47 | F12'6 | 27 | 54 |
| 136 | F | 32 | Michelle Singh | 1:33:12 | F12'6 | 28 | 30 |
| 137 | F | 33 | Emily Matthews | 1:33:26 | F12'6 | 29 | 44 |
| 138 | M | 105 | Barney Pugh | 1:33:34 | 14 | 66 | 65 |
| 139 | F | 34 | Stefanie Geckler | 1:35:16 | F14 | 5 | 43 |
| 140 | M | 106 | Matix Springer | 1:36:05 | 12'6 | 34 | 9 |
| 141 | M | 107 | Don Franks | 1:36:36 | 12'6 | 35 | 40 |
| 142 | M | 108 | Mike McGrath | 1:37:32 | 12'6 | 36 | 49 |
| 143 | M | 109 | Nate Cutler | 1:37:46 | 12'6 | 37 | 12 |
| 144 | M | 110 | Phoenix Sanchez | 1:37:56 | 12'6 | 38 | 10 |
| 145 | M | 111 | Stephan Fellner | 1:38:30 | 12'6 | 39 | 12 |
| 146 | F | 35 | Nickie Misfeldt | 1:38:35 | F12'6 | 30 | 61 |
| 147 | F | 36 | Tracy Woods | 1:39:49 | F12'6 | 31 | 30 |
| 148 | M | 112 | Roderick Clohan | 1:40:13 | 12'6 | 40 | 51 |
| 149 | F | 37 | Leslie Clohan | 1:40:18 | F12'6 | 32 | 49 |
| 150 | F | 38 | Sharon Hogan | 1:41:05 | F12'6 | 33 | 50 |
| 151 | F | 39 | Anita Barron | 1:41:37 | F12'6 | 34 | 56 |
| 152 | F | 40 | Marisa Loroz | 1:42:09 | F12'6 | 35 | 38 |
| 153 | F | 41 | Carol Lyda | 1:48:36 | F Unlim | 1 | 63 |
| 154 | M | 113 | Jeffery Roy | 2:08:47 | Unlim | 7 | 57 |