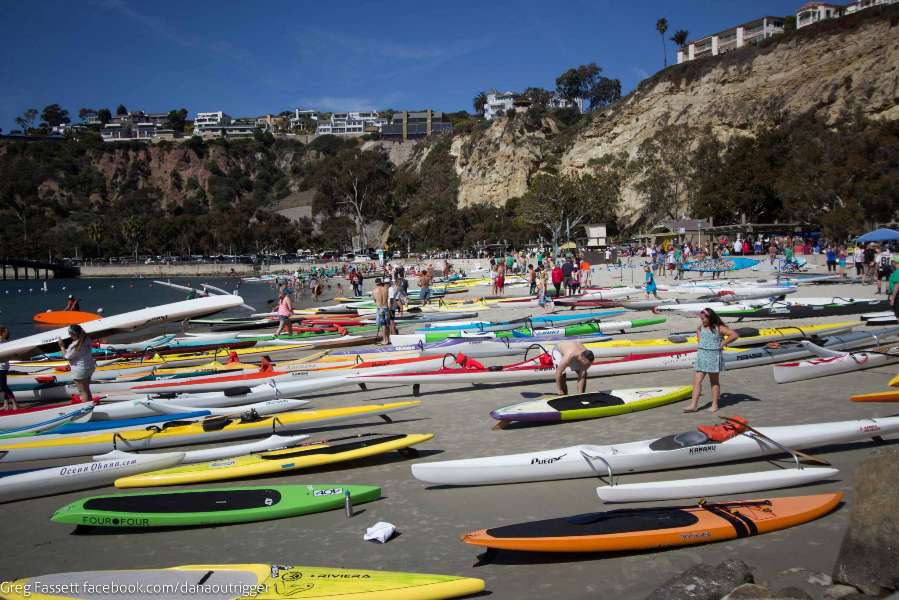 March 12, 2013
by Christopher Parker (@wheresbossman)
[RESULTS] Dana Point Ocean Challenge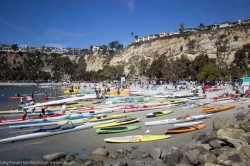 The name "Dana Point" is synonymous with Stand Up Paddle racing, being the home of the event that started it all, the Battle of the Paddle. But that's not the only race in this part of Southern California, with the Dana Point Ocean Challenge attracting hundreds of paddlers every year.
The 2013 Challenge was no different, as 100x SUPs joined in with prone, surf ski and outrigger paddlers for a massive race. This event kinda slipped through the cracks last week due to our Peru hangover, but here are the results and photos from a race that saw France's Greg Closier come away with the win.
Closier was in California on a family holiday and decided to jump in the race just for fun. As one of the fastest paddlers in France (and Europe) it's no surprise to see the Hobie team rider up there on the podium, though you've gotta give him extra credit for not only beating the 12'6 field, but all of the 14 footers as well.
Karl Ring took line honours on his unlimited, while Dana Point local Jaime Donnelly took out the women's. Full results are below and then you can scroll down for more photos of the action…
2013 Dana Point Ocean Challenge RESULTS
Date: Saturday 2nd March 2013
Click "M/F" to switch between Men's and Women's Results
Click "Class" or "Division" to sort results by Board Class or Age Division
Click "Time" to reset the results

| # | M/F | # | Name | Time | Class | # | Division | # |
| --- | --- | --- | --- | --- | --- | --- | --- | --- |
| 1 | M | 1 | Karl Ring | 00:52:01 | Unlim | 1 | Men's 40+ | 1 |
| 2 | M | 2 | Gregory Closier | 00:53:59 | 12'6 | 1 | Men's Open | 2 |
| 3 | M | 3 | Brian Murphy | 00:54:30 | 14' | 1 | Men's Open | 3 |
| 4 | M | 4 | Brendan Light | 00:54:31 | 14' | 2 | Men's Open | 4 |
| 5 | M | 5 | Chance Fielder | 00:54:37 | 14' | 3 | Men's 40+ | 5 |
| 6 | M | 6 | Sean Pangelinan | 00:54:44 | 14' | 4 | Men's Open | 6 |
| 7 | M | 7 | Ingo Rademacher | 00:54:55 | 14' | 5 | Men's 40+ | 7 |
| 8 | M | 8 | Rami Zur | 00:55:11 | 14' | 6 | Men's Open | 8 |
| 9 | M | 9 | Byron Kurt | 00:55:15 | 14' | 7 | Men's 40+ | 9 |
| 10 | M | 10 | Mike Murf | 00:55:18 | 14' | 8 | Men's Open | 10 |
| 11 | M | 11 | Jared Vargas | 00:55:26 | 14' | 9 | Men's Open | 11 |
| 12 | M | 12 | Dave Boehne | 00:56:07 | 12'6 | 2 | Men's Open | 12 |
| 13 | M | 13 | Jack Wygal | 00:56:49 | 14' | 10 | Men's 40+ | 13 |
| 14 | M | 14 | Willis Brown | 00:56:54 | 12'6 | 3 | Men's Open | 14 |
| 15 | M | 15 | Denis Poroy | 00:56:56 | 14' | 11 | Men's 40+ | 15 |
| 16 | M | 16 | Steve Dullack | 00:57:10 | 14' | 12 | Men's Open | 16 |
| 17 | M | 17 | Kevin Nerison | 00:57:19 | 14' | 13 | Men's Open | 17 |
| 18 | M | 18 | Stephen Sinkus | 00:57:24 | 14' | 14 | Men's Open | 18 |
| 19 | M | 19 | Brent Pascoe | 00:57:38 | 14' | 15 | Men's Open | 19 |
| 20 | M | 20 | E.J. Johnson | 00:58:36 | 12'6 | 4 | Men's 40+ | 20 |
| 21 | M | 21 | Michael Richards | 00:58:43 | 14' | 16 | Men's 40+ | 21 |
| 22 | M | 22 | Mark Christman | 00:59:38 | Unlim | 2 | Men's 40+ | 22 |
| 23 | M | 23 | Guillaume Escarguel | 00:59:51 | 12'6 | 5 | Men's 40+ | 23 |
| 24 | M | 24 | Mark Field | 00:59:56 | 12'6 | 6 | Men's 40+ | 1 |
| 25 | M | 25 | Rick Ranjo | 01:00:15 | 14' | 17 | Men's 40+ | 2 |
| 26 | M | 26 | Rod Loftis | 01:00:21 | 14' | 18 | Men's 40+ | 3 |
| 27 | M | 27 | Dale Marnati | 01:00:23 | 14' | 19 | Men's 60+ | 4 |
| 28 | M | 28 | Noa Hopper | 01:00:28 | 12'6 | 7 | Men's U16 | 5 |
| 29 | M | 29 | Seb Gramond | 01:00:40 | 12'6 | 8 | Men's 40+ | 1 |
| 30 | M | 30 | Brent Campbell | 01:00:47 | 14' | 20 | Men's Open | 2 |
| 31 | M | 31 | Chance Uptmore | 01:01:06 | Unlim | 3 | Men's Open | 1 |
| 32 | M | 32 | Eric Diggins | 01:01:16 | 12'6 | 9 | Men's 40+ | 2 |
| 33 | M | 33 | Sean Mchugh | 01:01:32 | 14' | 21 | Men's 40+ | 3 |
| 34 | M | 34 | Darren Del Monico | 01:01:35 | 12'6 | 10 | Men's 40+ | 1 |
| 35 | M | 35 | Kevin Wakashige | 01:01:36 | 14' | 22 | Men's 40+ | 1 |
| 36 | M | 36 | Wayne Buckingham | 01:01:55 | 14' | 23 | Men's 60+ | 2 |
| 37 | M | 37 | Shawn Fejerang | 01:01:58 | 12'6 | 11 | Men's U19 | 3 |
| 38 | M | 38 | Steve Chrapchynski | 01:02:00 | 14' | 24 | Men's 40+ | 4 |
| 40 | M | 39 | Mark Pighini | 01:03:01 | 14' | 26 | Men's 40+ | 5 |
| 39 | M | 40 | Reese Schwab | 01:03:01 | 14' | 25 | Men's U19 | 6 |
| 41 | M | 41 | Mike Baker | 01:03:19 | Unlim | 4 | Men's 40+ | 1 |
| 42 | M | 42 | Jack Kraus | 01:03:57 | 14' | 27 | Men's 40+ | 2 |
| 43 | M | 43 | John Gossett | 01:04:07 | 14' | 28 | Men's 40+ | 3 |
| 44 | M | 44 | Stewart Winkler | 01:04:09 | 14' | 29 | Men's 40+ | 4 |
| 45 | M | 45 | Mark Quest | 01:04:20 | 12'6 | 12 | Men's 40+ | 5 |
| 46 | M | 46 | Greg Welch | 01:04:39 | 12'6 | 13 | Men's 40+ | 6 |
| 47 | M | 47 | Raphael Seack | 01:04:39 | 12'6 | 14 | Men's 40+ | 7 |
| 48 | M | 48 | Brook Staples | 01:04:50 | 14' | 30 | Men's 40+ | 8 |
| 49 | M | 49 | Ron Remeyer | 01:05:07 | 14' | 31 | Men's 40+ | 9 |
| 50 | M | 50 | Ian Light | 01:05:10 | 12'6 | 15 | Men's U16 | 10 |
| 51 | M | 51 | Daniel Russell | 01:05:10 | 12'6 | 16 | Men's U16 | 11 |
| 52 | M | 52 | Mark Stavron | 01:05:27 | Unlim | 5 | Men's 60+ | 1 |
| 53 | M | 53 | Danai Phongdara | 01:05:39 | 12'6 | 17 | Men's 40+ | 1 |
| 54 | M | 54 | Mick Vollmer | 01:05:40 | 12'6 | 18 | Men's Open | 2 |
| 55 | M | 55 | Johnny Kessel | 01:05:41 | 14' | 32 | Men's 40+ | 3 |
| 56 | M | 56 | Braly Joy | 01:05:54 | 12'6 | 19 | Men's 40+ | 4 |
| 57 | M | 57 | Jeff Koch | 01:06:41 | 12'6 | 20 | Men's 60+ | 5 |
| 58 | M | 58 | Yann Lauletta | 01:07:05 | 12'6 | 21 | Men's U19 | 6 |
| 59 | F | 1 | Jaime Donnelly | 01:07:29 | F12'6 | 1 | Women's Open | 1 |
| 60 | M | 59 | Brad Kingsley | 01:07:47 | 12'6 | 22 | Men's 40+ | 1 |
| 61 | F | 2 | Jill Vickery | 01:08:12 | F12'6 | 2 | Women's 40+ | 2 |
| 62 | M | 60 | Collin Bautista | 01:08:31 | 14' | 33 | Men's U19 | 2 |
| 63 | M | 61 | Ben Usaja | 01:09:07 | 12'6 | 23 | Men's Open | 1 |
| 64 | M | 62 | Nicholas Scheel | 01:09:23 | 12'6 | 24 | Men's U16 | 2 |
| 65 | M | 63 | Norm Scheel | 01:09:30 | 14' | 34 | Men's 40+ | 1 |
| 66 | M | 64 | Lee Donovan | 01:11:00 | 14' | 35 | Men's 40+ | 2 |
| 67 | M | 65 | Leo Hinchcliff | 01:11:30 | 14' | 36 | Men's 60+ | 3 |
| 68 | M | 66 | Chris Koerner | 01:11:44 | Unlim | 6 | Men's 40+ | 4 |
| 69 | F | 3 | Shae Foudy | 01:11:49 | F12'6 | 3 | Women's U16 | 3 |
| 70 | M | 67 | Robert Margalis | 01:12:17 | 12'6 | 25 | Men's Open | 5 |
| 71 | M | 68 | Gary Peterson | 01:12:38 | 14' | 37 | Men's 40+ | 6 |
| 72 | F | 4 | Susie Hopper | 01:13:18 | F12'6 | 4 | Women's 40+ | 4 |
| 73 | F | 5 | Alleanna Clark | 01:13:19 | F Unlim | 1 | Women's U16 | 5 |
| 74 | M | 69 | Bill Waters | 01:13:25 | 14' | 38 | Men's 40+ | 7 |
| 75 | F | 6 | Gretchen Benedetto | 01:13:38 | F12'6 | 5 | Women's 40+ | 6 |
| 76 | M | 70 | Rick Lake | 01:13:43 | 14' | 39 | Men's 40+ | 1 |
| 77 | M | 71 | Mickey Munoz | 01:13:49 | 12'6 | 26 | Men's 60+ | 1 |
| 78 | F | 7 | Peggy Munoz | 01:15:12 | F12'6 | 6 | Women's 60+ | 7 |
| 79 | M | 72 | Steven Kessler | 01:15:19 | Unlim | 7 | Men's 40+ | 1 |
| 80 | F | 8 | Tyler Jones | 01:16:21 | F12'6 | 7 | Women's U16 | 8 |
| 81 | M | 73 | Doug May | 01:16:46 | 12'6 | 27 | Men's 40+ | 1 |
| 82 | M | 74 | Ryan Maloney | 01:16:56 | 12'6 | 28 | Men's U16 | 1 |
| 83 | F | 9 | Terry Welker | 01:17:46 | F12'6 | 8 | Women's 40+ | 9 |
| 84 | M | 75 | Max Fleming | 01:19:03 | 12'6 | 29 | Men's U16 | 2 |
| 85 | F | 10 | Erica Santos | 01:19:56 | F12'6 | 9 | Women's 40+ | 10 |
| 86 | M | 76 | Mark Meierhoefer | 01:25:29 | 12'6 | 30 | Men's 40+ | 3 |
| 87 | M | 77 | James Yanoschik | 01:25:59 | 12'6 | 31 | Men's 40+ | 1 |
| 88 | F | 11 | Jennifer Peat | 01:28:27 | F14' | 1 | Women's 40+ | 11 |
| 89 | F | 12 | Axel Hennessey | 01:32:05 | F12'6 | 10 | Women's U19 | 12 |
| 90 | F | 13 | Alexandria Higginson | 01:32:23 | F12'6 | 11 | Women's U16 | 13 |
| 91 | F | 14 | Amy Ehrenkranz | 01:33:03 | F12'6 | 12 | Women's 40+ | 14 |
| 92 | F | 15 | Nicolr Polizois Crawford | 01:33:08 | F12'6 | 13 | Women's 40+ | 15 |
Pics thanks to Dana Outrigger Canoe Club