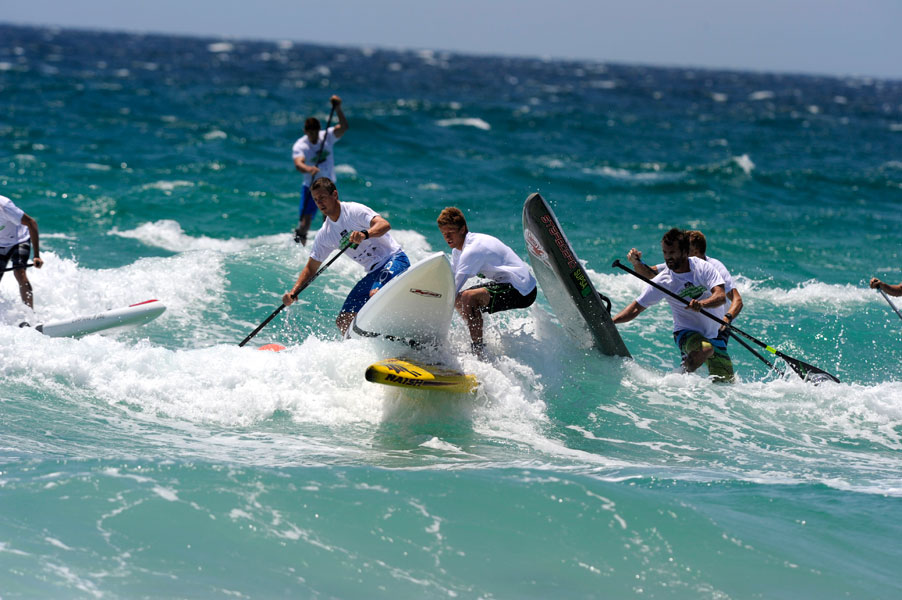 [RESULTS] Australian SUP Titles: Lincoln Dews, Jake Jensen And Karla Gilbert Put Their Hands Up For Nicaragua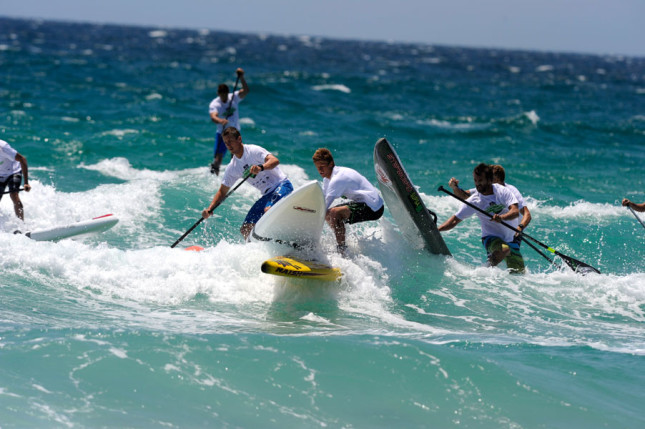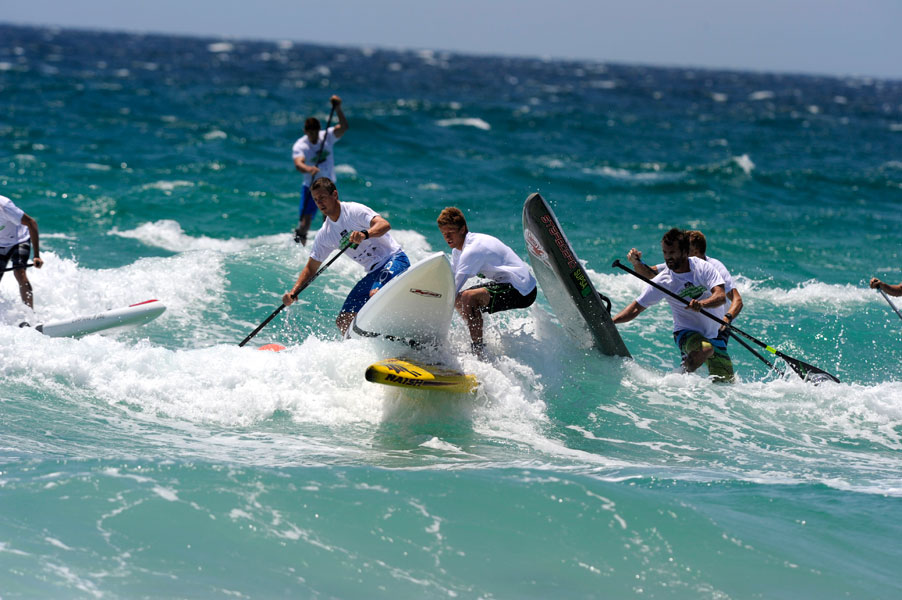 SATURDAY UPDATE: Lincoln Dews and Karla Gilbert have one foot in the door of the plane to Nicaragua, after claiming respective victories in the men's and women's technical course race on Day One of the Australian SUP Titles. Conditions were rather dismal at Currumbin, which lies on Queensland's paddling mecca of the Gold Coast, with strong onshore winds making the 5km course tricky for the country's best paddlers.
Lincoln battled the whole way with his Lahui Kai teammate Kelly Margetts before snagging a wave and pulling away in the dying stages. Kelly came home second while Beau O'Brian was just 12 seconds further back. Our official BOP Dark Horse pick Toby Cracknell took a very respectable 4th, while another New South Welshman, Andy Davies, rounded out the top five.
As you can see from the photos below, today was hard work… Tomorrow (Sunday) sees the distance race, which was planned as a downwinder but the wind gods had other ideas and so now the race looks like it might be a long, hard grind out in the ocean. One thing's for sure though: Whoever gets a ticket to Nicaragua for the mighty Team Australia will have clearly earned it.
This weekend's national championship features almost all of the country's finest paddlers, who had to qualify through the various State Titles that were held earlier in the year. The winners will help selectors decide who gets to fly the Aussie flag at the 2014 ISA World Stand Up Paddle and Paddleboard Championship.
SUNDAY UPDATE: Jake Jensen has just taken out the Distance Race on Day Two of the Australian SUP Titles, narrowly defeating fellow Currumbin local Beau O'Brian to give the Team Australia selectors the luxury problem of which international elite paddlers to pick for Nicaragua 2014. There won't be much trouble on the women's side though, with Karla Gilbert winning today's race ahead of Angie Jackson, making it a clean sweep for the former Ironwoman Queen.
Today's win was a sweet ending to the weekend for Jake, who was one of the hot favourites in yesterday's Course Race, only to get caught up in the chaos and carnage and finish well down the order. It wasn't an easy victory though; after a back-and-forth duel the entire race, Beau took a 50 meter lead into the final turning buoy at the end of the ocean leg. However coming into the final 1km flat-water stretch of the race along Currumbin Creek, Jake caught a little bump and milked it all the way past Beau, before holding him off to the line.
That means Lincoln Dews, Jake Jensen and Karla Gilbert have put their hands up for selection for a spot on Team Australia at next year's ISA World Champs. However there were also strong performances from Beau O'Brian and Kelly Margetts, while world beaters Travis Grant and Jamie Mitchell were absent. That should give selectors plenty to think about, with the lineup for Team Oz expected to come in the next month or so. No matter what happens though, Australia clearly has plenty of talent and will almost certainly start as hot favourites in Nicaragua next May.
Scroll down for full results…
2013 Australian SUP Titles – RESULTS
TECHNICAL COURSE RACE
(Click "Division" to switch between men's and women's results)

| Overall # | Name | Time | Division | Div # | State |
| --- | --- | --- | --- | --- | --- |
| 1 | Lincoln Dews | 21.05 | Men Open | 1 | QLD |
| 2 | Kelly Margetts | 21.32 | Men Open | 2 | QLD |
| 3 | Beau O'Brian | 21.44 | Men Open | 3 | QLD |
| 4 | Toby Cracknell | 22.38 | Men Open | 4 | NSW |
| 5 | Andy Davies | 23.53 | Men Open | 5 | NSW |
| 6 | Peter Dorries | 24.05 | Men 40+ | 1 | QLD |
| 7 | Jayden Jensen | 24.44 | Men Open | 6 | QLD |
| 8 | Troy Pease | 25.17 | Men 40+ | 2 | QLD |
| 9 | Jon Locke | 25.3 | Men Open | 7 | QLD |
| 10 | Karla Gilbert | 25.4 | Women Open | 1 | QLD |
| 11 | Paul Jones | 25.55 | Men 40+ | 3 | QLD |
| 12 | Kai Bates | 27.25 | Men Open | 8 | NSW |
| 13 | Steve Walker | 28.14 | Men Open | 9 | QLD |
| 14 | Zeb Walsh | 28.28 | Men Open | 10 | VIC |
| 15 | Terrene Black | 28.58 | Women Open | 2 | NSW |
| 16 | Peter Myer | 29.22 | Men Open | 11 | NSW |
| 17 | Matt Nottage | 29.59 | Men Open | 12 | VIC |
| 18 | Heath Meldrum | 30.13 | Men Open | 13 | VIC |
| 19 | Ryan Keck | 30.23 | Men Open | 14 | QLD |
| 20 | Jake Jensen | 30.39 | Men Open | 15 | QLD |
| 21 | Dale Chapman | 30.47 | Men 40+ | 4 | QLD |
| 22 | Shakira Westdorp | 31.54 | Women Open | 3 | QLD |
| 23 | Jackson Shaw | 32.04 | Men Open | 16 | WA |
| 24 | Angela Jackson | 32.24 | Women Open | 4 | QLD |
| 25 | Tim Cyprien | 33.02 | Men Open | 17 | QLD |
| 26 | Sondra Purser | 33.28 | Women Open | 5 | QLD |
| 27 | Alan Teurquetil | 34.06 | Men 50+ | 1 | NSW |
| 28 | Chris Clarke | 34.32 | Men Open | 18 | VIC |
| 29 | Harry Muskall | 35.44 | Men Open | 19 | NSW |
| 30 | Macro Bertossa | 36.41 | Men Open | 20 | QLD |
| 31 | Chris Carter | 37.27 | Men 40+ | 5 | NSW |
| 32 | Ben Tardrew | 37.55 | Men Open | 21 | WA |
| 33 | Andrew Edhouse | 38.03 | Men 40+ | 6 | QLD |
| 34 | Rob Walton | 38.11 | Men 40+ | 7 | QLD |
| 35 | Michael Jenkins | 38.44 | Men 50+ | 2 | VIC |
| 36 | Andrew Cassidy | 39.07 | Men 40+ | 8 | NSW |
| 37 | Alison Fullagar | 42.45 | Women Open | 6 | QLD |
| 38 | Nicole Klink | 42.48 | Women Open | 7 | QLD |
| 39 | Joe Fry | 43.58 | Men 40+ | 9 | WA |
| 40 | Sean Bicknell | 44.49 | Men 40+ | 10 | QLD |
| 41 | Gordon Stimson | 44.57 | Men 40+ | 11 | WA |
| 42 | Cameron McKay | 46.05 | Men Open | 22 | WA |
DISTANCE RACE
(we're waiting on actual finishing times but here are the placings for each division)
Men – Open
1st: Jake Jensen
2nd: Beau O'Brian
3rd: Lincoln Dews
4th: Kelly Margetts
5th: Marcus Tardew
6th: Toby Cracknell
7th: Heath Meldrum
8th: Ben Tardrew
9th: Matt Nottage
10th: Andy Davies
11th: Zeb Walsh
12th: Cameron McKay
13th: Chris Clarke
14th: Jack Bleach
15th: Jackson Shaw
Women – Open
1st: Karla Gilbert
2nd: Angela Jackson
3rd: Terrene Black
4th: Alison Fullagar
5th: Sondra Purser
6th: Nicole Klink
7th: Sue Dorries
8th: Jean Ringrose
9th: Sasha Lahey
10th: Liz Guilhaus
Men – 40+
1st: Troy Pease (3rd overall)
2nd: Paul Jones
3rd: Roger Goodwin
4th: Dale Chapman
5th: Mark Huxley
6th: Scott McCluskey
7th: Sean Bicknell
8th: Chris Carter
9th: Greg Kerr
10th: Jamie Gilmour
11th: Mark Woelders
12th: Andrew Worling
13th: Paul Harrington
Men – 50+
1st: Alan Teurquetil
2nd: Warrick Lee
3rd: John Engel
4th: Shayne Lynch
5th: Michael Jenkins
6th: Peter Turner
7th: Kent Wright
8th: Phil Pretty
9th: Gordon McKearcher
10th: Steve Bown
11th: Geoff Waterhouse
Men – 14′
1st: Jon Locke
2nd: Peter Meyer
3rd: Steve Walker
4th: Matt Stringer
5th: Stephen Roberts
6th: Ryan Keck
7th: Marco Bertossa
8th: Evan Green
9th: Travis Murphy
10th: Gordon Stimson
11th: Steve Furguson
12th: David Sprague
13th: Luke Jenkins
14th: Joe Fry