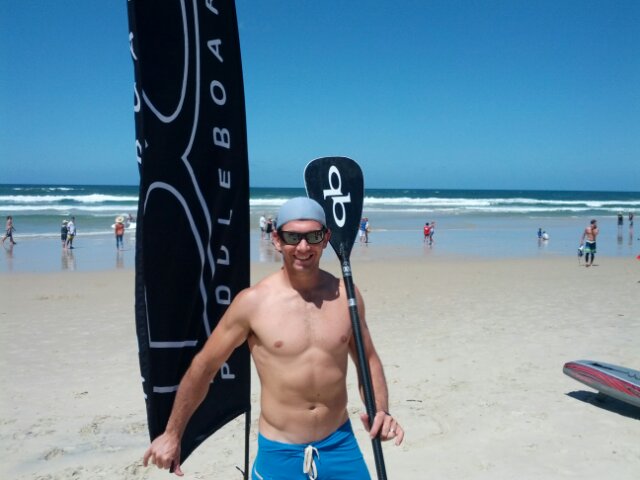 February 9, 2013
by Christopher Parker (@wheresbossman)
Travis Grant, Karla Gilbert Win Australia's "12 Towers" Ocean SUP Race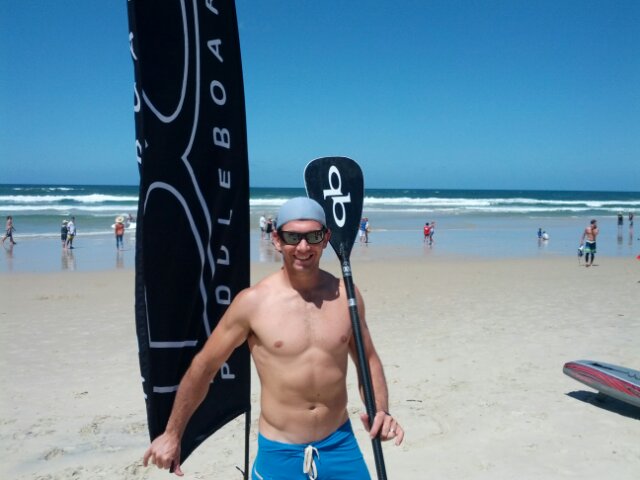 The Gold Coast, Australia has probably produced more elite paddlers than any other spot in the world. Just some of the names that call the Coast home include Jamie Mitchell, Travis Grant, Kelly Margetts, Jake Jensen, Paul Jackson, Beau O'Brian… You get the point. It's got a lot of SUP talent.
So when a race is held on the Gold Coast, it instantly comes with an international standard of competition. Today it was the 2nd annual 12 Towers Ocean SUP Race, which went from the world famous Kirra Point to Burleigh Heads. The local guns were joined by plenty of other elite paddlers from around Australia to produce an awesome event.
More than 80 paddlers started the 12km ocean course but it was Travis Grant who took the win in the men's race, two and a half minutes ahead of Beau O'Brian, matching the result from The Doctor last month. Meanwhile former Ironwoman champ Karla Gilbert claimed the women's race, narrowly edging out Angie Jackson.
While the 12 Towers was billed as a downwinder, someone clearly forgot to tell the weather gods. Paddlers were met with a light sidewind and plenty of bumps going in all directions. It wasn't as bad as we first feared though, with plenty of runners if you wanted to work hard for them. The conditions made it more of a challenge but also more of a reward just to get to the end. It's also great to see almost 100 paddlers on the start line, which makes this one of the biggest SUP races ever held in Australia.
Check out the full results below and take a look at some photos of the action thanks to Kim Magee.
2013 "12 Towers" Ocean SUP Race RESULTS
Click "M/F" to switch between Men's and Women's Results
Click "Class" or "Division" to sort results by Board Class or Age Division
Click "#" to reset the results

| # | M/F | M/F # | Name | Time | Class | Class # | Division | Div # | Age |
| --- | --- | --- | --- | --- | --- | --- | --- | --- | --- |
| 1 | M | 1 | Travis Grant | 1:23:13.1 | 12'6 | 1 | Open Men | 1 | 30 |
| 2 | M | 2 | Beau O'Brian | 1:25:50.9 | 12'6 | 2 | Open Men | 2 | 29 |
| 3 | M | 3 | Lincoln Dews | 1:26:55.1 | 12'6 | 3 | Open Men | 3 | 17 |
| 4 | M | 4 | Jake Jensen | 1:28:45.1 | 12'6 | 4 | Open Men | 4 | 18 |
| 5 | M | 5 | Paul Jackson | 1:30:24.8 | 12'6 | 5 | Open Men | 5 | 36 |
| 6 | M | 6 | Troy Pease | 1:33:33.2 | 14'+ | 1 | Open Men | 1 | 40 |
| 7 | M | 7 | Toby Cracknell | 1:33:39.8 | 14'+ | 2 | Open Men | 2 | 18 |
| 8 | M | 8 | Kelly Margetts | 1:35:07.3 | 12'6 | 6 | Open Men | 6 | 40 |
| 9 | M | 9 | Steve "Wild Man" Walker | 1:35:12.8 | 14'+ | 3 | Open Men | 3 | 38 |
| 10 | M | 10 | Ben Brown | 1:36:02.4 | 14'+ | 4 | Open Men | 4 | 34 |
| 11 | M | 11 | Trevor Tunnington | 1:36:51.5 | 14'+ | 5 | Open Men | 5 | 15 |
| 12 | M | 12 | Christopher Parker | 1:38:26.9 | 14'+ | 6 | Open Men | 6 | 29 |
| 13 | M | 13 | Matt Carter | 1:40:15.7 | 14'+ | 7 | Open Men | 7 | 39 |
| 14 | M | 14 | Jon Locke | 1:42:24.0 | 12'6 | 7 | Open Men | 7 | 35 |
| 15 | M | 15 | Paul Jonesy | 1:43:53.6 | 12'6 | 8 | Men 40-49 | 1 | 40 |
| 16 | M | 16 | Heath Meldrum | 1:45:37.9 | 12'6 | 9 | Open Men | 8 | 34 |
| 17 | M | 17 | Brad Rodgers | 1:45:53.2 | 12'6 | 10 | Open Men | 9 | 35 |
| 18 | M | 18 | Greg (Chilli) Beer | 1:48:42.3 | 14'+ | 8 | Men 40-49 | 1 | 48 |
| 19 | M | 19 | Simon Hunnybun | 1:48:50.3 | 12'6 | 11 | Open Men | 10 | 39 |
| 20 | F | 1 | Karla Gilbert | 1:49:03.0 | F12'6 | 1 | Open Women | 1 | 37 |
| 21 | F | 2 | Angela Jackson | 1:49:22.4 | F12'6 | 2 | Open Women | 2 | 36 |
| 22 | M | 20 | Ryan Keck | 1:51:22.6 | 12'6 | 12 | Open Men | 11 | 23 |
| 23 | M | 21 | Wayne Johnstone | 1:52:14.8 | 12'6 | 13 | Men 40-49 | 2 | 49 |
| 24 | M | 22 | Scott Shambrook | 1:52:38.0 | 14'+ | 9 | Men 40-49 | 2 | 48 |
| 25 | F | 3 | Michelle England | 1:53:00.1 | F12'6 | 3 | Open Women | 3 | 34 |
| 26 | M | 23 | Dylan Magee | 1:53:09.4 | 12'6 | 14 | Open Men | 12 | 20 |
| 27 | M | 24 | Dale Chapman | 1:53:48.6 | 12'6 | 15 | Men 40-49 | 3 | 45 |
| 28 | M | 25 | Dallas Halford | 1:53:54.5 | 14'+ | 10 | Open Men | 8 | 39 |
| 29 | M | 26 | Luke Egan | 1:54:25.9 | 14'+ | 11 | Men 40-49 | 3 | 44 |
| 30 | M | 27 | Michael Stokes | 1:58:02.0 | 12'6 | 16 | Men 50+ | 1 | 54 |
| 31 | M | 28 | Stephen Roberts | 1:59:32.7 | 14'+ | 12 | Open Men | 9 | 37 |
| 32 | F | 4 | Molly Walker | 2:00:15.3 | F12'6 | 4 | Open Women | 4 | 19 |
| 33 | M | 29 | Rob Walton | 2:00:15.6 | 14'+ | 13 | Men 40-49 | 4 | 41 |
| 34 | M | 30 | Chris Carter | 2:01:19.7 | 14'+ | 14 | Men 40-49 | 5 | 43 |
| 35 | M | 31 | Ismael Garcia | 2:02:10.0 | Prone | 1 | Open Men | 16 | 26 |
| 36 | M | 32 | Dion Parker | 2:04:22.6 | 14'+ | 15 | Open Men | 10 | 31 |
| 38 | M | 33 | Rob Cribb | 2:04:29.4 | 14'+ | 17 | Men 40-49 | 6 | 40+ |
| 37 | M | 34 | Paul Mitchell | 2:04:29.4 | 14'+ | 16 | Men 50+ | 1 | 50+ |
| 39 | M | 35 | Ranfurly Hockey | 2:06:26.3 | 12'6 | 17 | Open Men | 13 | 29 |
| 40 | M | 36 | Steve Richardson | 2:07:17.6 | 12'6 | 18 | Men 40-49 | 4 | 42 |
| 41 | M | 37 | Jonathan Walker | 2:07:54.4 | 12'6 | 19 | Men 50+ | 2 | 50 |
| 42 | M | 38 | Nathan Rothlisberg | 2:08:32.8 | 12'6 | 20 | Men 40-49 | 5 | 41 |
| 43 | M | 39 | Neil English | 2:08:48.7 | 14'+ | 18 | Men 50+ | 2 | 51 |
| 44 | M | 40 | Alan Mcarthur | 2:09:16.2 | 14'+ | 19 | Open Men | 11 | 35 |
| 45 | F | 5 | Sue Dorries | 2:09:31.9 | F12'6 | 5 | Women 50+ | 1 | 54 |
| 46 | M | 41 | Duncan Corbett | 2:09:51.2 | 14'+ | 20 | Men 50+ | 3 | 51 |
| 47 | F | 6 | Nichole Cross | 2:10:49.6 | F12'6 | 6 | Open Women | 5 | 26 |
| 48 | M | 42 | Ryan Ristuccia | 2:10:52.6 | 12'6 | 21 | Open Men | 14 | 33 |
| 49 | M | 43 | Noraiki Kudeken | 2:11:05.4 | 12'6 | 22 | Men 40-49 | 6 | 44 |
| 50 | F | 7 | Jayne Ryeland | 2:12:43.4 | F12'6 | 7 | Women 40-49 | 1 | 45 |
| 51 | M | 44 | Alan Heald | 2:18:15.1 | 14'+ | 21 | Men 40-49 | 7 | 46 |
| 52 | M | 45 | Jeff Pilkington | 2:20:50.7 | 12'6 | 23 | Men 40-49 | 7 | 42 |
| 53 | M | 46 | Tony Brown | 2:20:50.7 | 14'+ | 22 | Men 50+ | 4 | 52 |
| 54 | M | 47 | Andrew Edhouse | 2:22:15.0 | 12'6 | 24 | Men 40-49 | 8 | 41 |
| 55 | M | 48 | Paul Shepherd | 2:23:13.6 | 14'+ | 23 | Men 50+ | 5 | 53 |
| 56 | M | 49 | Peter Morley | 2:23:35.8 | 14'+ | 24 | Men 50+ | 6 | 54 |
| 57 | F | 8 | Sandra Rofe | 2:24:43.4 | F14'+ | 1 | Women 40-49 | 3 | 48 |
| 58 | M | 50 | Geoff Dews | 2:25:57.7 | 14'+ | 25 | Men 50+ | 7 | 50+ |
| 59 | M | 51 | Matthew Hunter | 2:26:36.7 | 12'6 | 25 | Men 40-49 | 9 | 43 |
| 60 | M | 52 | Chris McCall | 2:28:38.5 | 14'+ | 26 | Men 40-49 | 8 | 44 |
| 61 | F | 9 | Jenny Cosgrove | 2:29:03.9 | F12'6 | 8 | Women 40-49 | 2 | 44 |
| 62 | M | 53 | Chris Devine | 2:30:00.9 | 12'6 | 26 | Open Men | 15 | 26 |
| 63 | M | 54 | Ross Munro | 2:35:49.9 | 14'+ | 27 | Men 40-49 | 9 | 46 |
| 64 | M | 55 | Leigh Kalf | 2:39:11.0 | 12'6 | 27 | Open Men | 16 | 39 |
| 65 | F | 10 | Ke'ale Dorries | 2:39:57.8 | F12'6 | 9 | Junior Class | 1 | 15 |
| 66 | M | 56 | John Townsend | 2:44:04.6 | 14'+ | 28 | Men 50+ | 8 | 52 |
| 67 | M | 57 | Mark Woelders | 2:44:11.1 | 14'+ | 29 | Men 40-49 | 10 | 41 |
| 68 | F | 11 | Chloe Walkerdene | 2:51:44.6 | F12'6 | 10 | Junior Class | 2 | 16 |
| 69 | M | 58 | Bill Hoffman | 3:24:54.3 | 14'+ | 30 | Men 50+ | 9 | 57 |
| 99 | M | 99 | Pete Dorries | DNF | 12'6 | 99 | Men 40-49 | 99 | 46 |
| 99 | M | 99 | Neil Pearson | DNF | 12'6 | 99 | Men 50+ | 99 | 50 |
| 99 | M | 99 | Shane Lynch | DNF | 14'+ | 99 | Men 50+ | 99 | 50 |
| 99 | M | 99 | Nigel Milnes | DNF | 14'+ | 99 | Men 50+ | 99 | 56 |
| 99 | M | 99 | Mark McGeechan | DNF | 12'6 | 99 | Open Men | 99 | 34 |
| 99 | M | 99 | Jayden Jensen | DNF | 12'6 | 99 | Open Men | 99 | 20 |
| 99 | M | 99 | Stewart Walton | DNF | 12'6 | 99 | Open Men | 99 | 34 |
| 99 | F | 99 | Jacqueline Caldecoat | DNF | F12'6 | 99 | Open Women | 99 | 38 |
| 99 | M | 99 | Sean Bicknell | DNF | 14'+ | 99 | Men 40-49 | 99 | 40 |
| 99 | M | 99 | Peter Patch | DNF | 14'+ | 99 | Men 50+ | 99 | 55 |
| 99 | M | 99 | Chris Chamberlain | DNF | 14'+ | 99 | Open Men | 99 | 37 |
| 99 | M | 99 | Chris Rosewarne | DNF | 14'+ | 99 | Open Men | 99 | 37 |
| 99 | M | 99 | Charl Herbst | DNF | 14'+ | 99 | Open Men | 99 | 33 |
| 99 | M | 99 | Tom Litzner | DNS | 12'6 | 99 | Open Men | 99 | 33 |
| 99 | M | 99 | Ian Grose | DNS | 14'+ | 99 | Men 50+ | 99 | 55 |
| 99 | M | 99 | Peter Turner | DNS | 14'+ | 99 | Men 50+ | 99 | 52 |
| 99 | M | 99 | Jay Gates | DNS | 14'+ | 99 | Open Men | 99 | 33 |