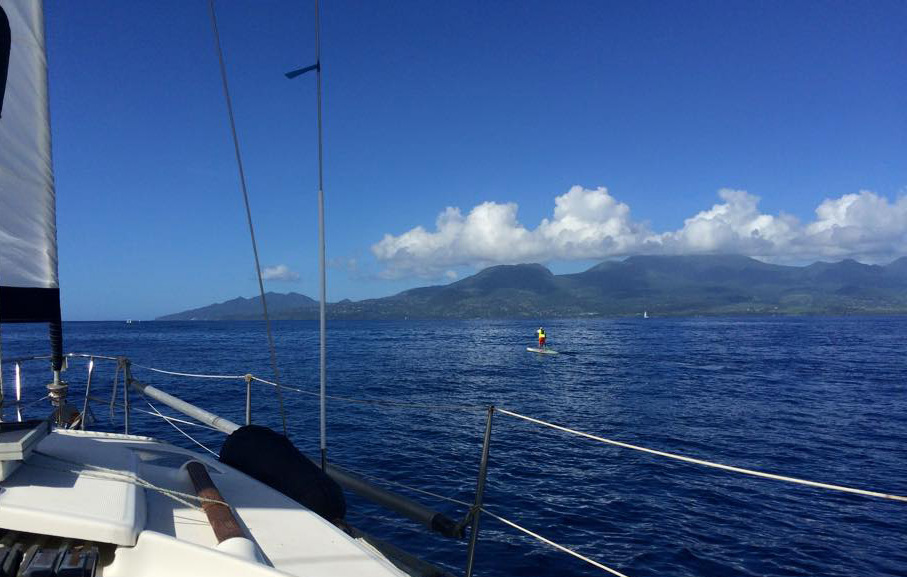 February 1, 2015
by Christopher Parker (@wheresbossman)
Results From 'Ze Caribbean Race' (aka The Caribbean Molokai)

Dimitri Georges and Stephanie Jeaunneaux have taken out the 5th edition of Ze Caribbean Race in Guadeloupe, a five hour, open ocean epic held annually in Guadeloupe.
The distance and course of Ze Caribbean Race are very similar to the famous Molokai-2-Oahu race in Hawaii. The crossing of the Ka'iwi Channel between Molokai and Oahu is 32 miles, while the Ze Caribbean Race advertised as 33 (though the results say 50kms, which is roughly 31 miles).
And just like its Hawaiian cousin, Ze Caribbean Race is an open ocean crossing between two islands, from the small outpost of Marie-Galante to the main island of Guadeloupe (Google Maps).
So if the Chattajack race is the Inland Molokai, then I declare Ze Caribbean Race to be the Caribbean Molokai.
Guadeloupe is a former French colony that still has strong links to Europe. That's evident from the results, with the top three guys all hailing from mainland France. The fastest across the line, Dimitri Georges, is probably better known as a surfer but clearly has some bump riding and endurance abilities. Runner-up Martin Letourneur (currently ranked #33 in the world) is a familiar name on the race scene these days, as is Yoann Cornelis.
Below are the 24 brave souls that completed the crossing solo (there was also a teams division). More info and plenty of photos on the official Facebook page.
Ze Caribbean Race: Men's Solo SUP Results
1st: Dimitri Georges (5 hours 29 minutes 12 seconds)
2nd: Martin Letourneur (5:36:00)
3rd: Yoann Cornelis (5:38:54)
4th: Romuald Mamadou (5:40:25)
5th: Amaury Dormet (5:43:09)
6th: Stephane Bodet (6:00:39)
7th: Franck Fifils (6:04:48)
8th: Yves Gondre (6:08:18)
9th: Guillaume Delesalle (6:14:57)
10th: Mickael Pacot (6:17:36)
11th: Lucas Le Bayon (6:25:53)
12th: Thomas Martin Battisti (6:27:15)
13th: Franck Le Ven (6:32:34)
14th: Hugo Donse (6:33:10)
15th: Fabrice Orfila (6:34:06)
16th: Pascal Pouget (6:43:43)
17th: Cyrille Curtit (6:47:11)
18th: Pierre Marec (6:52:22)
19th: Xavier D'Auzac (6:58:32)
20th: Fabrice D'Ornano (7:07:07)
21st: Gareth Edwards (7:07:49)
22nd: Tanguy Rouzel (7:11:57)
Ze Caribbean Race: Women's Solo SUP Results
1st: Stephanie Jeaunneaux (7:13:27)
2nd: Emilie Dauch (7:50:38)