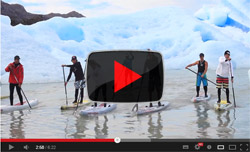 WATCH: SUP Racing Amongst Icebergs In Patagonia
Check out some crazy footage from last week's Aragas Magallanes Paddle Challenge in the beautiful wilderness of Patagonia, where paddlers were literally dodging icebergs as they raced.
This is the video of Day 1, when Kai Lenny knocked off Connor Baxter in the Distance Race and newly-crowned ISA World Champ Casper Steinfath came home in third. Watch the full clip below, then when you're done you can relive the race results + photos of the 2013 Magallanes Paddle Challenge.