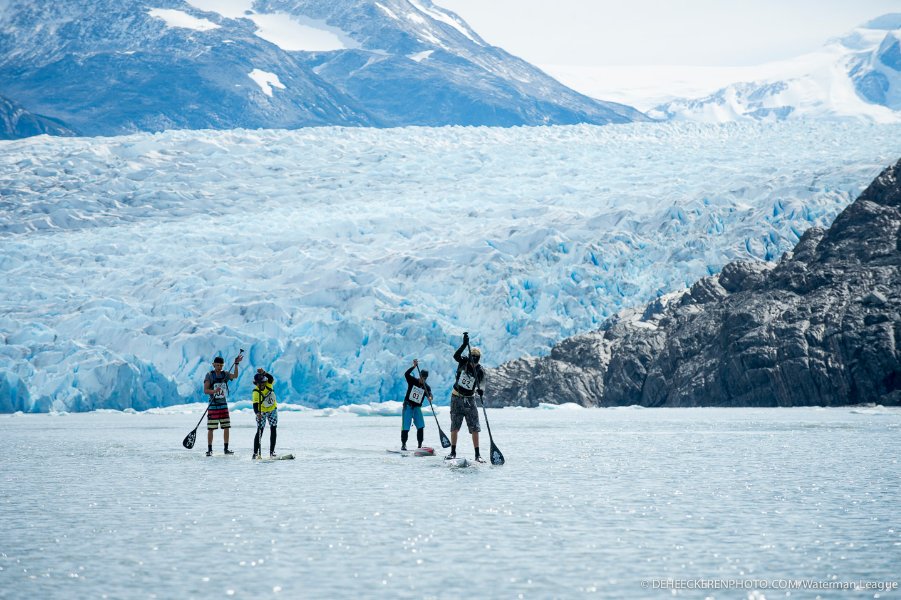 March 15, 2013
by Christopher Parker (@wheresbossman)
Connor Baxter Wins The Stand Up World Series Season Opener On The Epic Iceberg Lake (UPDATED)
Connor Baxter has just WON the inaugural Aragas Magallanes Paddle Challenge, defeating his arch rival Kai Lenny in the beautiful wilderness of Patagonia, Chile.
Connor didn't have it all his own way though, with Kai taking out the Long Distance race on Day 1 of this $20,000 event, which also serves as the first stop of the 2013 Stand Up World Series. Wearing the yellow jersey after his victory last year, Kai battled with Connor right across Lago Gray ("Grey Lake"), the epic, iceberg-filled host of yesterday's race. But despite Connor leading early, the young Naish star was able to break away in the final stages of the 13 mile race to take the win and start the 2013 Series the same way he finished 2012.
Meanwhile the Danish Viking, Casper Steinfath, continued his strong early season form, sticking with the leaders for much of the race before settling for third. Casper flew to Chile direct from Peru, where he won a Gold and Silver at the recent ISA World Champs.
Rounding out the top 5 in the Distance Race were Zane Schweitzer and Brazilian Maui expat Vinnicius Martins, with local Chilean representative Arnaud Frennet in sixth. Frennet was the first person to ever stand up paddle on the Grey Lake, and it was on that original trip that the whole idea of racing in this crazy location was born.
Scroll down for more awesome photos…
On Day 2 (Saturday) it was the sprints, which would decide who would be the overall event champion (and who would walk away with the $9,000 first place prize…). After yesterday's loss in the Distance Race it was all or nothing for Connor Baxter, and the Maui wunderkind didn't disappoint, defeating Kai Lenny and setting up a tie-breaker for the overall title.
In one final, do-or-die sprint, it was Connor who proved to be the fastest, defeating his rival and taking out the first stop of the 2013 Stand Up World Series.
2013 Magallanes Paddle Challenge RESULTS
OVERALL
1st: Connor Baxter
2nd: Kai Lenny
3rd: Casper Steinfath
Long Distance Race
(Day 1, Friday 15th)
1st: Kai Lenny
2nd: Connor Baxter
3rd: Casper Steinfath
4th: Zane Schweitzer
5th: Vinnicius Martins
6th: Arnaud Frennet
Full results coming soon…
Sprint Races
(Day 2, Saturday 16th)
1st: Connor Baxter
2nd: Kai Lenny
3rd: Casper Steinfath
4th: Zane Schweitzer
Full results coming soon…
(all photos © deheeckerenphoto.com/Waterman League)