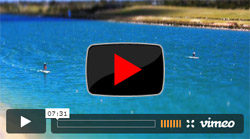 November 20, 2012
by Christopher Parker (@wheresbossman)
[VIDEO] Starboard Black Blade Regatta, SUP Sprint Racing, And Some Fun With Numbers…
Check out this great clip from last week's Starboard Black Blade Regatta, aka the Western Australian State SUP Sprint Titles that were held at the "Champion Lakes Regatta Centre" near Perth on Saturday 10th November.
It's not only a cool video to watch if you're a SUP racing fan, it's also interesting to compare the times from this event to other, similar SUP sprint "regattas" held around the world. Watch the video below then scroll down for some fun with the numbers…
The name and format of the Black Blade Regatta suggest that it drew some inspiration from the Silver Blade Regatta in San Diego, which has included SUP sprint races the past two years. That event created a brand new format for SUP racing (though the format was actually taken straight from the kayak/sprint canoe racing world); the 200m sprint, which seems to be popping up at more and more SUP races around the world.
I think it's interesting to compare results between the two events. Both the Silver and Black Blade Regattas included 200m sprint races using 14′ boards, so apart from possible head/tail wind variations, the comparisons of race times should be pretty fair.
In the Black Blade Regatta, the fastest time was 55.79 seconds by Peter Pridmore. Compare that to the Silver Blade Regatta, where Jim Terrell clocked the fastest time of 53.76 seconds.
You might also like >>> SUP Sprint Racing secrets with Jim Terrell
It'll be fun to see whether or not the 200m SUP sprint format really takes off around the world. I'm hoping it does, because it would be one of the easiest (and only) ways of measuring local race results across countries. Finishing times in other types of SUP racing (surf races, downwinders, etc) are heavily dependent on the conditions, plus the courses rarely have set distances anyway. So this type of flat-water, short-course sprint racing could be a great way to compare the standard of competition across different states and different countries.
Imagine if every serious SUP country ran 200m SUP sprint events and the results were available online (on SUPracer.com of course ;-). It would give us all something "international" to compete against and strive for, even at our local races.
But one thing the Black Blade had that the Silver Blade didn't is a 200m race on 12'6″ boards. That means we can take a look at what speed difference a 14′ board makes compared to its little brother.
For example Ben Tardrew clocked 60.80 seconds in the 14′ final, but only 67.87 in the 12'6″ final. All other things being equal, that means Ben paddles 11.6% slower on his 12'6″ board compared to his 14 footer.
*****
Starboard Black Blade Regatta RESULTS
(Western Australian State SUP Sprint Titles)
MEN'S 14′ Final
Lane, Name, Place, Time
1 Jackson Shaw 7 1:03.92
2 Greg Kerr 5 1:00.94
3 Ben Tardrew 4 1:00.80
4 Peter Pridmore 1 55.79
5 Roger Goodwin 2 57.21
6 Marcus Tardrew 3 58.26
7 Andrew Cropley 6 1:01.46
8 Peter Baldwin 8 1:04.78
MEN'S 12'6″ Final
Lane, Name, Place, Time
2 Peter Thomsett 5 1:25:87
3 Cam McKay 2 1:09.56
4 Ben Tardrew 1 1:07.87
5 Brendon Rice 3 1:12.38
6 Gordon Stimpson 4 1:16.21
WOMEN'S 12'6″ Final
Lane, Name, Place, Time
1 Dianne McPhail 7 1:29:41
2 Ashley Hamil 5 1:26:98
3 Anne Lockwood 3 1:21:66
4 Michelle England 1 1:08:34
5 Lorrayne Grullis 2 1:17:34
6 Jade Lane 4 1:23:11
7 Suze Thomas 6 1:28:62
MEDALISTS…
Women's 12'6 Open, 200m
Gold – Michelle England
Silver – Lorrayne Grullis
Bronze – Anne Lockwood
Men's 12'6 Open, 200m
Gold – Ben Tardrew
Silver – Cam McKay
Bronze – Gordon Stimson
Men's 14′ Over 50, 200m
Gold – Lach Simpson
Silver – Kent Wright
Bronze – Ian Grose
Men's 14′ Over 40, 200m
Gold – Scott Penwarn
Silver – Joe Fry
Bronze – Gordon Stimson
Men's 14′ Open, 200m
Gold – Peter Pridmore
Silver – Roger Goodwin
Bronze – Marcus Tardrew