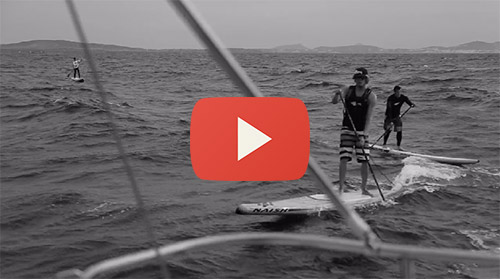 April 18, 2014
by Christopher Parker (@wheresbossman)
WATCH: Casper And The Greeks Cross The Aegean Sea
http://vimeo.com/91258918
The Danish Viking, Casper Steinfath, recently joined the local Naish crew in Greece to complete an epic crossing of the Aegean Sea. The Greek Islands odyssey started on Paros and went 35 kms (22 miles) across the open sea to the world famous Mykonos (that island with all the cool white buildings/perfect blue water).
The Viking, looking very viking-ish with his new beard, summed up the crossing as "special" and sounded pretty stoked to share the experience with a diverse group of local paddlers, who ranged from stoked out groms to Greek national champions.
It's a very slick video edit as well, so sit back and enjoy. You can get English subs by hitting the "cc" button on the player.
This was actually Casper's second visit to greece in the past five months; in December he had a 6km drag race against Eric Terrien through the Corinth Canal. Quite the globetrotter our Viking!
---
If you wanna see more cool vids, head on over to the Showreel, where you can find every Stand Up Paddle video we've ever posted on SUPracer.com. We're up to like 300…