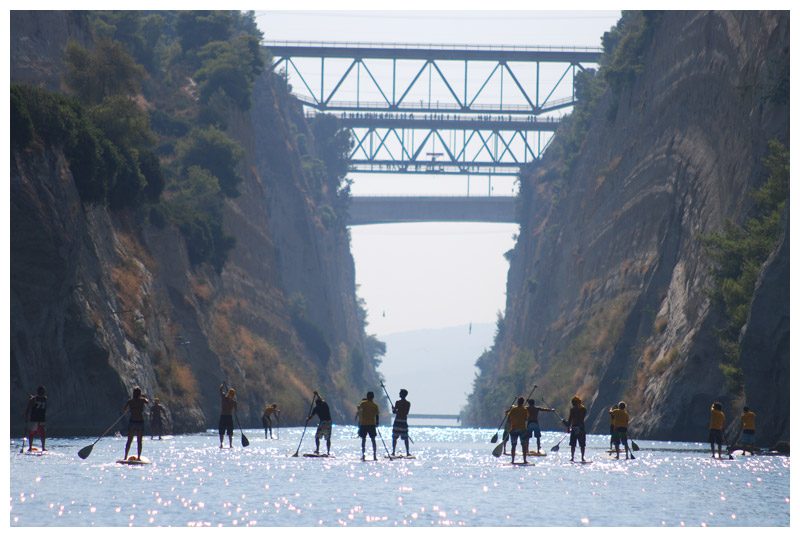 October 20, 2013
by Christopher Parker (@wheresbossman)
Eric Terrien Defeats Casper Steinfath To Claim World's Straightest SUP Race @ Greece's Hellenic SUP Cup (UPDATED)
The two fastest stand up paddlers in Europe (and the world) right now, Frenchman Eric Terrien and the Danish Viking, Casper Steinfath, have dominated today's Hellenic SUP Cup race in Greece.
Stretching along the historic Corinth Canal, the race attracted over 120 eager locals, who were no doubt keen to paddle one of the most interesting SUP race courses in the world as well as rub shoulders with two guys that are helping put Europe on the SUP racing map. Today's race – the "Isthmus Speed Crossing" – was the fifth and final leg of the 2013 Hellenic SUP Cup, the third annual running of the series.
Terrien came home 1st with Casper in 2nd, the Frenchman no doubt pleased to get one back on the young Dane who has had an absolute stellar year (ISA Worlds, BOP, World Series) and is seriously threatening Eric's long-held title of European #1.
As you can see in a video of the 2012 Hellenic SUP Cup, the Corinth Canal is not only a fairly historical spot, it also looks like a pretty amazing stretch of water to paddle down. The Canal is over six kilometres long and a mere 20 metres wide at its base. It's also dead straight, making the Hellenic SUP Cup's Isthmus Speed Crossing perhaps the straightest Stand Up Paddle race in the world…
The Danish Viking seemed pretty happy after the race, posting the pic above and having this to say on Instagram:
Got 2nd place at the Corinth Canal crossing today here in Greece! The race was amazing and took us through the beautiful ancient canal. The Greeks are some of the nicest people and it was an honor to race with all 129 of them! Cool to see so many kids having fun on the water! Thanks everyone for making this unforgettable day of fun happen 🙂 #Corinthchannelcrossing2013 #VikingOnTour
Eric, meanwhile, was a little more direct: "Just won the Isthmus sup crossing in Greece. Stoked !"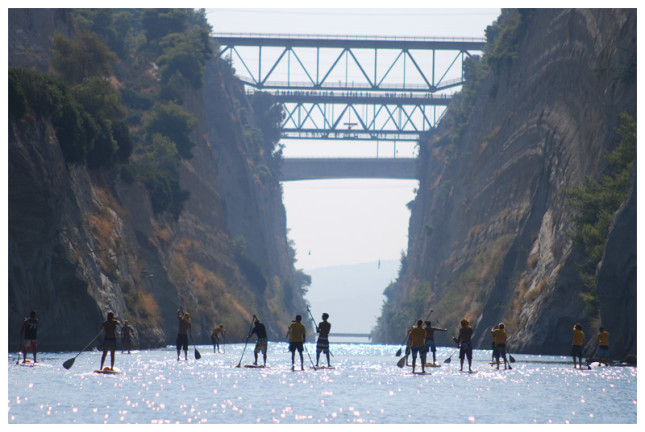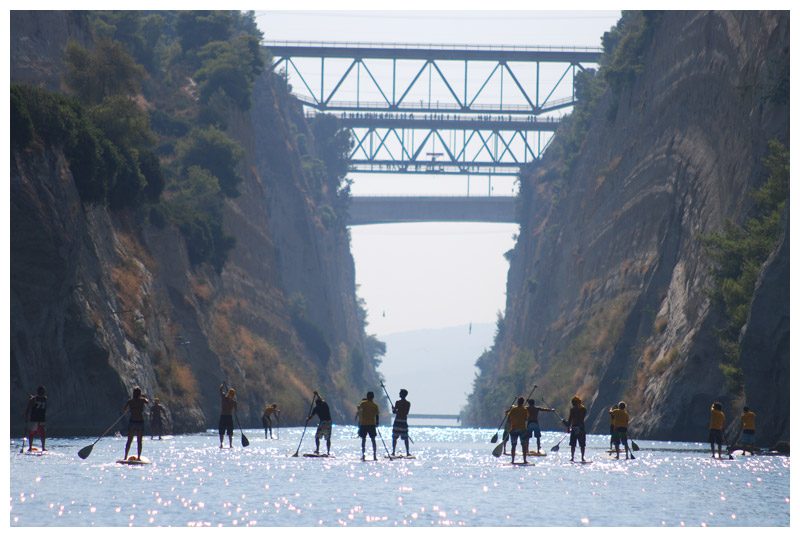 Did I mention that it's a very narrow canal..?