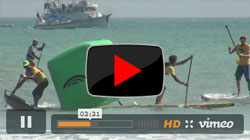 October 11, 2012
by Christopher Parker (@wheresbossman)
[VIDEO] 2012 Battle Of The Paddle Elite Race Final
We've already posted plenty of awesome Battle of the Paddle videos, but here's another good one for you to watch.
This is Boardworks' edit of the Elite Race Final. It captures the mad dash at the start, some awesome carnage on the inside "Hammer Buoy", as well as the impact the waves had on the race (the surf wasn't huge, but it was definitely there…).
Anthony Vela also makes a starring role with his famous Jedi-buoy-turn. Skip to the 3:40 mark to see that (and to see some very unlucky timing from 10x World Champ Jamie Mitchell…).
You can also relive the race with our complete 2012 Battle of the Paddle results.