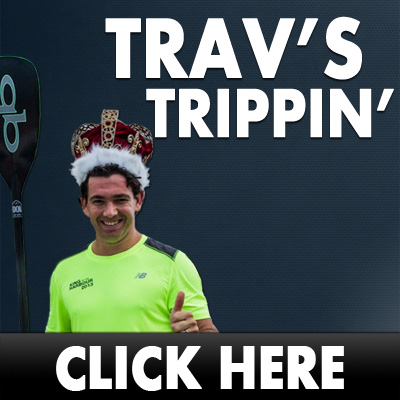 May 23, 2013
by Travis Grant
Trav's Trippin: The Awesome Adventures Of Travis Grant, One Of The World's Best Paddlers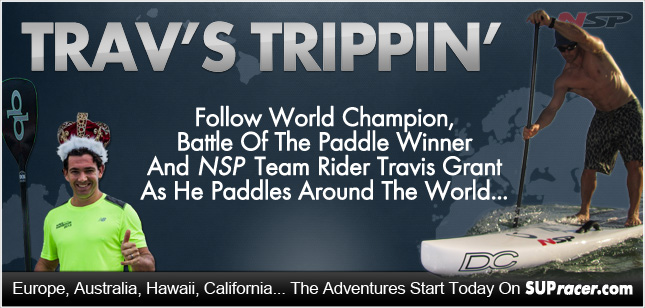 Boss Man's Note: Travis Grant is one of the most under rated paddlers in the world. He's won the Battle of the Paddle, the ISA World Champs and is almost unbeatable downwind. He's also a very cool guy. I know Travis personally and can definitely say he's a lotta fun to be around. Very humble but always up for an adventure and looking for a laugh.
Trav has got some big adventures in store over the next few months, so I'm really stoked he's agreed to share his travels with you through SUPracer.com. Travis has just landed in Europe for the massive European SUP Racing Tour, and over the next few weeks we'll get to see the champ go head to head with guys like Connor Baxter, Jamie Mitchell and plenty more of the world's best.
After that it'll be Hawaii, Australia, California and beyond.

I'm not entirely sure what to expect from Trav's Trippin' but I can guarantee you it'll be a fun adventure. Apart from plenty of insights into SUP race preparation and strategy, this'll be your chance to go behind the scenes and see what one of the big stars of Stand Up Paddling gets up to in his spare time.
Travis will be posting a new adventure every two or three days, so stay tuned to SUPracer.com for the fun and games that is Trav's Trippin'.
Keep reading to hear what it's all about from the man himself…
---
Trav's Trippin'
Hey guys! I'm Travis, stoked to be on SUPracer.com to share my adventures over the next few months. Thanks to NSP I'm gonna be paddling round the world – Europe, OZ, Hawaii, California… should be some fun adventures hey! I'll be posting updates every few days so I hope you enjoy the ride!
Past few weeks have been pretty crazy – I've been packing up my life (moving to Hawaii in july!!), doing heaps of racing and also getting ready for the big trip to Europe. Yesterday I landed in Paris for the start of a crazy three week road trip that'll include some big big SUP races and plenty of random adventures in the ocean.
Really lookin forward to racing at the big SUP Race Cup and Lost Mills events. Never done any SUP races in this part of the world so not sure what to expect, but there's gonna be heaps of the world's best guys over here so it'll definitely be a challenge.
I'll be hanging out with my NSP team mate Rico Leroy for the next couple of weeks. Rico is one of the best known all round paddlers in France – this guy does everything… surfing, SUP, outrigger, pretty much any kind of paddling you can think of. He's got some cool adventures lined up for us so I should have some good stories and pics for ya coming up!
Oh and Rico & I also snagged a spot in this crazy adventure race that's happening in the Pyrenees. I'll tell you more about that next week but I reckon it could be the highlight of my trip! Combines skiing, climbing, paddling, running, all kinds of stuff.
After Europe I'm heading straight to Hawaii for the big Olamau race (which is an epic, 100 mile, $50,000 outrigger race, it's insane!). I fly out of France the day after my last european event and land in Hawaii the day before it starts… I can sleep on the plane right? hah!
After Hawaii I fly back to Oz for the big Hamilton Island outrigger event (Hammo!) before turning around and moving to Oahu with my beautiful wife Blair. I absolutely LOVE Hawaii so pretty stoked about this! Epic downwinders every day! Alright!!
Might even sneak in a Molokai crossing while I'm there…
Then in September I"ll be heading to California for the Battle of the Paddle. I love this race, always fun racing in the surf when things can go either way. Was lucky enough to win this race oh Oahu in 2011 but have never done as well at Dana Point, so hopefully this year I can give Danny, Connor and Jamie something to chase haha.
Gonna be a crazy few months but can't wait for the adventures that are lined up.
Gotta go, we're off on a big French downwinder then tomorrow we're driving over to St. Maxime for the SUP Race Cup. Hope you guys can follow along on my trippin' the next few months, I'm not exactly sure what's in store, but it should be fun no matter what!!
I'll chat to ya in a couple of days.
Cheers,
– Trav
---