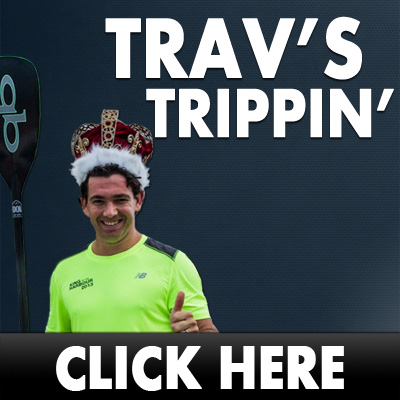 June 28, 2013
by Travis Grant
Trav's Trippin' Episode #8: Hamo!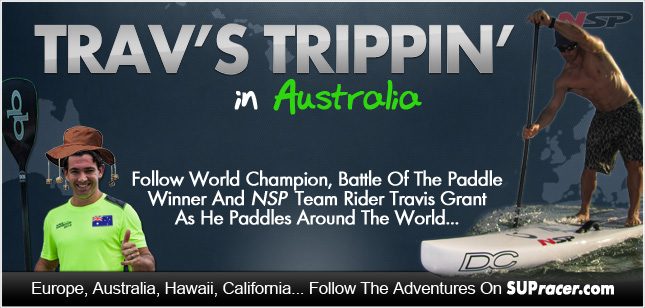 The latest episode of Trav's Trippin, in which our intrepid explorer Travis Grant heads home to compete in the classic "Hamo" outrigger race.
>>> MORE: Catch up on all the adventures on the Trav's Trippin' mini-site
So last time we chatted I'd just gotten back to Aus after a massive trip to Europe and a quick stop in beautiful Hawaii on the way home. There was no rest though as I was straight up to Hamilton Island for the biggest outrigger event in the country: Hamo!
They call it the "Clash of the Paddles" but we all just say Hamo. It's the best event in Australia and you could easily argue it's the best outrigger event in the world. Not necessarily for the racing alone (though that's still a huge challenge at this event) but moreso for the experience you get off the water – four days of fun and parties on a beautiful island in the Whitsundays.
Hamo has every type of paddling craft you can imagine: outrigger, SUP, surf ski, even dragon boats. This year was the 30th anniversary, so we knew it was gonna be a big four days!
So I know SUPracer.com is all about just that – SUP racing – but bare with me as we sit down and take a seat in a canoe for a little while, because like I said last week, there's something special about outrigger that SUP can't always give you. And even if you don't believe in all that, then it's still a ridiculously good cross-training tool if you wanna go faster on your paddleboard!
It's already been a really big year for me as far as Stand Up Paddling goes, with almost all of my training (for once) going into SUP. So to jump back into an OC1 and OC6 again has been great. Not only is it a lot of fun but the similarities between the two sports are amazing; I feel my outrigging has improved even though I've been out of the canoe and on the SUP all year.
With outrigger there's less to worry about because you're sitting down, which takes a few random variables out of the equation. That lets me focus even more on my technique than I can on a SUP, and when you combine that with the extra speed an outrigger has, it's a great ride!
So I've been on the road now since May 15th with an and average of at least two big race every weekend! It's been an absolute blast and super fun, but it's not easy to race at the top level non-stop, especially when you're travelling around the world.
I'm not saying I have it tough by any means (I love it!) and there are a lot of guys doing the exact same thing as I am, but on a different program. The hardest bit is combining it all: trying to stay healthy, stay fit, get proper sleep and perform in big races while trying to be social and soak up & enjoy your new surrounds while you're travelling.
It's a lot to do and all comes back to balancing your time. Life's a balance as my father always says. Though I think I might have been balanced a little less on the "staying fit" side and more on the "eating and being social" side lately…
So my hats off to all the other guys out there racing all over the world, never staying in one place for more then a few days but managing to keep in shape and consistently perform well. It's not easy, in fact I haven't done one proper session of training since May 15, only races and fun paddles. Like they say there's no training like race training, though I must admit I am starting to feel a bit out of shape now!
The thing is my schedule doesn't stop either. Next stop is Hawaii again, this time for a long while. So at the moment my racing calendar is full until the big Battle of the Paddle in September!!
I also just realised I have to paddle 32 miles soon. Better start cramming for that one. I'll be out there just hoping to make it across I think!
But back to Hamo: The event was sweet. It was a very hotly-contested field this year with most of Australia's top ocean athletes flying over for either the ski, board or outrigging events. Not any international teams this year unfortunately but I think Hamilton Island will be making a big effort to help the top teams from overseas fly over and compete in Australia's premier event.
There were heaps of races but the main event was the 42km outrigger race that goes around three islands in the Whitsundays chain. Here's a pretty slick vid that shows a tonne of highlights… That's our green boat in the lead and doing a crew change around the 6 minute mark.
I had a whole heap of races to compete in over the four days. First was the OC1 sprint and round-the-island distance race. I finished 2nd in both of those behind big Toddy Cohen (aka Avatar). Was very happy with that result and actually felt surprisingly good considering my recent travel schedule.
Next was the six-man "Round The Island" race. I paddle for the club Outrigger Australia and we won this one, though the we all had our eyes on the main event – the 42km six man outrigger relay (where you have a nine man team and change crew during the race). This was on the final day and was the big finale of Hamo 2013, and my team was going for a 4th straight victory (which has never been done).
The course is challenging to say the least; it's windy in every leg yet somehow never right behind you. The race is a bit of a blur but the team worked really well together and despite some very stiff competition (which you can see around the three minute mark of the video above) we ended up claiming the win and sealing our fourth straight title. So yeah we were pretty pumped!
But yeah watch the the vid above – it does a better job of describing the race!
Was pretty happy with how the event had gone but then it ended in a really special way, with my club Outrigger Australia giving me a life membership. I thought I was still too young to get life membership in anything haha. Maybe that means I'm getting old but either way I'm very stoked and proud to get this.
Here's me getting presented with the award (in the description you can read the letter the club President wrote). Outrigger Australia is a great club (first OC club in Australia!) so this is a real honour.
Couldn't be happier and it capped off a brilliant four days!
Doesn't stop though: Now my next stop is Hawaii in a few days. I'll be over there for the 4th July, which should be another party in the ocean! Then I'll be doing the Cline Mann SUP race on Oahu and after that the Maui-2-Molokai on a SUP.
Those two races should be good training for what's coming up on July 28th…
Can't wait to get back to Hawaii. I should be able to get back into a training routine and spend some time working on my bumps/surfing again. No more flat water for a while!
Cheers,
– Trav
>>> MORE: Catch up on all the adventures on the Trav's Trippin' mini-site