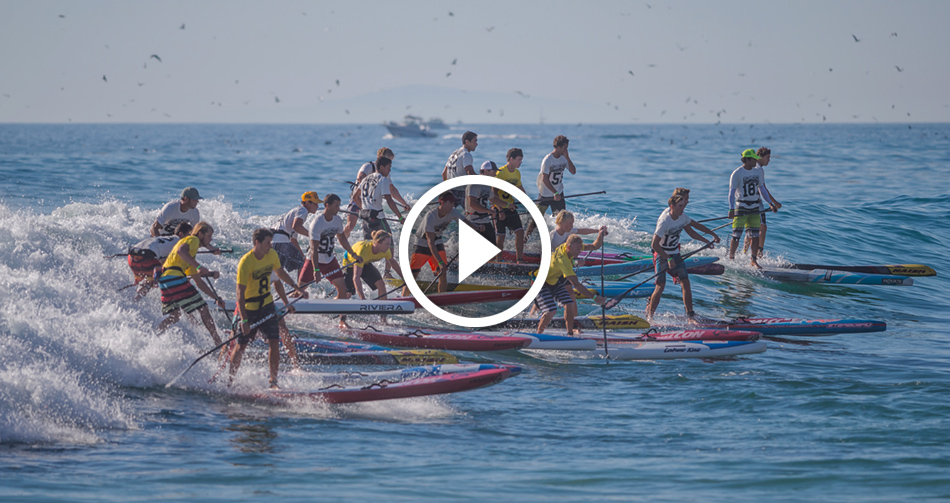 December 23, 2014
by Christopher Parker (@wheresbossman)
The Top 14 Videos Of 2014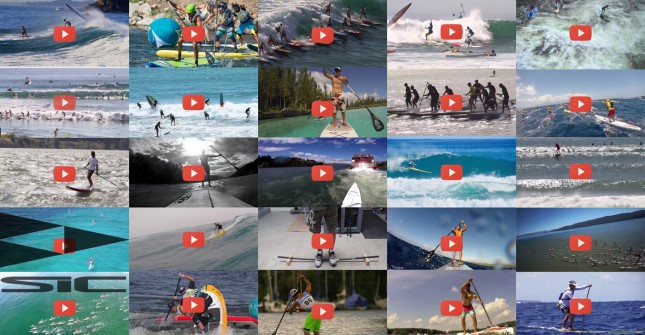 The Top 14 Of 2014 continues. Yesterday it was the Top 14 Races of 2014 and later this week we'll have the Top 14 News Stories, the Top 14 Most Competitive Races and a few other highlights from the year past.
But today let's check out the most popular film clips of the year. Which stand up paddling videos captured your imagination the most in 2014? Let's find out…
We posted 105x clips this year, for a total collection of 299x SUP videos since this site began kicking around three years ago. And you can find all those videos on the SIC Showreel.
But some of the videos we post go a lot more viral than others, so here are the Top 14 Videos of 2014 based on how many page views each post received.
Check out the full list below and then scroll down to watch each clip one-by-one. The % number is each video's share of SUPracer.com's total audience for the year, which amounted to well over one million page views.
Oh and again, no surprises for guessing which race produced the #1 spot… (and the #7 spot… and the #9 spot…)
---
The Top 14 Videos Of 2014
#14: Jeremy Riggs' Epic Maliko Run (0.18%)
#13: Ironmana – Beyond The Pain (0.21%)
#12: Insider's View Of OluKai (0.22%)
#11: Carolina Cup Highlights Reel (0.22%)
#10: Aerial Footage From The Hanohano Race (0.23%)
#9: Quickblade's Battle Of The Paddle Highlights Teaser (0.26%)
#8: Epic Downwinder In South Africa (0.38%)
#7: Starboard's Salt Creek Highlights Reel (0.63%)
#6: Maui Paddleboard Race – Victory At Sea (0.64%)
#5: Epic Maui-2-Molokai Aerial Footage (0.69%)
#4: SIC Maui's Tribute To The Ding King (0.69%)
#3: Boat Surfing In Brazil (0.74%)
#2: Danny Ching's World Record At The Lost Mills (1.06%)
#1: Battle Of The Paddle – Carnage And Chaos @ Salt Creek (1.32%)
---
#1: Carnage And Chaos @ The Battle of the Paddle Salt Creek
Sometimes videos don't need a description. This is one of them. Just sit back and enjoy the carnage from that infamous weekend at Salt Creek…
---
#2: Danny Ching's World Record @ the Lost Mills

The Lost Mills, aka Europe's premiere SUP race, attracted a stellar field this year. The main event is the long distance race, however one of the fan favourites is the "Fastest Paddler On Earth" sideshow, where paddlers complete a 200 metre individual time trial. Despite the depth of talent competing for the title, Danny Ching was in a class of his own, smoking the course in a time of 47.60 seconds. Amazingly, Danny was 6% faster than the runner-up and all-round speed freak Connor Baxter.
---
#3: Boat Surfing in Brazil

Brazil's Marinho Cavaco puts on a masterclass of how to ride a boat wake with your race board. The crazy thing is: I only posted this video 72 hours ago… If it had more time to accumulate the page views, it would be giving the #1 spot a serious shake. I think there's something seriously hypnotic about this footage. And apparently you guys agree.
---
#4: SIC Maui's Tribute To The Ding King
This video has everything: It's got super slow-mo action of Andrea Moller, Livio Menelau and Georges Cronsteadt in action. It's got endless scenic shots of Maui and its world famous Maliko downwind run. It's even got Mark Raaphorst sitting on some sort of bizarre tribal King's throne while he grins mischievously at the camera. In short: It's awesome.
---
#5: Epic Maui-2-Molokai Aerial Footage
This video, which was only 8 measly page views away from the #4 spot, shows the grand beauty of the Maui-2-Molokai race. It also shows the great battle between Connor Baxter, Dave Kalama, Travis Grant and Kai Lenny – a preview of what was to come in the Molokai-2-Oahu race a couple of weeks later.
---
#6: Maui Paddleboard Race: Victory At Sea
Just like #12 on this list, this clip of the Maui Paddleboard Race, aka Victory At Sea, gives a rare, insider's view of the action. Filmed by Buzzy Kerbox from his middle-of-the-pack jetski, we get a great view of one of the gnarliest Maliko Runs ever. This race produced snapped boards, broken leashes and quite a few Did Not Finish results (and even more Did Not Starts). It also produced a LOT of page views.
---
#7: Starboard's Battle of the Paddle Highlights Reel
The Battle of the Paddle at Salt Creek garnered so much attention that it's the only race with more than one video on this list. This second entry is from Matty Schweitzer and the Starboard camp and gives a great overview of the action.
---
#8: Epic Downwinder in South Africa
If you follow the regular reports by our South Africa Correspondent Peter Petersen, you'll know that Cape Town is home to some of the finest downwinding conditions on the planet. This popular video does a very good job of highlighting that point.
---
#9: Quickblade's Battle of the Paddle Highlights Teaser
https://vimeo.com/108950792

Quickblade Paddles, courtesy of their resident film maker Chris Aguilar/Fin Film Company, produce some of the finest stand up paddling videos every year. And 2014 was no exception. This teaser clip, the shortest video on the list, is the third entry inside the Top 14 for the Battle of the Paddle.
---
#10: Hanohano Aerial Video
The Hanohano race in San Diego is one of the biggest events on the racing calendar. Hundreds of stand up paddlers join prone paddleboarders, surf-skis and outrigger crews for the race around Mission Bay. This event always gets its job done with minimum fuss. It's never over hyped, it just a big, grassroots event. The Hanohano is one of those great community races, and now we get a great insight into the race with this amazing aerial footage.
---
#11: Carolina Cup Highlights
The Carolina Cup was one of the biggest races of the year in every way. One of the biggest in terms of participation, one of the biggest in terms of elite level-of-competition, one of the biggest in terms of page views here on SUPracer.com, and now, one of the biggest in terms of film popularity as well. This clip, from the crew at Sunplay.com, does a great job of summarising one of the biggest days of the year.
---
#12: OluKai Insider's View
As with #6 above, this clip is courtesy of Buzzy Kerbox and his insider's view on the jetski.
---
#13: Ironmana – Beyond The Pain


While I recently did a lot of coverage around the 2014 Ironmana race – that crazy, four-day event in the Tahitian paradise of Bora Bora – this clip was actually posted way back in January and shows the highlights from Ironmana 2013. Stay tuned for the 2014 showreel in the next few weeks.
---
#14: Jeremy Riggs' Maliko Run


There are few downwind spots that can rival the Maliko Run. And there are few paddlers that can rival Jeremy Riggs on this particular stretch of ocean. As part of our "Downwind Month" celebration, we posted a collection of Jeremy's Maliko downwind videos, which got a big response from fans. This clip above, showing a classic run with SIC team mate Livio Menelau, was my pick of the bunch.
---
So there you go. Those were the 14 most popular videos we posted here on SUPracer.com in 2014.
For the record, the unlucky #15 spot went to one of my favourites: "Battle of the Paddle in Black & White" – an archival film from 1949 showing a very early form of paddleboard racing in the waves.
Oh and if all of that isn't enough, you can get more awesome stand up paddling videos on the SIC Showreel: