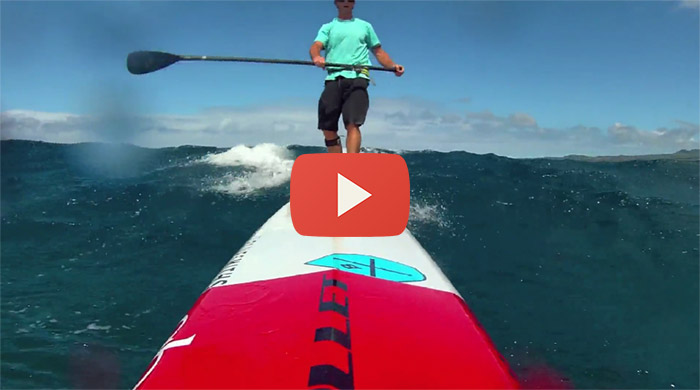 July 6, 2014
by Christopher Parker (@wheresbossman)
WATCH: Downwind Fun On Maui With Jeremy Riggs And Co.
Maui. The ultimate downwind playground. Endless bumps blowing like clockwork along a picture perfect coastline and ridden each day by the world's foremost downwind masters.
Well now that it's officially Downwind Month, it's a good time to have a closer look at this unique part of the paddling world. We don't want to only cover the big races with SIC Downwind Month, we also wanna take a look at what makes downwinding so much fun. And nothing highlights that fun better than these clips from Maui local, SIC team rider and all around good guy Jeremy Riggs.
Jeremy has probably done more Maliko runs than any other stand up paddler. He's out there almost every day coaching, training or just enjoying the view along Maui's north shore. He's one of the absolute fastest guys along this stretch of water and also doesn't mind capturing his runs for the world to see.
You can watch all of Jeremy's videos on Vimeo though we've hand picked a few of the best below. I dare you to watch these clips and not book a plane ticket to Maui…
Oh and if this also inspires you to get better in the bumps, consider taking a "Paddle With Riggs" coaching session to improve your downwind performance (and fun). I did and it was priceless.
---
Jeremy Riggs and Livio Menelau: Maliko First Person POV
I posted this earlier but couldn't resist showing it again. There's just something about the angle of the video that captures the fun of downwinding perfectly. Also doesn't hurt that the video contains two of the world's best downwind guys (Jeremy along with fellow Maliko junkie Livio Menelau) enjoying one of the world's best downwind runs…
---
Group Training Sesh
The best part about downwinding on Maui? You never have to do it alone. There's always someone else (or a dozen others) willing to join in the fun.
http://vimeo.com/48929345
---
September Downwinder
July might be "Downwind Month" but the wind blows on Maui all year long…
---
Surfing Bumps
This is why we really love downwinding…
Not because we go faster downwind than we do in the flats (though that doesn't hurt). Not because we get to play around out in the ocean (certainly a plus) and not because Maui's coastline looks ridiculously awesome from the water (it really does). Those all certainly help, but the reason we really love downwinding is because we get to catch wave after wave after wave. Non-stop.
We love downwinding because it allows us to go surfing in the open ocean…
---
Hawaii in July is Downwind Month. Now thanks to SIC we're going to bring you all the downwind goodness you can handle, from the fun of riding bumps on Maui to one of the most prestigious races in the world: Molokai 2 Oahu on July 27 (which we're going to be covering LIVE, including live GPS tracking of every athlete…).