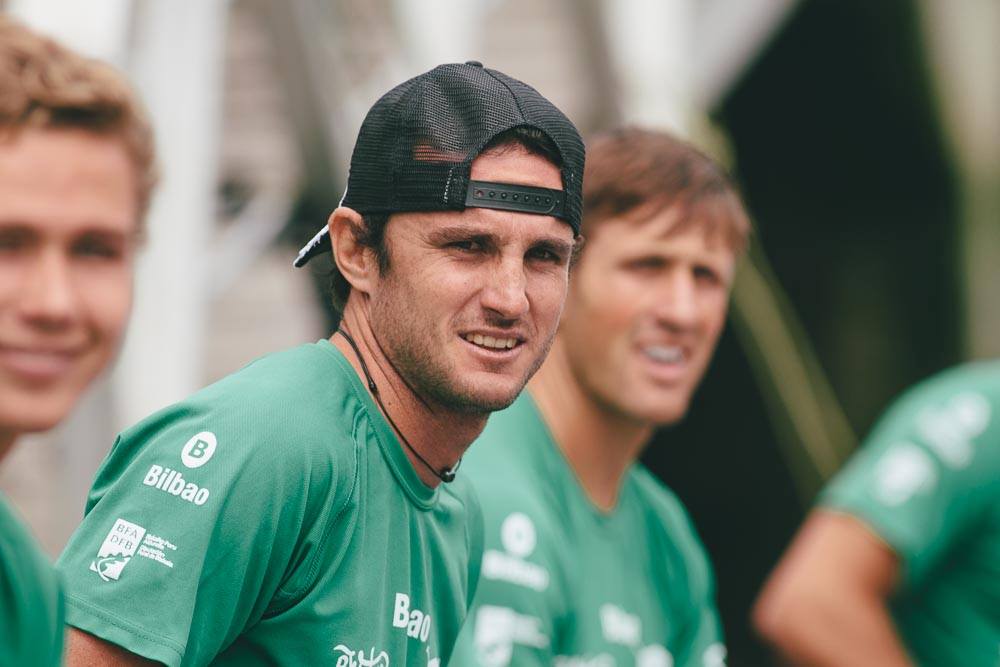 January 28, 2016
by Christopher Parker (@wheresbossman)
Massive Move: NSP Signs Titouan Puyo, Pairing Him with Travis Grant and Giving the Team Two of the World's Top Five Paddlers
In what can only be described as a 'massive' move, NSP has just signed world-beater Titouan Puyo, pairing him with world number two Travis Grant to instantly give the team one of the best lineups in the sport.
Formerly with Starboard, Titou has enjoyed a meteoric rise over the past two seasons. He shot up to 5th on the SUP Racer World Rankings last year (finishing the season just a few points behind world number four Kai Lenny), and I'll be surprised if he doesn't become the world's number one paddler at some point in the future.
The New Caledonian has only been seriously paddling on a stand up for three years. Yes, just three years. He did have a decade in an outrigger canoe before that, but even so his SUP results have been nothing short of amazing.
Before November 2013, literally nobody in the SUP world knew who he was. Not only was he a complete unknown on the international stage, even in the French paddling community Titou was a total dark horse. But after dethroning the long-serving king of France, Eric Terrien, at the 2013 French Nationals, word quickly spread about a fresh face on the scene. He won gold at the ISA Worlds less than six months later, kickstarting his rapid rise, before finishing 2014 ranked 14th in the world.
But 2014 was just a preview. Titou impressed right throughout the 2015 season: He was top four at the second most competitive race of the year, the Carolina Cup, finished runner-up to Connor Baxter on the Euro Tour (and was rather unlucky not to win it outright), picked up two podium finishes in two days at the Gorge (the third most competitive race in the world last year), before ending the season with a bang by winning the 500-strong Paris Crossing.
NSP seems like it'll be a good fit for Titou. In my 'Top 15 of 2015' summary, I described Titouan as a "French version of Travis Grant." They both come from an outrigger background, they both have sublimely smooth techniques, they're both nearly unbeatable in the bumps, and, above all, they're both very humble (and rather funny) guys off the water. They also get along very well.
And now they're a world-beating duo on the same team.
As an added bonus, NSP's designer is Titou's fellow Frenchman (and close friend) Alain Teurquetil. That, combined with NSP's relatively small team, will surely give Titou a big say in how his future race boards look and perform.
This is definitely a major coup for NSP, giving them two of the world's top five ranked male paddlers. That's something no other brand can claim.
For a long time it seemed like the NSP brand was just Travis Grant, however in the past six months the team has beefed up considerably. There are now several national team riders spread around the world, while the international HQ also made a play for Titou's former team mate Matt Nottage late last year (he was apparently close to signing but eventually inked a new deal with Starboard). But now with Titou on board (pun intended), NSP are, quite literally overnight, one of the major race teams in the world of stand up paddling.
I'll update our 'Battle of the Brands' leaderboard tomorrow (I'm hammering this article out at 2am), but my rough calculations suggest Titou's signing will elevate Team NSP at least a few spots, putting them on the doorstep of the very exclusive top three. That's quite remarkable given the squad still doesn't have a female athlete, leaving them with a 'donut' in their tally (if they sign a well ranked woman in the next few months, they'll instantly jump up to 2nd on the team rankings).

Quoting from the official announcement, which hit Facebook just moments ago, Titou says:
"NSP's 2016 race boards are super fast and I'm very excited to be part of the team. NSP performance will definitely allow me to extend my results for 2016."
While one of the NSP team bosses, International Sales and Marketing Manager Sander Blauw, added this:
"NSP is equally excited to have Titouan join the International team. Titouan is a talented and extremely focused individual. He is a perfect match for NSP and will play a leading role in our continuous R&D program, along with fellow team rider Travis Grant and NSP race designers Alain Teurquetil and Dale Chapman."
So there you go. Titouan "Titou" Puyo is now with NSP. The smiling assassin of the SUP. The ninja from New Caledonia. The potential/future world number one.
We'll get to see how Titou performs on the new boards in a few month's time, when he lines up alongside defending champ and new team mate Travis Grant at the big Carolina Cup. Until then, let me be one of the first to say congrulations to both Titou and NSP. I've traveled a lot with this guy over the past year or two, so I can comfortably say you'd be hard pressed to find a more talented, determined and humble athlete (remind you of anyone else?).
The 2016 race season hasn't even started but it's already proving to be a rather interesting one. I think we might be in for a big year…