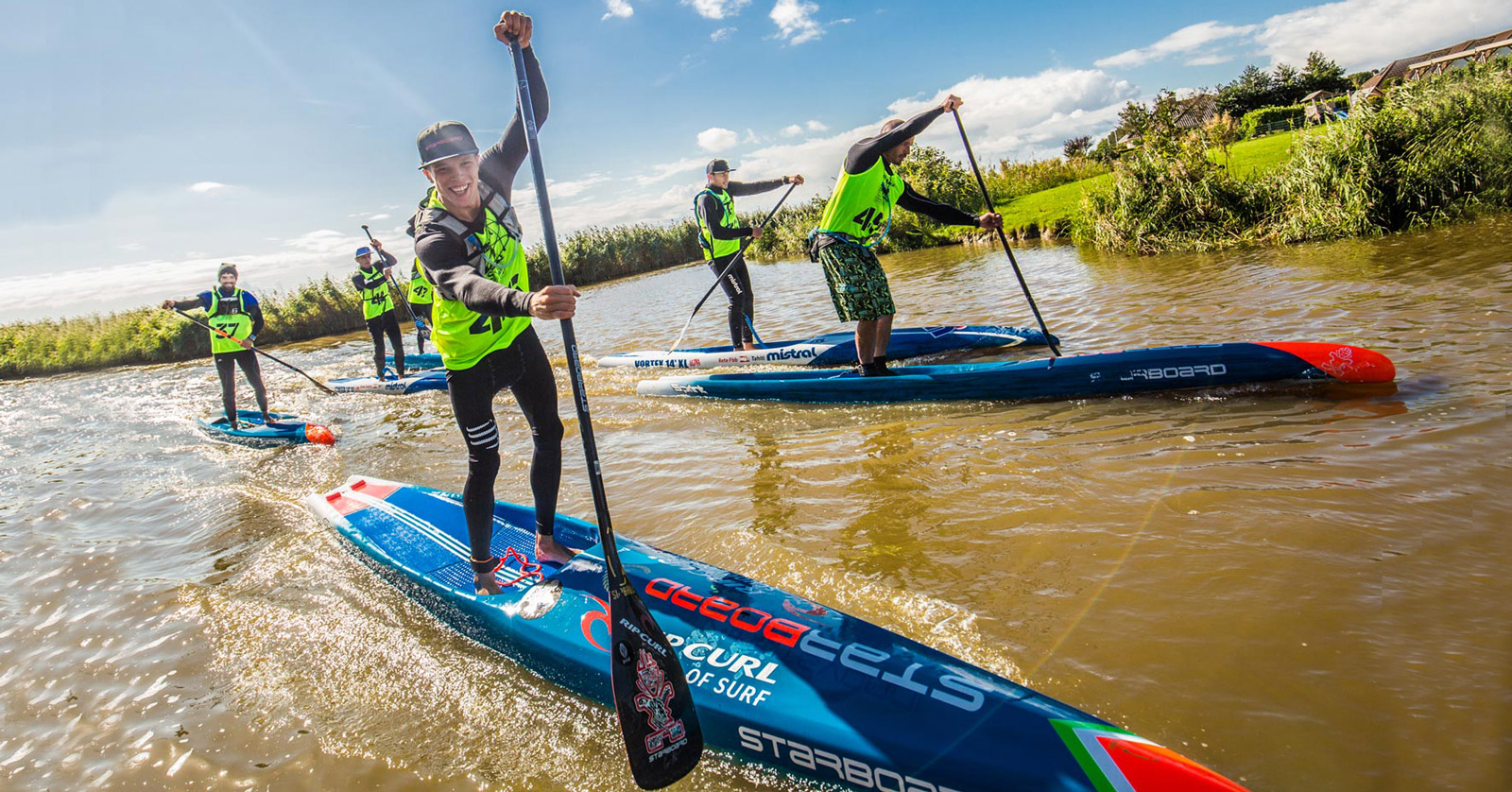 October 10, 2017
by Christopher Parker (@wheresbossman)
You'll Love It, You'll Hate It, and You'll Come Back For More Next Year: Inside the Epic 11 City Tour
It was around the 44km mark that I looked up and realised, to my horror, I was quite literally paddling backwards.
After more than six hours on the water, and wearing a t-shirt comically ill-suited for such extreme conditions, my body and mind were both screaming out for me to stop whatever I was doing and immediately seek shelter from this nightmarish headwind, piercing rain and bitter cold. Do not pass Go. Do not collect $200. Just get the bloody hell off this lake and into some dry warm clothes, you idiot.
Unfortunately for my body, mind, and self in general, that lake was in the middle of nowhere in one of the Netherlands' most remote provinces. And I was in the middle of a race. I had spotted a safety boat a little ways back, but as I passed that beacon of hope I could almost hear Dave Kalama telling me not to get in it; I knew my only choice was to harden up and finish the stage like everyone else.
So that was the first day of the SUP 11 City Tour, a fascinatingly-unique and very special event that is equal parts race, adventure and personal pilgrimage. It's billed as "The Ultimate Challenge," and this year it illuminated that last word in bold, neon lettering after a wild rollercoaster of good, bad and ugly weather hit the rural Dutch province of Friesland that the 11 Cities calls home.
---
DAY 1: The easiest stage ever
The first of the planned five stages — the Tour is traditionally a five-day, five-stage race that covers more than 200km (125 miles) of canals and lakes — was the easiest we've ever done. Because it didn't happen.
Organisers were forced to abandon Wednesday's opening stage after near-hurricane force winds battered Friesland. It's the first time in this event's nine-year history that a stage has been canceled, and the 11 Cities has seen some pretty gnarly weather over the years.
We used this unexpected lay day to rest up and save some energy, which was rather useful: over the next four days, we'd need every ounce of energy we could find…
---
DAY 2: The never-ending lakes…
We finally began our odyssey on Thursday with a modified course that allowed us to start where the opening stage normally would — the first of the eleven cities ("towns" would be a far more accurate description for these places), Leeuwarden — and finish where the second stage normally does in the "city" of Workum. As if borrowing from a Harry Potter script, the opening stage would also stop in 'Sneek' and pass through 'IJlst' (don't even bother trying to pronounce it).
To achieve all this, our hardy race director Hans came up with a clever shortcut through the endless patchwork of canals and lakes that disect this endlessly-flat but rather beautiful agricultural landscape. Instead of two stages covering 89km, we had one solid stage of 50km that would get us back on track for the final three days. This also meant that instead of a 200+ kilometre journey, the whole race would now be a more merciful 167km (just a touch over 100 miles).
Easy. Or so we thought.
Thursday's 50km marathon started well enough. There was a bit of rain early, but the pace was so explosive off the line (the 11 City Tour is famous for its jockeying-for-position sprint starts despite the fact each day is almost as long as Molokai) that I don't think anyone was too bothered with a bit of drizzle.
By the time we got out of Leeuwarden and started our slow, steady march south the draft trains had formed and our pace had become more manageable.
After a bit of a lucky start, I found myself at the front of the field in the "competition division" (think: open race) for the opening kilometre before quickly jumping on the tail of the undisputed 11 Cities king, Bart de Zwart, as he came charging past.
Bart moved himself down from the elite division to the competition this year after completing the 25-hour non-stop tour earlier in the week; he was aiming to be the first person to complete the non-stop/five-day double. By the end of the week, Bart realised he could have quite easily stayed in the elite division after all, but we were quite happy to have him in our company for the voyage.
Joining us up front was my honourary team mate for the week — a guy that would go on to impress us greatly over the next four days with both his attitude and talent: 2x SUP surfing world champion Caio Vaz from Brazil.
I'm not entirely sure how, but I'd convinced Caio to join this mind-boggling adventure during the ISA Worlds in Denmark just a few days earlier. Caio looks like a surfer, not a racer. He's the first to admit he "dislikes" training (to put it politely), while he told me nervously that he'd never paddled more than 15km in his life.
But the 11 City Tour has an unmistakable charm that's captured the imagination of many paddlers over the years, and Caio had been bitten by the Frisian bug. The stories he'd heard, the adventure he could see in front of him, and the personal challenge both physical and mental that this race provides; all of it convinced Caio to sign up for the crazy quest.
Originally we were set to go as a relay team; I'd paddle one day, Caio the next. Almost too easy. But then Caio got so inspired he decided solo was the only option: "Man it's not the real race if we do as a relay, yeah?" he told me on the drive down from Denmark, "Let's do solo, bruh!"
This was my third tour of Friesland so I knew what I was in for (or so I thought). But Caio had no idea what lay ahead, which made his decision to go solo even more admirable.
Back in that front train on the opening stage, the endurance king was sitting comfortably in the drivers' seat as we (or rather: I) hung on for dear life until the mandatory rest stop at the 25km mark.
Before I did my first 11 Cities, I thought the idea of having a 15-minute break halfway through each stage would make it too easy; Now that I've done it a few times, I appreciate how valuable these stops are. Many of us wouldn't finish without them.
Before the break, the elite-division paddlers that had started 10 minutes after us came charging past. We weren't supposed to draft out of our division, so instead we gave way and hooted and hollered as each of the top 10 guys flew by, usually in pairs, at a pace incomprehensible to most of us.
Setting the most incomprehensible pace of all were the Hasulyo Brothers, which consist of the champion (Bruno) and runner-up (Daniel) from last year's Tour. The boys were fresh off their world-beating performances in Denmark a week prior and carried red hot favouritism coming into this year's race.
Shortly after the brothers flew by, we were greeted by Rete Ebb. Rete is an outrigger canoe superstar from Tahiti who had become Team Mistral's de facto captain after his compatriot and 2015 11 Cities champ Steeve Teihotaata stayed home to welcome his first son into the world. I'm not sure what Rete was struggling with more: The insane pace the brothers were setting or the freezing cold conditions. Friesland is a long way from French Polynesia. But Rete dug deep, and although he lost a lot of time on the opening stage, the Tahitian warrior battled proudly all week and gave us several glimpses of his freakish paddling talents.
The women's race, which I never actually saw because the top ladies would start half an hour before us and proceed to extend their gap on me all day, looked as if it might be over on the opening stage after Lena Ribeiro, another Brazilian and another Mistral rider (the Mistral crew roll deep at this event) had gapped her team mate and last year's runner-up Petronella van Malsen by a quarter of an hour.
In the open race, our lead train of five jumped back on the water after the rest stop ready to attack the second half of the stage, which would take us through unfamiliar territory courtesy of the improvised shortcut. We all felt fresh, and we quickly settled back into a steady rhythm.
Five minutes after the restart, I started to hit the wall.
Paddlers talk about an invisible string that attaches them to a draft train, and that when you fall off the back of a train that string will suddenly snap and leave you in "no man's land." I could feel my string starting to give, but fortunately Bart had selflessly agreed to slow the pace if Caio or I got dropped so that all three of us could finish the stage together as a team.
After I started to drift the first time, a sheepish cry of "Bart..!" saw the pace drop and give me a second chance. A few minutes later, when I dropped a couple of board lengths off the back again, I didn't even bother calling out. I knew I was gone this time.
It's quite amazing how a group you've been paddling the same speed as for the past three hours can suddenly disappear into the distance within minutes. When you drop off a draft train, it's almost as if you stop paddling altogether. Perhaps I did.
When Bart looked around to see where I was a few minutes later, I'd already dropped so far back that I couldn't even yell out for them to keep going and forget about their done-for passenger. I didn't need words though: Bart told me after the race that he'd considered stopping but could see from the look on my face how hard I'd hit the wall. He and I both knew I was done.
Fortunately my Brazilian comrade, either through a sense of loyalty or because the pace was fast draining his energy as well, dropped off the back and let the three leaders forge ahead.
So I limped along as the second wagon in a two-man train with Caio for the next seven or eight kilometres, and for a brief moment I thought I might be able to hitch a ride with him all the way to the line for a top five finish. Again, this wasn't the elite division where the big boys were battling it out, but for someone who'd prepared for this race as poorly as I had (read: not at all), I would have jumped at the chance of a top five stage result.
But then we hit the lakes…
The traditional end of the 11 City Tour's first stage sees competitors cross an infamous lake. Five kilometres wide and totally exposed to the elements, which usually consist of belting sidewinds, the "Slotermeer" has bruised more than a few egos and created some serious time gaps over the years.
This year there would be no Slotermeer courtesy of the lost day and makeshift shortcut, but in its place was a series of interconnected mini-lakes that, with the tail-end of Wednesday's mega storm still hovering above the area, were just as much of a nightmare as their bigger brother to the south could ever be.
About 200 metres into the first lake I told Caio to go it alone. He refused to abandon his team mate at first, offering shouts of encouragement as we searched in vain for shelter near the edge of the lake. But when my pace had slowed to just a few kilometres per hour, Caio realised I was a lost cause that was going to derail the train if he didn't cut me loose.
That first lake soon gave way to a second and far more difficult body of water, with howling winds turning this lush countryside into a raging downwinder that even the locals on Maui would have been excited by. Unfortunately we were paddling upwind.
Everybody struggles in headwind, but for some reason I find it tougher than most. Combine that with the fact I'd just hit the wall, hard, that I was totally out of race shape heading into this event, and that I was wearing a laughably-thin layer of clothing, and things weren't looking good.
First I tried to hang on for a top 10 division finish, then a top 15 finish, before finally accepting that any finish, period, would be an achievement at that point.
And then the rain came.
I'd counted two lakes on the map before the stage began and thought we'd already crossed them: I'm pretty sure we crossed five by the time we were done. It's not that we took the wrong course, it was just the maddeningly-subtle way that one lake would blend into the next on the map but appear as if it was a whole new crossing in person.
I left my borrowed rain jacket on the boat that morning (one of the many special features of the 11 City Tour is the accommodation–we sleep on hundred-year-old Dutch sailing ships that act as floating hostels for competitors; this whole event feels like school camp for adults), meaning I was paddling through sideways rain on a very chilly afternoon in little more than a t-shirt.
My toes were numb. My fingers were numb. I'd never seen the hairs on my arm stick out at such perfect 90-degree angles as if they were saying "We're doing our best here captain, but this is a little beyond our pay grade."
Spread out and scattered as if hit by a bomb, the field slowly made its way across the lakes. Some, such as myself, were going slower than most.
Every time I got passed by a fellow competitor, the same thought went through my head: "Shit, that's another 10 minutes I'll be waiting for my massage."
Another iconic feature of the 11 City Tour is the free massage waiting at the finish of each stage. The only problem is you sign up based on the order you finish, meaning the slowest paddlers are left waiting an hour or two for their post-race rub down.
At one point, I passed a woman paddling on her knees that had one of those "I love this and I hate this at the same time!" kind of grins that we probably all wore at some point during the week (you really will love the 11 City Tour, and you really will hate it at certain times as well). I asked my new friend how far there was to go and was told a depressing seven kilometres (I was sure we were only a kilometre or two from home). But as if to try and lift my spirits, she added: "But at least this is the final lake!!"
A few minutes later we reached the end of the lake. I breathed a sigh of relief. A minute after that, there was another one.
These lakes simply refused to end. It felt like something out of the movie "Labyrinth" — I was half expecting to see 1980s David Bowie standing on the shore holding a crystal ball.
That next lake was, fortunately, the final final lake. But it was also the toughest, with the wind blowing in on a hellish 60 degree angle that literally had me going sideways-backwards into the reeds on the shore. The gusts were so strong the rain felt like it was going parallel to the surface of the water.
I finally got out of the maze and limped through the meandering canals towards the finish. About an hour later, soaked to the bone and shivering under a thin but life-saving beanie I almost left out of my race pack that morning, I crossed the line in Workum.
There was no grand welcome for the finishers, just a similarly-soaked huddle of support crew — it wasn't just the paddlers that got battered by the weather that day; the tireless organisers and volunteers did their own marathon this year — to record our times and chaperone us off to the tents where blankets and hot soup awaited.
The stage was advertised as 50km but my tracking app said I'd paddled "only" 49.9km since leaving Leeuwarden. Perhaps for the best: I'm not sure I would have made it another 100 metres.
The atmosphere among the paddlers that evening summed up the 11 City Tour. Nobody had enjoyed the experience as it was happening, but everyone was seriously satisfied for completing the mission. There were a lot of "Well, it can't get any worse!" and a mood that was generally upbeat considering what we'd just experienced.
And that's why I love this event: Not for what happens on the water but for what happens off it. The 11 City Tour is a special race for many reasons, but it's this week-long camaraderie that really makes it memorable.
---
DAY 3: What a difference a day makes…
I'm not exactly sure how I would have felt if I'd woken up to more rain for the second stage, but fortunately I didn't have to fathom that nightmare scenario: the weather gods were suddenly smiling on us.
After the wet'n'wild opening leg, stage two was a relative dream. Virtually no wind at the start — and when it did finally blow it was mostly at our backs — and absolutely no rain. Just enough cloud cover to keep us from over-heating, and just enough sunshine to keep our spirits high. Perfect.
Once again the start of our amateur division was a firecracker, with a dozen guys jockeying to buy a ticket for the express draft train.
Once again I somehow slipped out to the front with Caio and Bart. But we wouldn't be paddling together for long: less than 15 minutes into the stage, and after a passing leisure boat had churned up the water enough to skewer our early draft train, Bart slowly but surely disappeared into the distance in a manner that suggested he'd definitely entered the wrong division.
Still, it had been nice to paddle with this living legend for a few hours on that opening day. Bart has been at all nine editions of the 11 City Tour (and he's won four of them). In a world of Kais and Connors and other young superstars, wise-old-man-Bart's achievements don't always get the press they deserve, but his endurance paddling is simply phenomenal. It's quite something to watch.
Bart's disappearance into the distance turned out to be a blessing for Caio and I, allowing us to sit side-by-side on the front of the nine-strong main pack and control the tempo all the way to the break.
We'd named ourselves "Team Coitado" after the Brazilian term that loosely translates to "poor little thing," as that's how we knew we'd be feeling at the end of the week. But by the end of the week, I'm pretty sure Caio had dropped the "coitado" title. This guy can paddle.
After the break it was a repeat of stage 1 for me. I sat near the front for another five minutes before feeling the tug of that invisible yet unshakable string. Five minutes later I was in no man's land.
The final 20kms of day two was a lonely stretch. On Friday I hit the wall even harder than I did on Thursday, if that was possible, but at least the nice weather made it more bearable.
Just before I'd snapped, the elite guys had come charging past us in a pack of seven. The Hasulyo Brothers were wisely playing defense on stage 2 after opening a mammoth 17-minute gap in the wild conditions on stage 1.
As was the theme all week, almost every board near the front of the field was either a Starboard or Mistral: the front pack contained Daniel Hasulyo, Bruno Hasulyo, Martino Rogai from Italy and the unheralded Rafael Alexandre from Brazil, all on Starboard Sprints, along with Rete Ebb, his fellow Tahitian Bruno Tauhiro, and local lad Ricardo Haverschmidt all riding for Team Mistral on the "Vortex" flat water designs.
In the women's, Lena Ribeiro had again dropped Petronella and would extend her lead to about 20 minutes with half the race complete, seemingly shutting the door then and there.
I wasn't the only one to hit the wall. After setting a respectable pace for the first 25km I got to see a lot of good paddlers come past in the second half of the stage including former Tour runner-up Ryan James from the UK, who replied with a resigned "Bad day at the office…" when I asked why I was only just seeing him pass me at the 35km mark.
When each competitor reached the day's finish line in the "city" of Franeker, we passed beneath a bridge named "Elfsteden Bruggetje" — which translates to the 11 City Bridge. It wasn't named after our race though: the SUP 11 City Tour is based on a 110-year-old ice-skating race of the same name, a hugely popular event in this part of the world.
The original 11 City Tour has reached near-mythical status because it now only happens once every two decades or so. With the warming winters producing ever-thinner and more dangerous ice, conditions haven't been safe enough for the 16,000 mad Dutch ice-skaters to go roaming around the countryside since 1997.
The SUP 11 City Tour hasn't quite reached that number of competitors or level of prestige, but the 150-200 paddlers that raced this year would have been quite content with the stage 2's tranquil weather.
---
DAY 4: Cloudy with a chance of biblical floods…
That fourth day should have been an easy one. We were already over the halfway mark in terms of distance, and when we finished this stage there was "only" the 28km sprint on the final day to finish off the Tour. But the weather gods had other ideas.
In the morning, all signs pointed to a promising day on the water, and indeed the first 40 of 43km were quite pleasant: light winds and no rain.
There was even time for the classic windmill photo opp.
We all thought the bad weather was behind us. After the horrors of the opening stage we'd all said "Well at least it can't get any worse!" Be careful what you wish for.
The final half an hour of day four was like something out of the bible (perhaps God was pissed off that we'd used the church in Franeker as our makeshift changing room the previous day).
I don't uses the term "biblical flood" lightly, but I'm not sure how else to describe what happened as we paddled into the town of Dokkum to finish stage three. Perhaps "absolutely bucketing down" would be a more technical description. However you describe it, it was certainly not optimal paddling conditions.
The rain was heavy. Piercing. Our thin rain jackets were like flakey leather armour trying to defend against metal-tipped arrows fired from the heavens. We had no hope.
The rain was so heavy that local news led with stories of flooded houses in the area. And this is a country that knows how to manage and control water better than any other, so that's really saying something.
The finish line looked more like a refugee camp than a SUP race. Paddlers were huddled over cups of hot soup and wrapped in foil blankets. At least there was no crazy wind and wide open lakes, as we'd experienced on the first stage, but I don't think I've ever seen so much rain fall in such a short amount of time.
Out front the men's race hadn't changed much. The Hasulyo Brothers had gotten their third straight stage win, though Martino pushed them right to the line while the Tahitians were gaining strength. Still, after earning 17 minutes on the opener, the only question from here was which of the two brothers would win.
On the women's side, Petronella had taken the stage win and was starting a subtle comeback that would turn into an all out attack the following day.
In the open race, Bart and Caio had a sprint-to-the-line finish of their own. It was a little cheeky from Caio considering Bart had literally led the train all day, but it was all in good fun. The ever-smiling Brazilian joked with the four-time champion after the race about the finish as well as Bart's less-than-perfectly-straight train driving skills.
"You're welcome to paddle on your own tomorrow, Caio." Bart joked. Little did we know how true those words would be, for the organisers had decided the competition division would join the elite guys and girls in experiencing the first ever individual time trial in 11 City Tour history.
Or in other words: We all had to paddle the final stage on our own. From start to finish. No drafting allowed.
---
DAY 5: Time trials are the ultimate test
The final stage of the 11 City Tour is both the easiest and the hardest.
Easiest because it's the shortest: About 28km compared to the average of 45km for the other four. Hardest because there's no mid-way rest stop (unless you're in the leisure division), which means it's the longest unbroken stretch of paddling you'll do all week.
To make it even harder this year, organisers introduced the innovative time trials that would align the 11 City Tour even more closely with the Tour de France cycling race that this event is so often compared to.
Based on the overall leaderboard after three days, paddlers would start the final stage of the Tour at one minute intervals. The overall leader — at this point Bruno Hasulyo — would be the very last paddler to set off. Everybody got individual times — you didn't need to close the gap, you just needed to keep pace with the paddlers a minute ahead of you (and if you could reel them in then it was simply a bonus).
This made the final day a true test of each paddlers' own strength and endurance. There was no hanging on the back of draft trains looking for a free ride, this day was all about the individual. It's a very interesting and positive addition to the race. It adds a new dimension to the contest, and in a more philosophical way it's actually nice to paddle "home" to Leeuwarden on your own, because the 11 City Tour is as much a personal journey as it is a race against others.
My own time trial was not one to be remembered. Already miles off a respectable result, and without the safety net of the draft trains, it didn't take long for my body and mind to switch out of race mode and simply enjoy the serenity of the final stage.
But for those up front, this is where the race would be decided.
While I said the men's race was "over" after the first stage after the Hasulyo Brothers opened up a massive lead on their rivals, it still wasn't clear exactly which of them would take the title. Bruno the defending champ? Or Daniel the older brother? They crossed the line side-by-side each day, meaning their times were virtually identical. Bruno was technically one second ahead after the first 16 hours of paddling, so he started last just a minute behind his brother.
This all meant that if Daniel crossed the line more than 61 seconds ahead of Bruno he'd take the crown.
As the elite paddlers charged past me — much earlier than on the other stages due to my relaxed pace — the paddling statistician in my head took over, and I started counting the seconds and running the numbers to produce a virtual leaderboard. It quickly became apparent that Daniel Hasulyo was destroying the field. He'd already caught several of the other elite guys despite their head-starts, while he was also setting a pace far higher than his brother who was struggling with a sore arm and could only watch as Daniel sprinted away with the race.
(The Hasulyo Brothers are two of the fastest, strongest and hardest-working paddlers in the sport these days, and this is their pet event. They train virtually all year for the 11 City Tour, and there's no other race they'd rather finish 1-2 in. They dominated the 2016 race, and they dominated the 2017 edition even more. Without the same grew-up-in-the-ocean talents as the Aussies and Maui boys, the Hasulyos have earned their spot on the top rung of the sport through sheer hard work and determination.)
About two hours later, when Daniel crossed the finish line and looked around to see daylight between him and his brother, it was clear that he would be the new 11 City Tour champion. That was confirmed 61 seconds later when Bruno still wasn't in sight.
It was a fitting result as now the brothers have one title each, which is only fair considering they've both been standout performers here. It also leaves Bart de Zwart as the only paddler to hold multiple Tour titles (he has four), though I suspect that will change next year when the Bros. will once again start hot favourites and one of them will seemingly-inevitably earn their second crown.
Martino Rogai rounded out the overall podium with another strong day on the water, which highlights the Italian's dark horse status. And after starting the final day with a five-second deficit against his compatriot Bruno Tauhiro, outrigger king Rete Ebb flexed his muscles, stormed home with the second-fastest time trial of the day and secured fourth place overall.
The elite division is only one chapter of this race though: most paddlers do the 11 Cities for the challenge, the adventure and the camaraderie, while even those that finish well down the order enjoy competitive battles to sneak into the top 20/top 30, to beat their best mate or just to finish the race, period.
(See the final results from the 2017 SUP 11 City Tour for a complete list of everyone the raced this year.)
The women's race had looked done and dusted after Lena from Brazil had opened up a 20-minute gap on the opening two stages. Petronella clawed some of that back on the third stage, but she still had a mountain to climb in the time trial. Apparently the Dutch are good climbers, because last year's runner-up almost went one better after smashing out a big win in the time trial. Petronella fell short, but not by much, closing the gap down to less than four minutes after paddling home 13 minutes faster than her main rival.
Bart took out the open race by a country mile, literally, while plucky Portuguese paddler Jano Rodrigues took the overall runner-up spot. But it was the third-place finisher who was arguably the most impressive: Caio Vaz.
After only deciding to do this race a few days before it began, and after admitting he'd never paddled more than 10 unbroken miles in his life, Caio's efforts both on and off the water were nothing short of amazing. It wasn't just that the Brazilian surfer out-paddled several far more experienced and better-trained athletes, it was the way he carried himself off the water — always smiling, laughing and sharing the stoke despite the admittedly-miserable weather conditions — that impressed us the most.
Caio has already said he'll be back in Friesland next year as have most of the rest of us. Because that's the thing about the 11 City Tour: you'll love it, you'll hate it, and as soon as you cross the finish line you'll start thinking about doing it all again in twelve months' time.
If you want to experience one of the best/worst/craziest/most challenging/most adventurous/most humbling races in the world of stand up paddling for yourself, then pencil in next year's 11 City Tour for September 5th-9th. As the 10th anniversary edition, the 2018 event is shaping up to be the biggest one yet (and either way, I think we're due for some sunshine after this year).
Finally, thanks to all the paddlers that made it such an awesome adventure this year both on and off the water, and a huge thank you to the organisers and army of volunteers that made this event possible in the first place. You all deserve a medal of your own. And a hot shower.