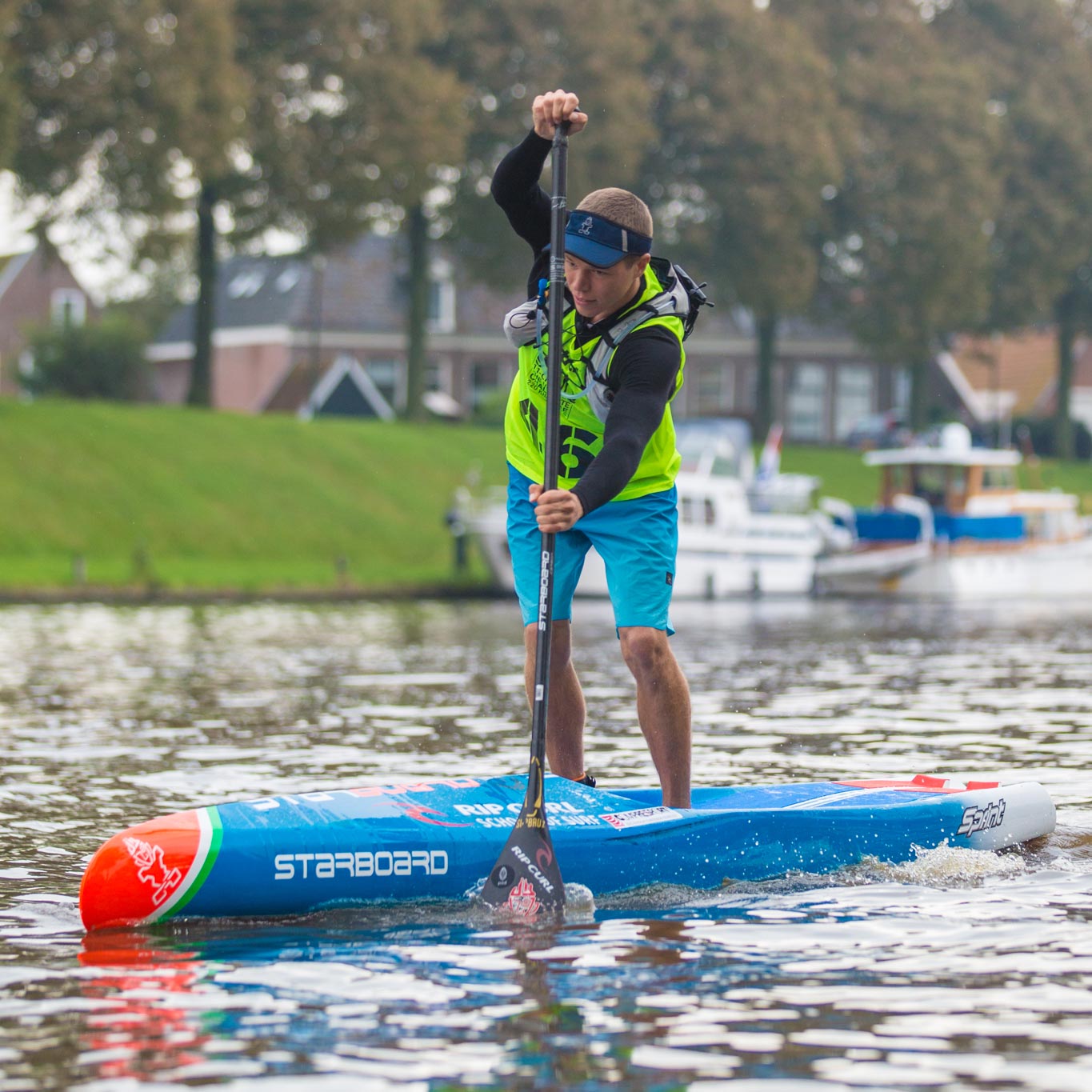 September 17, 2017
by Christopher Parker (@wheresbossman)
Daniel Hasulyo Takes 11 City Tour Title from Brother Bruno; Brazil's Lena Ribeiro Hangs on to Claim Women's Crown (UPDATED)
Daniel Hasulyo has shown that both of the Hasulyo Brothers are world beaters, matching brother Bruno's heroics in Denmark by destroying the individual time trial on the final day of the 2017 SUP 11 City Tour presented by Mistral to claim victory in one of the toughest races on the planet, and in doing so give Team Starboard back-to-back 1-2 finishes in what was a grueling race even by 11 Cities standards.
Italy's rising dark horse Martino Rogai was third, while Tahitian va'a superstar Rete Ebb finished the week strong for Team Mistral by picking up a third in the time trial that saw him take fourth overall.
Brazil's Lena Ribeiro came home third in today's 27km race against the clock, however the Brazilian had done enough hard work early in the week to maintain her lead all the way to the finish. Lena edged out her Mistral team mate Petronella van Malsen, with the home nation hero accepting the runner-up spot for the second year in a row.
Full recap, photos and video still to come. In the meantime, hit the official 11 City Tour Facebook page for more coverage.
---
2017 SUP 11 City Tour: Final Results
MEN (elite, masters, and open)
| # | Athlete | Time | Division | Points |
| --- | --- | --- | --- | --- |
| 1 | Daniel Hasulyo | 17:58:40 | Elite | 30.00 |
| 2 | Bruno Hasulyo | 18:01:43 | Elite | 22.50 |
| 3 | Martino Rogai | 18:20:13 | Elite | 18.00 |
| 4 | Rete Ebb | 18:28:40 | Elite | 15.00 |
| 5 | Bruno Tauhiro | 18:31:52 | Elite | 12.75 |
| 6 | Rafael Alexandre | 18:36:31 | Elite | 10.50 |
| 7 | Ricardo Haverschmidt | 18:52:24 | Elite | 9.00 |
| 8 | Richard Proost | 19:02:21 | Elite | 7.50 |
| 9 | Kjell de Bruyn | 19:04:41 | Elite | 6.75 |
| 10 | Bart de Zwart | 19:05:42 | Competition | 6.00 |
| 11 | Jano Rodrigues | 19:31:49 | Competition | 5.40 |
| 12 | Miguel Martorell | 19:37:21 | Masters | 4.80 |
| 13 | Caio Vaz | 19:44:38 | Competition | 4.50 |
| 14 | Ramon Blanco | 19:53:31 | Masters | 4.20 |
| 15 | Pascal Bleys | 19:57:43 | Masters | 3.90 |
| 16 | Jochem Steur | 20:02:06 | Competition | 3.60 |
| 17 | Philippe Soeters | 20:03:09 | Masters | 3.30 |
| 18 | Herman van den Berg | 20:05:25 | Masters | 3.00 |
| 19 | Paul Caldeira | 20:06:25 | Competition | 2.70 |
| 20 | Karl Roels | 20:10:45 | Competition | 2.40 |
| 21 | Torsten Ahrens | 20:20:18 | Masters | 2.25 |
| 22 | Dirk de Beuf | 20:23:00 | Masters | 2.10 |
| 23 | Matt Swemmer | 20:27:47 | Competition | 1.95 |
| 24 | Furio Vitali | 20:35:56 | Competition | 1.80 |
| 25 | Jelle Steenbeek | 20:53:00 | Competition | 1.65 |
| 26 | Amos Kahana | 21:04:37 | Masters | 1.56 |
| 27 | Harry Bartelds | 21:09:02 | Competition | 1.47 |
| 28 | Vladimir Saveliev | 21:09:12 | Elite | 1.38 |
| 29 | Robert Stehlik | 21:19:00 | Masters | 1.29 |
| 30 | Carsten Schuur | 21:25:11 | Masters | 1.20 |
| 31 | Christian Moutsakos | 21:26:34 | Masters | 1.14 |
| 32 | Nicola Zamuner | 21:34:27 | Masters | 1.08 |
| 33 | Christopher Parker | 21:35:52 | Competition | 1.02 |
| 34 | Priit Vakmann | 22:03:26 | Masters | 0.96 |
| 35 | Jacky Teiki Conti | 22:15:57 | Masters | 0.90 |
| 36 | Stephane Guillermin | 22:28:52 | Masters | 0.84 |
| 37 | Geert Hokke | 22:33:21 | Masters | 0.78 |
| 38 | Goran Gustavsson | 22:35:53 | Tour | 0.72 |
| 39 | Juerg Geser | 22:42:24 | Masters | 0.66 |
| 40 | Hugo Vernhout | 22:45:56 | Tour | 0.60 |
| 41 | Chris Carpenter | 22:57:44 | Masters | 0.57 |
| 42 | Pieter de Jong | 23:26:21 | Tour | 0.54 |
| 43 | Pieter van Heeswijk | 23:48:52 | Tour | 0.51 |
| 44 | Peter Egemose | 23:55:44 | Tour | 0.48 |
| 45 | Paul Bunyaratavej | 23:58:14 | Masters | 0.45 |
| 46 | Bernhard Jacob | 24:10:25 | Tour | 0.42 |
| 47 | Stephan Lambert | 24:23:36 | Masters | 0.39 |
| 48 | Andrew Smith | 24:44:13 | Masters | 0.36 |
| 49 | Rein Lehtmets | 24:53:06 | Masters | 0.33 |
| 50 | Peter Swahlen | 24:57:29 | Tour | 0.30 |
| 51 | Paul Pollanka | 25:02:59 | Masters | 0.00 |
| 52 | Hasan Ismail | 25:04:07 | Masters | 0.00 |
| 53 | Michiel Moors | 25:10:34 | Competition | 0.00 |
| 54 | Zeev botzer | 25:22:30 | Tour | 0.00 |
| 55 | Chaivudhi PUngthong | 25:30:33 | Masters | 0.00 |
| 56 | Martin Luitwieler | 25:37:49 | Masters | 0.00 |
| 57 | Jimmy Albert | 25:44:29 | Tour | 0.00 |
| 58 | Alex de Sain | 25:54:43 | Masters | 0.00 |
| 59 | Menno de Groot | 26:08:51 | Tour | 0.00 |
| 60 | Jelmer Rijkes | 26:22:50 | Tour | 0.00 |
| 61 | Aiwei Nan | 26:37:00 | Tour | 0.00 |
| 62 | Adrie Kok | 27:19:02 | Tour | 0.00 |
| 63 | Harry Buyens | 29:17:10 | Tour | 0.00 |
| 64 | Simon Jager | 29:25:14 | Tour | 0.00 |
| 65 | Willem van Kralingen | 30:43:13 | Tour | 0.00 |
WOMEN
1st Lena Ribeiro 30.00
2nd Petronella van Malsen 22.50
3rd Marta Abrunedo 18.00
4th Siri Schubert 15.00
5th Micheline Hauchecorne 12.75
6th Aukje Hofman 10.50
7th Lande Williamson 9.00
8th Miriam Leistenschneider 7.50
9th Louanne Harris 6.75
10th Puatea Ellis 6.00
11th Babette Schuur 5.40
12th Maeva Hargrave 4.80
13th Glaucia Pomeu de Siqueira 4.50
14th Nicole Lacovetta 4.20
---
2017 SUP 11 City Tour: Stage Results
Click here to open the results in a new tab (and zoom in)