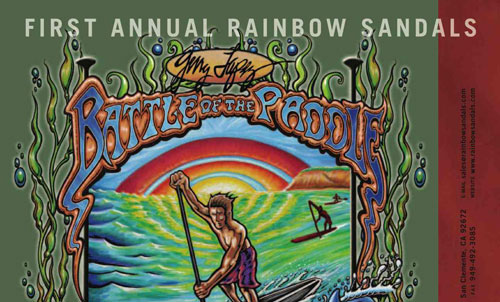 September 25, 2012
by Christopher Parker (@wheresbossman)
How The 12'6″ Got Its Name
Pretty much every paddler knows that the Elite Race at the Battle of the Paddle is 12'6″ and nothing else. Every paddler is on the same length board; no 14 footers, no unlimited boards, it's all 12'6″. But a lot of people probably don't realise where the 12'6″ standard actually came from, or why it's exactly 12-feet-six-inches and not an even 12 or 13 feet.
There's been plenty of debate about board classes lately, so we figured it was a good time to look back at where it all started.
We chatted with Barrett Tester to hear about the origins of the 12'6″ board. Barrett has been the head honcho organiser of every Battle of the Paddle going right back to the first event in 2008. So keep reading to check out how the 12'6″ got its name, and of course keep following SUPracer.com for complete coverage of the 2012 Battle of the Paddle.
(big thanks to Barrett for sharing the story, especially this week when it's the crazy, hectic, final few days before the Battle…)
*****
The Story of the 12'6″ SUP Race Board
Barrett Tester: When we started planning the first ever Battle of the Paddle in 2008, we decided early on that the Elite Race would have standardised equipment. We wanted everyone in the race to be on even terms, so we made the call that all paddlers would be on the same length board. Then we just had to figure out what that length would be…
The obvious choice was 12ft, seeing that prone paddle boarding already had that as their stock class. Plus seeing that SUP is so closely related to prone paddling, it would have been logical just to make 12′ our standard. But we also looked at the marketplace to see what was out there. We wanted to make sure paddlers that had already bought a SUP race board could compete in the Battle.
Back in 2008 the sport was just starting to take off and there wasn't really any set standards for race boards. However one of the most popular boards at the time was a Laird Hamilton signature Surftech board shaped by Ron House. There were a lot of those Laird boards floating around in the paddling community, and we knew a lot of people would want to race on those. Thing was, the board was 12'1″, so it wouldn't have fit in our 12′ standard. There were also a couple of other popular boards, including a Hobie model, which were just over 12 feet long.
So for that reason we decided to set the limit at 12'6″, just to make sure we had all the major boards covered and so that it was an even half a foot (rather than 12'1″ or 12'3″ or something). That's pretty much how it came about and it's stayed that way ever since.
Though it's kind of ironic that the 12'1″ Laird SUP helped set the template for SUP racing, because that thing is such a beast of a board. These days it's the kind of SUP board you paddle around on with your kids or your dog on the weekend. But back then it was one of the best boards going around, and if you look at photos from the 2008 Battle of the Paddle there were a lot of guys paddling that exact board.
Our first ever winner was of course Chuck Patterson. I believe Chuck was on a prototype Hobie race board. His board was ahead of its time, but even before we saw his board, just watching the guy train we could tell he was going to be the one to beat in that first ever Elite Race.
We announced the 2008 Battle of the Paddle well ahead of time, so a few of the really serious guys had custom 12'6″ boards made. However most of the paddlers were on surfboards or touring boards that were around 11-12′ long, as there really wasn't any mass-produced 12'6″ models that first year. We also had a measuring table on the beach to make sure boards weren't any longer than 12'6″, and we actually had a few guys who had to saw the noses off of their SUP boards just so they could race…
The format in that first year was a little different as well, it wasn't so much in the surf because State Parks asked us to hold the race at the South end of Doheny State Beach, away from where the waves usually are. We also had a circular course, rather than the M shape we use now. However it was still really tricky; it was super windy so we still ended up with some little waves in the end.
Chuck was a great guy to have as a winner of the first Battle of the Paddle. Same with Jenny Kalmbach in the women's Elite Race. Both of them captured the spirit of SUP racing; strong, fit, mature and full of energy. They were the perfect ambassadors for a new sport.
*****
So there you go, it was the Battle of the Paddle Elite Race that spawned the 12'6″, with help from the Surftech Laird board. So yeah, if you're not too keen on the 12'6″ SUP race board class, you can once again "Blame Laird".
If you weren't following the SUP race scene all those many years ago (it was actually only four years ago, but it kinda seems like forever) then check out the great footage from the Battle of the Paddle 2008 below. Take a look at the boards some of the paddlers are using for the Elite Race (skip to 1:46 for the race start). I don't think you'll see many of those boards line up at the start this Saturday afternoon…
2008 Battle of the Paddle RESULTS
Men's Elite Race
1st: Chuck Patterson (1:12:06)
2nd: Thibert Lussiaa (1:13:48)
3rd: Aaron Napolean (1:15:34)
4th: Kyle Mochizuki (1:16:50)
5th: Jimmy Terrell (1:18:40)
Women's Elite Race
1st: Jenny Kalmbach (1:28:40)
2nd: Candice Appleby (1:35:16)
3rd: Morgan Hoesterey (1:40:50)
4th: Christina Powers (1:43:14)
5th: Tiare Lawrence (1:55:11)
*****
2008 Battle of the Paddle VIDEO