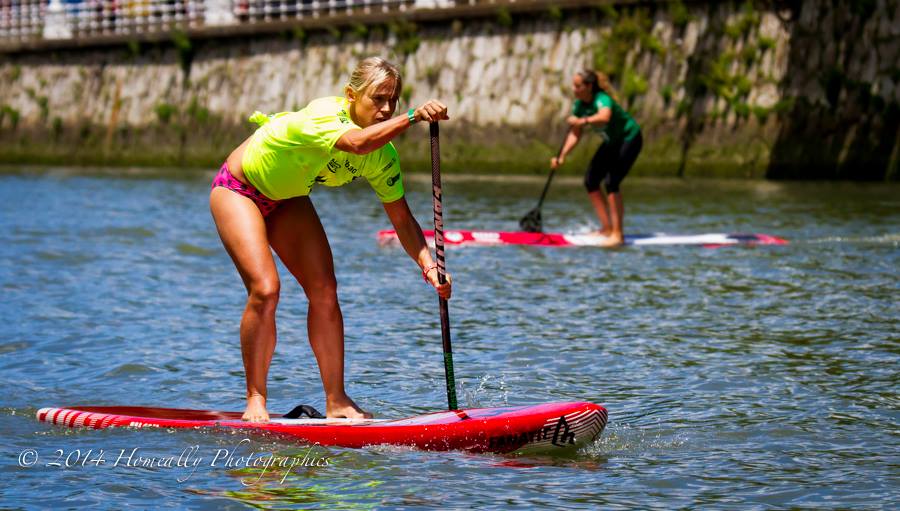 January 22, 2015
by Christopher Parker (@wheresbossman)
Paul & Angie Jackson Depart Fanatic – Where To Next?

Aussie globetrotters Paul and Angela Jackson have officially departed long-time sponsor Fanatic.
The Gold Coast duo, regular fixtures in the big events at home and abroad, are easily the most successful husband and wife paddling team.
Angie won three golds at the 2013 Worlds, and finished 2014 ranked #6 on our own World Rankings leaderboard after a string of big results. There was the big win in Bilbao and the domination of Aussie Downwind Week, where Angie won both the Doctor and King of the Cut titles. However her best performance of the year was probably Angie's runner-up finish (behind only Annabel) at the second-most-competitive women's race of the season, the Gorge Double Downwinder.
One of the hardest training women in the sport (the girl is looking seriously ripped these days), I'm tipping Angie to rise even higher up the ranks this year.

Meanwhile Jacko showed glimpses of his strength at various big races, including a big win in Japan and by taking out a bunch of the young guns in Bibao. However a disappointing BOP campaign forced him down to #24 in the world by season's end. Actually Jacko's biggest race result of the year quite possibly came off the water, where he introduced the "Super Lap" concept to a standing ovation. The innovative new course design allegedly even got picked up in the hallowed halls of Red Bull HQ in Austria.
No official word yet on Angie & Jacko's next move or new sponsor, which has left Facebook and the Aussie forums to buzz with rumour and speculation. BIC? Starboard? Lahui Kai? Naish?! I expect we'll hear a big announcement very soon 😉