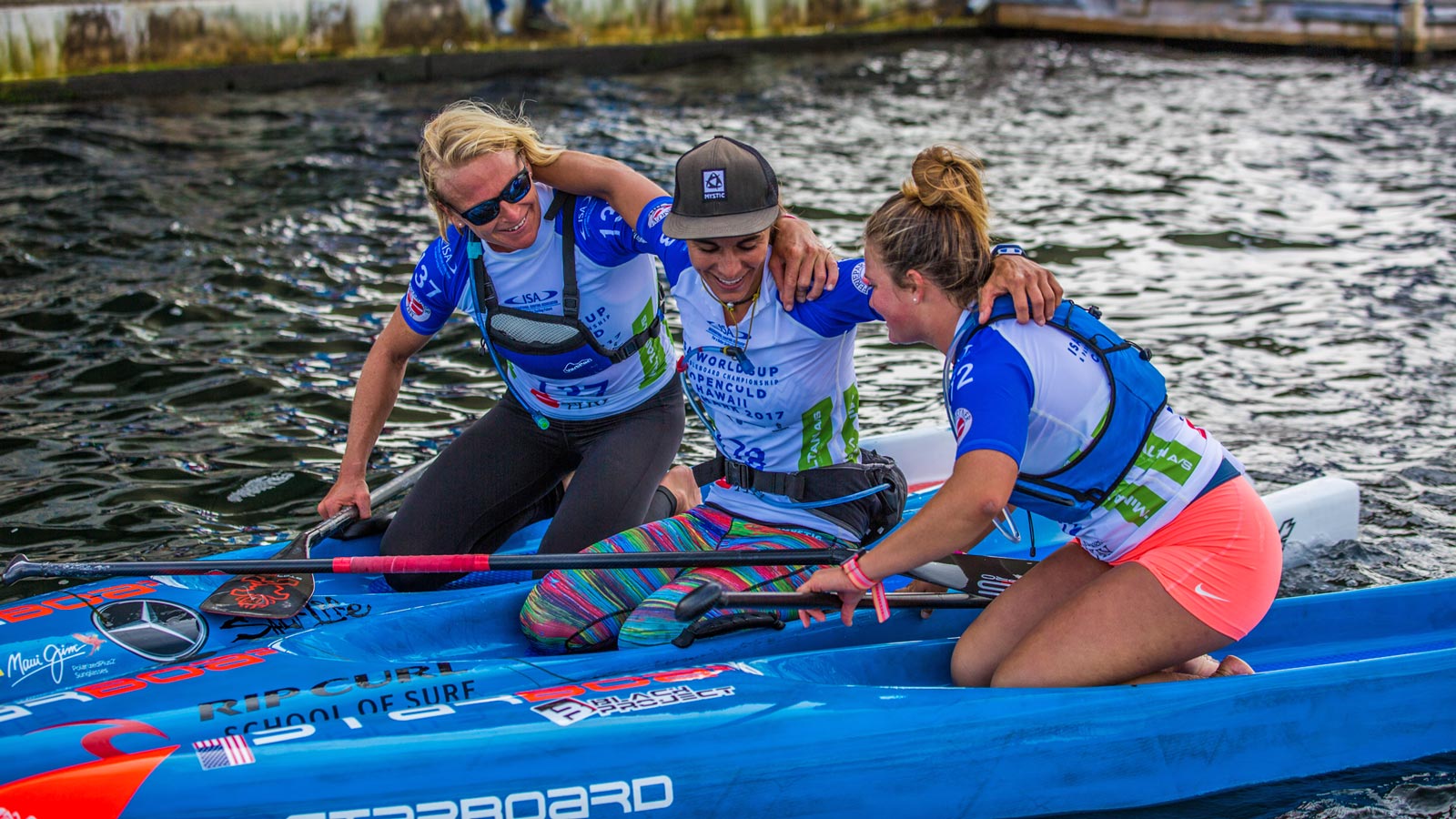 December 24, 2017
by Christopher Parker (@wheresbossman)
The Incredible Stats Behind Team Starboard's Mammoth 'Battle of the Brands' Victory
Led by perennial world number one Connor Baxter, and with exceptional support from vice-captain Fiona Wylde and deputies Michael Booth and Olivia Piana, Team Starboard absolutely blizted our VMG Battle of the Brands leaderboard this season.
That Starboard won a fourth-straight Battle of the Brands title is no real surprise. Anyone that follows our sport with more than half an eye could tell you how dominant the blue boards are. But this wasn't just a victory, it was a massacre.
The team finished 250 points ahead of runner-up NSP and almost doubled third-placed Team Naish. As the table at the bottom of this post shows, the rest of the brands scored mere fractions of what Starboard racked up over the past 12 months.
But what's even more incredible than the size of the victory is how much bigger it could have been…
To keep things fair, we only allow one team on the leaderboard per brand. Call it the Starboard Rule. Hypothetically, if we did allow multiple squads the proverbial floodgates would open and Starboard would absolutely destroy the rankings.
Highlighting just how dominant the brand was this season, Starboard's virtual "B" team would have finished third on our leaderboard less than 100 points shy of Team NSP and about 100 points ahead of Naish. And that "backup" roster would have featured major players Sonni Honscheid, Bruno Hasulyo, Matt Nottage and Penelope Strickland.
Even more incredibly, a hypothetical Starboard "C" team would have finished season 2017 ranked fifth, and it would have included well known performers Trevor Tunnington, Leo Nika, Daniel Hasulyo and Amandine Chazot.
Extending this virtual deep dive of the leaderboard, if each brand was allowed to be really clever and rearrange their athletes to maximise average points across all their virtual squads (eg. Boothy could drop down to the 'B Team' to help them jump ahead of NSP), Starboard could have mathematically finished 1st, 2nd, 4th and 9th on the leaderboard.
Four teams in the top ten. No other brand would even have two.
Starboard's continued dominance of the manufacturers' championship is largely the result of three things:
Firstly, Starboard has damn fast race boards. While it's a stretch to say the winningest team automatically has the best race boards, it's no secret that Starboard dedicates more to R&D and innovation than any other board brand. We've seen some great boards from a lot of brands this year, especially the boutique brands that have really punched above their weight, but at the very least Starboard continues to hold their own in terms of performance.
Secondly, Starboard covets the podium. They want a team rider on every single step at every single race, and to achieve this they invest far more in their riders than anyone else. Team Starboard's travel budget would dwarf that of the next-richest squad.
Thirdly, and most importantly as far as world ranking points are concerned, is the fact that Starboard simply has a massive team full of incredibly talented and hungry athletes.
Starboard is home to 7 of the top 20 women and 8 of the top 20 guys (which, interestingly, means three of their team riders would have been assigned to a virtual "D" team despite being guaranteed starters in just about every other stable). That's 15 of the world's 40 best athletes. Team Naish is second best with five while no other team has more than two.
Or in other words, Starboard owns 37.5% of the world's best paddlers while most brands are lucky to hold just 5%.
This all makes a spot on their "A" team extraordinarily difficult to achieve, and it also makes competition within Team Starboard almost as competitive as the sport in general (something we've occasionally seen when team mates on land suddenly become rivals on the water).
Starboard didn't have it all their own way this season – despite producing four of the top six ranked women they were stonewalled by Annabel Anderson, while Team NSP managed to sneak two of their boys (Titou and Travis) in between Connor and Boothy at the top of the men's table – but they were as dominant as they've ever been, which is saying something considering how dominant they already were last year.
Looking ahead to 2018, it's hard to see anyone stopping the Tiki team winning a fifth-straight Battle of the Brands title. Battle of the Brands has only been running for four years; no other team has ever won it. And just to prove its not a one-trick pony, season 2017 also saw Starboard win its 11th PWA (windsurfing) manufacturers' title in the past 12 years.
Starboard's lineup will probably change during the off season – it's too big to stay together forever – while rival brands will be eager to at least make a dent in their armour next year. But I don't think any of them are going to pierce that blue, carbon-fibre shell any time soon.

Below: The end-of-season rankings with an additional percentage column to highlight the relative size of Starboard's victory. Check out the full VMG Battle of the Brands leaderboard more.