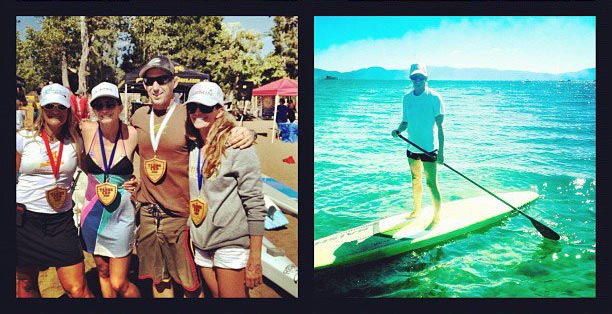 [RESULTS] Tahoe Cup Fall Classic
Here are the full results from the Tahoe Fall Classic, the 22 mile SUP race that was held on Lake Tahoe last weekend. This was the third and final Tahoe Cup race for 2012 (after the Donner Lake and Jam From The Dam races).
Rand Carter was the overall winner, crossing the line on his unlimited board in a time of 3 hrs 35 mins 20 secs. Adam Freeman was 2nd over the line and the first of the 14 footers, less than a minute ahead of young gun Mo Freitas. Meanwhile Hawaii's Jenny Kalmbach dominated the women's race. Kalmbach finished an impressive 8th overall, beating not only all of the other women but also 90% of the men.
Check out the full SUP race results from the Tahoe Fall Classic below…
*****
Tahoe Fall Classic SUP Race
Click "M/F" to switch between Men's and Women's Results
Click "Class" to sort results by Board Class
Click "Time" to reset the results

| # | M/F | M/F # | Name | Time | Class | Class # | Age |
| --- | --- | --- | --- | --- | --- | --- | --- |
| 1 | M | 1 | Rand Carter | 3:35:20 | Unlim | 1 | 45 |
| 2 | M | 2 | Adam Freeman | 3:53:13 | 14' | 1 | 47 |
| 3 | M | 3 | Mo Freitas | 3:54:00 | 14' | 2 | 51 |
| 4 | M | 4 | Cody White | 3:55:21 | 14' | 3 | 60 |
| 5 | M | 5 | Eric Walker | 3:56:13 | Unlim | 2 | 18 |
| 6 | M | 6 | Jim Moore | 3:58:31 | 14' | 4 | 48 |
| 7 | M | 7 | Chris Brackett | 3:59:07 | 14' | 5 | 45 |
| 8 | F | 1 | Jenny Kalmbach | 4:00:42 | F14' | 1 | 48 |
| 9 | M | 8 | Dave Defoe | 4:01:02 | Unlim | 3 | 50 |
| 10 | M | 9 | Armadillo Armadillo | 4:04:06 | Unlim | 4 | 49 |
| 11 | M | 10 | Rob Graham | 4:04:48 | 14' | 6 | 36 |
| 12 | M | 11 | Chris Gutzeit | 4:05:39 | 14' | 7 | 33 |
| 13 | M | 12 | Kyle Wade | 4:05:53 | 14' | 8 | 50 |
| 14 | M | 13 | Michael Bond | 4:06:24 | 14' | 9 | 53 |
| 15 | M | 14 | Marcus Tingle | 4:07:22 | 14' | 10 | 33 |
| 16 | M | 15 | Scott Estrada | 4:11:02 | 14' | 11 | 45 |
| 17 | M | 16 | Michael Melville | 4:12:23 | 14' | 12 | 40 |
| 18 | M | 17 | Doug Stoup | 4:13:23 | 14' | 13 | 41 |
| 19 | M | 18 | Ken Altman | 4:14:19 | 14' | 14 | 47 |
| 20 | M | 19 | Tim Boyer | 4:14:25 | 14' | 15 | 23 |
| 21 | F | 2 | Nina Oakley | 4:15:11 | F12'6" | 1 | 32 |
| 22 | M | 20 | Dale Melden | 4:16:08 | 14' | 16 | 48 |
| 23 | M | 21 | Kevin Scott | 4:16:44 | Unlim | 5 | 46 |
| 24 | F | 3 | Robyn Benincasa | 4:17:02 | F14' | 2 | 15 |
| 25 | M | 22 | Stephen Drottar | 4:17:42 | 14' | 17 | 53 |
| 26 | M | 23 | Greg Wright | 4:18:02 | 14' | 18 | 42 |
| 27 | M | 24 | Fred Andersen | 4:18:33 | 14' | 19 | 42 |
| 28 | F | 4 | Halie Harrison | 4:18:37 | F14' | 3 | 31 |
| 29 | M | 25 | Nick Vivar | 4:18:47 | 14' | 20 | 34 |
| 30 | M | 26 | John Albrecht | 4:20:48 | 14' | 21 | 46 |
| 31 | M | 27 | Scott Boyles | 4:22:13 | 12'6" | 1 | 48 |
| 32 | M | 28 | Tim Sheeper | 4:22:35 | 14' | 22 | 28 |
| 33 | F | 5 | Gail Vento | 4:23:04 | F Unlim | 1 | 39 |
| 34 | M | 29 | Dax Willard | 4:23:16 | 14' | 23 | 55 |
| 35 | M | 30 | Dean Dunham | 4:23:44 | 14' | 24 | 41 |
| 36 | M | 31 | Larry Ferguson | 4:25:21 | 14' | 25 | 49 |
| 37 | M | 32 | Ryan Saca | 4:25:25 | 14' | 26 | 47 |
| 38 | M | 33 | Grant Smith | 4:26:14 | 14' | 27 | 42 |
| 39 | F | 6 | Anik Wild | 4:27:01 | F12'6" | 2 | 49 |
| 40 | M | 34 | Daniel Buchanan | 4:28:35 | 12'6" | 2 | 39 |
| 41 | M | 35 | Tony Schopp | 4:28:59 | 12'6" | 3 | 35 |
| 42 | M | 36 | Peter Dunigan | 4:34:16 | 14' | 28 | 36 |
| 43 | M | 37 | Gary Wimberly | 4:35:22 | 12'6" | 4 | 65 |
| 44 | M | 38 | Mike Keek | 4:37:13 | 14' | 29 | 41 |
| 45 | M | 39 | Leroy D Bishop | 4:39:20 | 14' | 30 | 51 |
| 46 | M | 40 | Wade Williford | 4:42:55 | 14' | 31 | 47 |
| 47 | M | 41 | Kevin Murnane | 4:45:03 | 14' | 32 | 33 |
| 48 | F | 7 | Nichole Hull | 4:45:26 | F12'6" | 3 | 43 |
| 49 | F | 8 | Wendy Ackermann | 4:46:29 | F12'6" | 4 | 29 |
| 50 | M | 42 | Tim Gavigan | 4:48:29 | 12'6" | 5 | 38 |
| 51 | M | 43 | Bryan Thomson | 4:49:12 | 12'6" | 6 | 16 |
| 52 | M | 44 | Kevin MacDonald | 4:59:43 | 14' | 33 | 37 |
| 53 | F | 9 | Karrie McFadden | 4:59:51 | F14' | 4 | 42 |
| 54 | M | 45 | John Walsh | 5:00:17 | 14' | 34 | 53 |
| 55 | M | 46 | Derek Holbrook | 5:02:10 | 14' | 35 | 44 |
| 56 | M | 47 | Carlo Marivilla | 5:04:10 | 14' | 36 | 38 |
| 57 | M | 48 | Allan Maravilla | 5:04:14 | 14' | 37 | 33 |
| 58 | M | 49 | Mike Lefrancois | 5:04:36 | 14' | 38 | 43 |
| 59 | F | 10 | Brie Moore | 5:05:41 | F12'6" | 5 | 51 |
| 60 | M | 50 | Gary Leong | 5:06:24 | 12'6" | 7 | 57 |
| 61 | F | 11 | Nicole Roberts | 5:07:25 | F12'6" | 6 | 47 |
| 62 | F | 12 | Valerie Khachadouri | 5:09:05 | F12'6" | 7 | 40 |
| 63 | M | 51 | Joe Quinn | 5:10:53 | 14' | 39 | 65 |
| 64 | M | 52 | Keats McGonigal | 5:13:52 | 14' | 40 | 53 |
| 65 | M | 53 | Brian Grey | 5:15:28 | 12'6" | 8 | 43 |
| 66 | F | 13 | Danielle Gretsch | 5:16:03 | F12'6" | 8 | 47 |
| 67 | M | 54 | Charlie Bowman | 5:16:49 | 14' | 41 | 45 |
| 68 | M | 55 | Richard Gretsch | 5:17:25 | 12'6" | 9 | 47 |
| 69 | F | 14 | Khristy Gavigan | 5:19:22 | F12'6" | 9 | 57 |
| 70 | M | 56 | Robert Larsen | 5:20:00 | 12'6" | 10 | 53 |
| 71 | F | 15 | Deborah Fajans | 5:20:34 | F12'6" | 10 | 43 |
| 72 | F | 16 | Alyssa Waltze | 5:21:01 | F14' | 5 | 45 |
| 73 | F | 17 | Brenda McGirr | 5:21:19 | F14' | 6 | 58 |
| 74 | M | 57 | Chuck Bassett | 5:22:55 | 12'6" | 11 | 34 |
| 75 | F | 18 | Teresamarie Tucker | 5:26:16 | F12'6" | 11 | 48 |
| 76 | F | 19 | Leslie Tighe | 5:28:03 | F12'6" | 12 | 70 |
| 77 | F | 20 | Debbie Brown | 5:32:10 | F12'6" | 13 | 46 |
| 78 | M | 58 | Mike McKee | 5:32:13 | 12'6" | 12 | 53 |
| 79 | F | 21 | Nancie Schoener | 5:32:45 | F14' | 7 | 30 |
| 80 | M | 59 | Eric Belz | 5:47:18 | 12'6" | 13 | 52 |
| 81 | F | 22 | Betsy Cole | 5:53:12 | F12'6" | 14 | 50 |
| 82 | F | 23 | Nancy Barna | 5:53:12 | F14' | 8 | 26 |
| 83 | M | 60 | Chris Ryman | 5:53:15 | 12'6" | 14 | 61 |
| 84 | M | 61 | Paul Zarubin | 5:55:57 | 14' | 42 | 58 |