November 27, 2012
by Christopher Parker (@wheresbossman)
Rise Of The Minnows: Sweden Announces Team For ISA World Stand Up Paddle Champs In Peru

The ISA World Standup Paddle and Paddleboard Championship is heading back to Peru in February. All the usual suspects will be there: Australia, France, the USA, etc. However the big guns will be joined by a dozen or more countries that are much newer to the whole SUP scene: The minnows. And they're one of my favourite parts of this whole event…
The minnows are the smaller paddling nations that can only send pint-sized teams to compete. It's these countries that "make up the numbers" but also make up a lot of the fun and spirit of events like this.
If you've ever watched the Cricket World Cup you'll know exactly what I mean. There's nothing more entertaining than seeing the plucky Dutch (cricket is not a sport in the Netherlands…) stick it to a proud cricketing nation such as the English.
The same thing happens at the ISA's Standup Paddle World Championship, with the small but spirited teams definitely adding to the action. For example: Ireland, Switzerland and Austria come to mind from the 2012 event.
Well now there's going to be a new minnow at the ISA Worlds: Sweden.
Sweden might not be the first place that comes to mind when you think SUP racing, but they've actually got some pretty solid history in paddling sports. The country has produced plenty of world champion kayakers, canoeists and rowers over the years. Plus the national sport of Sweden is something that I consider the winter version of SUP: cross-country skiing. Oh and also there's water everywhere in Sweden, so it's not hard to find a training venue (except in the middle of winter when the water's frozen solid, but that's a minor detail).
SUP racing is starting to catch on in Sweden. It's still tiny in comparison to what's happening in places like France, Australia, and California, but there are more and more races each year that are drawing enthusiastic paddlers from all parts of the country. In 2012 the Swedes even introduced an official National SUP Racing Championship series, which decided who got a spot on the plane to Peru.
I live in Sweden half the year and I've actually paddled with (and raced against, and been beaten by…) these guys plenty of times. So I can say from first hand experience that there's already some solid talent levels in Scandinavia, which will only keep growing as the sport takes off in that part of the world.
So who's heading to Peru to fly the Swedish flag?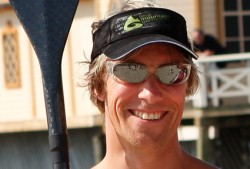 The winner of the 14′ class at this year's National Titles was Magnus Lindstedt.
Magnus is kind of like He-Man but with a Swedish accent. When he's not out surfing, paddling or testing advanced race board prototypes, Magnus spends his time mentoring and training some of the country's elite soldiers and athletes. No joke. This guy is fit, he's fast and he's Sweden's best paddler.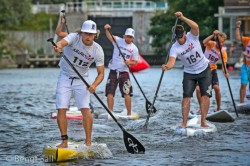 Another top racer is Johan Möller from Stockholm. Johan took out the 12'6″ division at this year's Nationals and is also extremely passionate about stand up paddling (running the Sthlm SUP blog, among other paddling related projects).
For their performances this summer, these two guys received the honour of being named the first ever Stand Up Paddlers to qualify for Team Sweden. Magnus (and hopefully Johan as well) will be travelling to Peru not only to compete, but to also learn more about how SUP racing is done in other parts of the world. The goal is to build up the sport in Sweden to the point where a complete (and competitive) team can travel to an event like the ISA World SUP Championships at some time in the future.
But until then, Sweden will be one of the minnows. So if you get tired of seeing the usual suspects like Australia and the U.S. taking Gold in Peru, and you want to pick one of the smaller nations to cheer for, look for the Blue & Gold. (…and just quietly, I think Magnus is going to claim quite a few scalps in the Distance Race).