October 1, 2012
by Christopher Parker (@wheresbossman)
SUPracer's Battle Of The Paddle LIVE Coverage Archives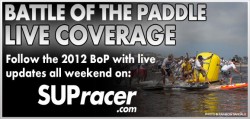 We've just wrapped up the 2012 Battle of the Paddle, and what a crazy weekend of SUP racing it was.
If you hit SUPracer.com at any point over the past 48 hours, you would have seen we were covering the event live. It was a lot of fun and we had thousands of people following our live commentary and updates.
The highlight was having Tehani Gangini commentating the final of the Elite Race for us. Just a couple of hours before taking over the reins of our live coverage, Tehani put in a crazy performance to not only win the Women's Open Race, but place top 5 overall (beating out 400+ other paddlers). Oh and she was also riding a 12'6″…
Anyway if you're already getting all sentimental, you can relive the action from SUPracer's Battle of the Paddle LIVE Coverage below. Also check out the Battle of the Paddle 2012 RESULTS.