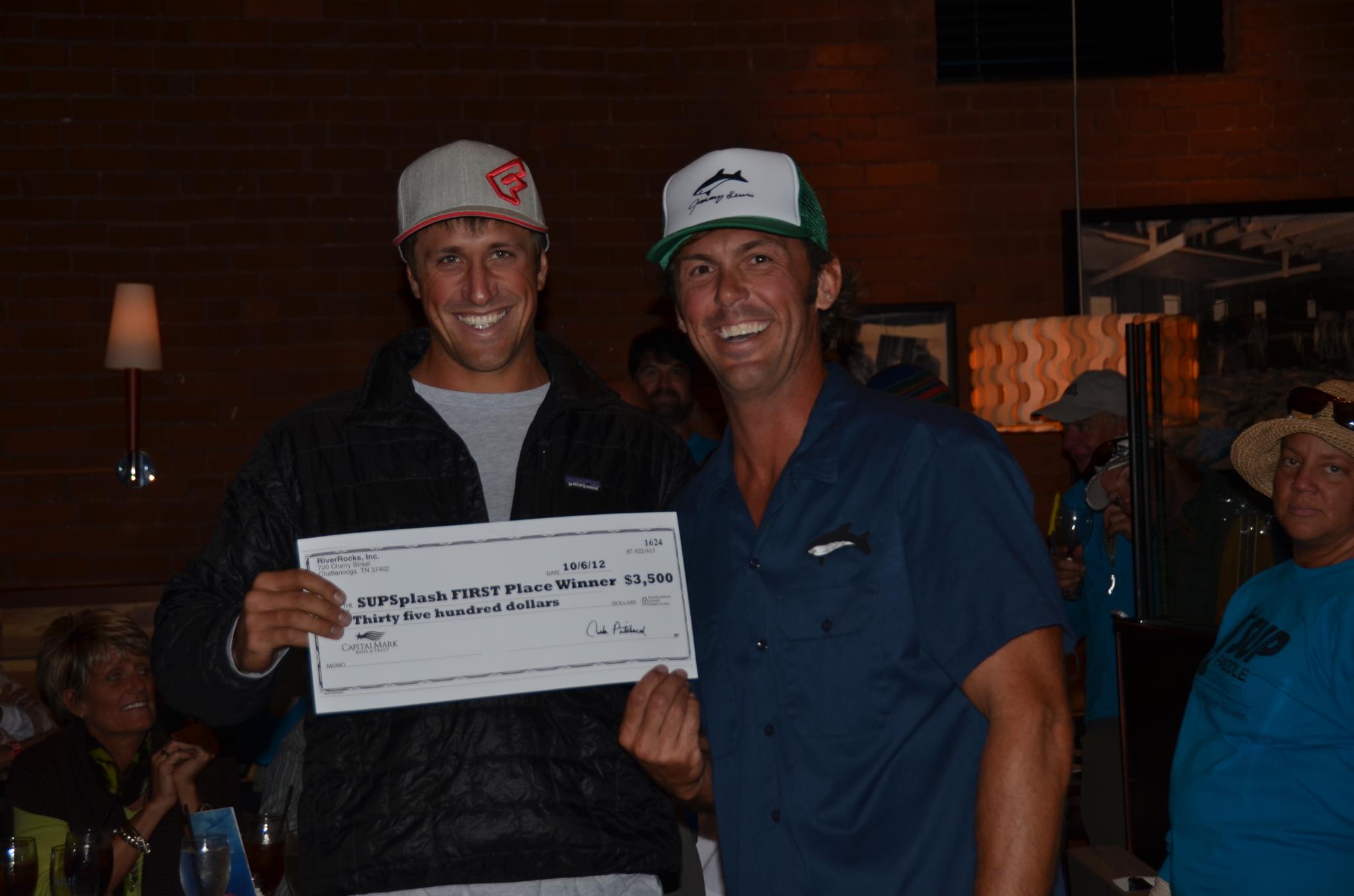 October 6, 2012
by Christopher Parker (@wheresbossman)
[RESULTS] Chase Kosterlitz and Candice Appleby Win The $12,000 SUP Splash RiverRocks
Candice Appleby and Chase Kosterlitz have just won the RiverRocks SUP race in Chattanooga, Tennessee. The race, which is part of the 2012 SUP Splash Race Series, offered $12,000 in total prize money. That's not bad for any SUP race, let alone one that's held in a town most paddlers wouldn't be able to spell.
Candice and Chase both pick up $3,500 for their wins in the Elite race (there was equal prize money for men and women). Coming in second for the men was Matthew McDonald, making it a 1-2 finish for Team Fanatic, while young gun Bailey Rosen grabbed the runner-up spot in the women's race.
Scroll down for the full results from Saturday's 2 mile and 6 mile SUP races.
UPDATE: Check out this great RiverRocks SUP Race video, including the mad sprint off the line in the 6 mile race.
MORE…
>> Solid coverage of the event over at DistressedMullet.com
>> Get some insights from the champ himself with Chase Kosterlitz's race recap
>> Heaps of photos of the race on Facebook thanks to Paddle Destin
*****
RiverRocks Chattanooga – 6 mile SUP race RESULTS
Click "M/F" to switch between Men's and Women's Results
Click "Class" to sort results by Board Class
Click "#" to reset the results

| # | M/F | M/F # | Name | Time | Class | Class # |
| --- | --- | --- | --- | --- | --- | --- |
| 1 | M | 1 | Mark Weinzierl | 1:05:09 | Unlim | 1 |
| 2 | M | 2 | Chase Kosterlitz | 1:06:09 | 14' | 1 |
| 3 | M | 3 | Matthew Mcdonald | 1:06:25 | 14' | 2 |
| 4 | M | 4 | Mike Tavares | 1:07:28 | 14' | 3 |
| 5 | M | 5 | Randy Perkins | 1:08:21 | 14' | 4 |
| 6 | M | 6 | Kevin Rhodes | 1:08:22 | 14' | 5 |
| 7 | M | 7 | Nick Bjork | 1:08:57 | 14' | 6 |
| 8 | M | 8 | Wes Stolp | 1:09:06 | 14' | 7 |
| 9 | M | 9 | Christopher Johnson | 1:09:28 | 14' | 8 |
| 10 | M | 10 | Mark Miller | 1:09:29 | 14' | 9 |
| 11 | M | 11 | Rob Plankenhorn | 1:12:27 | 14' | 10 |
| 12 | M | 12 | David Leach | 1:12:28 | 14' | 11 |
| 13 | M | 13 | John Beausang | 1:14:01 | 14' | 12 |
| 14 | M | 14 | Rob Mirlenbrink | 1:14:04 | 14' | 13 |
| 15 | F | 1 | Candice Appleby | 1:14:11 | F12'6 | 1 |
| 16 | F | 2 | Bailey Rosen | 1:17:14 | F12'6 | 2 |
| 17 | F | 3 | Hope Miller | 1:17:15 | F12'6 | 3 |
| 18 | M | 15 | Martin Burzynski | 1:17:17 | 12'6 | 1 |
| 19 | F | 4 | Magdalena Cooper | 1:17:24 | F12'6 | 4 |
| 20 | M | 16 | John Sloan | 1:18:24 | 12'6 | 2 |
| 21 | F | 5 | Bernadette Leach | 1:19:04 | F12'6 | 5 |
| 22 | M | 17 | Carl Moore | 1:19:56 | 14' | 14 |
| 23 | M | 18 | Rick Moore | 1:20:30 | 14' | 15 |
| 24 | F | 6 | Karen Mirlenbrink | 1:22:10 | F12'6 | 6 |
| 25 | M | 19 | Audun Hansen | 1:22:35 | 12'6 | 3 |
| 26 | F | 7 | Teresa Woodley | 1:25:52 | F12'6 | 7 |
| 27 | M | 20 | Fred Franklin | 1:27:38 | Rec | 1 |
| 28 | F | 8 | Haley Mills | 1:30:05 | F12'6 | 8 |
| 29 | F | 9 | Caroline Peters | 1:32:01 | F12'6 | 9 |
| 30 | F | 10 | Terri Curtis | 1:34:21 | F12'6 | 10 |
| 31 | M | 21 | Mark Baldwin | 1:37:52 | Rec | 2 |
| 32 | F | 11 | Fennel Blythe | 1:41:50 | F12'6 | 11 |
| 33 | F | 12 | Kathleen Anderson | 1:41:55 | F12'6 | 12 |
| 34 | F | 13 | Heather Frogge | 1:41:56 | F12'6 | 13 |
*****
RiverRocks Chattanooga – 2 mile SUP race RESULTS
Click "Class" to sort results by Gender and Board Class
Click "#" to reset the results

| # | Name | Time | Class | Class # |
| --- | --- | --- | --- | --- |
| 1 | Jeremy Price | 26:56.1 | M 12'6 | 1 |
| 2 | Trevor Motz | 27:14.9 | M Rec | 1 |
| 3 | Michael Carpenter | 28:08.9 | M 14' | 1 |
| 4 | Matt Phillips | 28:30.7 | M 12'6 | 2 |
| 5 | Bubba Sloan | 29:05.5 | M Rec | 2 |
| 6 | Pj Maughon | 29:19.2 | F 12'6 | 1 |
| 7 | Alan Lloyd | 29:26.6 | M 12'6 | 3 |
| 8 | Brian Feltus | 29:48.4 | M 12'6 | 4 |
| 9 | James Jackson | 30:00.5 | M 14' | 2 |
| 10 | Robert Donnelly | 31:04.2 | M Rec | 3 |
| 11 | Matt Lanier | 31:26.2 | M 14' | 3 |
| 12 | Kim Hillhouse | 31:34.1 | F 12'6 | 2 |
| 13 | Michael Valach | 31:41.2 | M 12'6 | 5 |
| 14 | Harlon Baldwin | 31:41.5 | M 12'6 | 6 |
| 15 | Lamar Brown | 32:32.4 | M 12'6 | 7 |
| 16 | Curt Zacharias | 32:55.8 | M Rec | 4 |
| 17 | Franz Halaschek-Wiener | 33:04.2 | M Rec | 5 |
| 18 | Kim Moore | 34:00.5 | F Rec | 1 |
| 19 | Brandon Ward | 34:39.2 | M Rec | 6 |
| 20 | Kelly Ross | 34:54.8 | F Rec | 2 |
| 21 | Hay | 35:03.8 | M 12'6 | 8 |
| 22 | James Chaffin | 35:28.2 | M 12'6 | 9 |
| 23 | Bee Phi Phillips | 36:07.2 | F Rec | 3 |
| 24 | Catherine Miller | 36:15.8 | F 12'6 | 3 |
| 25 | Tracy Thomas | 36:43.6 | F Rec | 4 |
| 26 | Dottie Hodges | 36:46.1 | F 12'6 | 4 |
| 27 | Tiffany Phillips | 37:05.0 | F Rec | 5 |
| 28 | Jennifer Lloyd | 37:10.3 | F Rec | 6 |
| 29 | Lacy Bobo | 38:11.5 | F Rec | 7 |
| 30 | Caroline Hill | 38:41.5 | F Rec | 8 |
| 31 | Jayne Cagle | 38:41.8 | F Rec | 9 |
| 32 | Aubree Hargett | 39:29.7 | F Rec | 10 |
| 33 | Rebecca Balch | 39:36.3 | F Rec | 11 |
| 34 | Anna Forkum | 40:33.7 | F Rec | 12 |
| 35 | Jennifer Greever | 41:42.7 | F Rec | 13 |
| 36 | Susan Kent | 43:17.2 | F Rec | 14 |
| 37 | Michelle Warren | 43:55.8 | F Rec | 15 |
| 38 | Shelley Mitchell | 44:03.4 | F Rec | 16 |
| 39 | Daphne Martin | 44:05.6 | F Rec | 17 |
| 40 | Jake Martin | 44:11.9 | M 12'6 | 10 |
| 41 | Sarah Ward | 45:03.3 | F Rec | 18 |