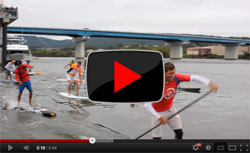 [VIDEO] Fast Start @ River Rocks SUP Race In Chattanooga
Check out the mad sprint at the start of the RiverRocks SUP race in Chattanooga on the weekend. Winner of the Elite Race, Chase Kosterlitz, gets off to a flyer.
This was a 6 mile race but it looks like most paddlers are sprinting flat out. They probably are; with flat water races there's always a lot of jockeying at the beginning to keep up with the pace setters and not miss out on the draft trains.