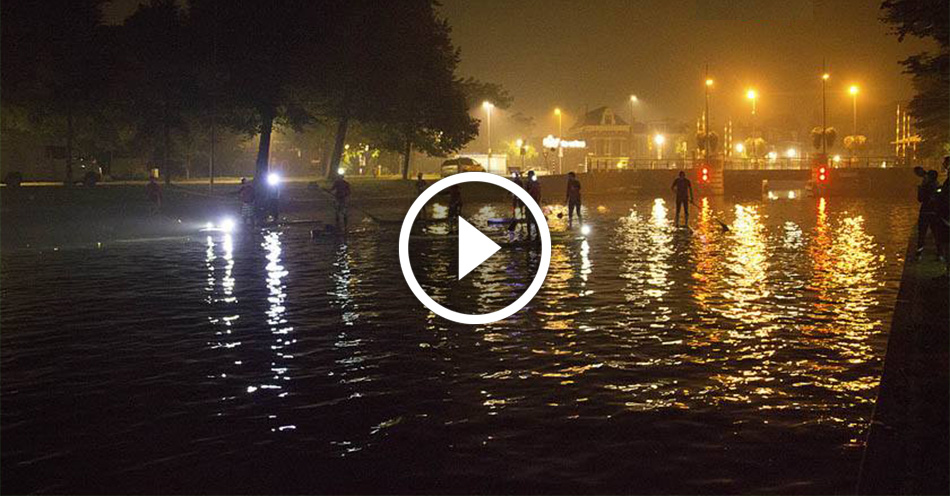 November 26, 2014
by Christopher Parker (@wheresbossman)
Insights From Arnaud Frennet – Winner Of The World's Longest SUP Race
Wanna know what it's like to not only paddle but win the world's longest stand up paddle race? Check out this insightful video from Chile's Arnaud Frennet and you'll have your answer.
Arnaud won the Non Stop Division of the 2014 SUP 11 City Tour, a crazy, 200+ kilometre race through the Dutch countryside.
The 11 cities is an awesome event: Part SUP race, part mental challenge and part holiday in the Netherlands with a bunch of fellow hardcore paddlers, the SUP 11 City Tour is a special kind of race. It's a race that I'd encourage every paddler to do at least once. I'll definitely be heading back there in 2015 (September 2nd-6th) and I know of quite a few guys and girls that have already started training for it.
Most competitors attempt the 11 cities as a five day, five stage race. However this year the organisers introduced a special division for the first time: The Non Stop Tour. And it's exactly what it sounds like: You paddle the entire, 200+ kilometre course in one go. Non-stop. All day. All night. No sleep.

While most of us paddled five hours a day from Wednesday to Sunday, the Non-Stop competitors started at 6am on Saturday, paddled all day, paddled all night and finished some time between the morning and afternoon on Sunday.
While about 50 of us attempted the stage race and another 50 odd completed one or two stages for fun, there were a dozen hardy paddlers that opted for the crazy Non Stop Division. Only 8 of the 12 managed to finish. And of the 8 that did finish, nobody was as quick as Arnaud.
Arnaud's time was 26 hours, 20 minutes and 31 seconds. That's an extraordinary performance. Nobody expected any of the Non-Stop competitors to finish in under 30 hours.
Even Bart de Zwart, the undisputed king of crazy endurance paddling and 4x winner of the five-day 11 City Tour, doubted he'd be able to beat that record. Granted the conditions were perfect this year – there was no crazy wind or rain, which is a common sight in this part of the world. But even still, Arnaud's performance was a monumental achievement and one that should be celebrated.
2014 SUP 11 City Tour: Non-Sop Division Results
1st: Arnaud Frennet (26:20:31)
2nd: Ike Frans (27:07:13)
3rd: Richard Gratzei (28:31:54)
4th: Mark Slater (29:29:49)
5th: Mike Kranenburg (30:36:27)
6th: Erik Bruining (32:16:04)
7th: Jeroen Labots (32:16:04)
8th: Barry Douma (32:30:01)
DNF: Wolfgang Leeb
DNF: Emiel Halma
DNF: Jose van Egmond
DNF: Marije Elgersma

Everyone that just attempted, let alone finished this crazy expedition deserves accolades. But to do it in a record time is something particularly noteworthy, so congratulations to Arnaud Frennet for an amazing effort.
In my opinion, this has gotta be the gutsiest racing performance of the year.
200+ kilometres. More than 24 hours of non-stop paddling. All day. All night. That's pretty gnarly…