December 7, 2012
by Christopher Parker (@wheresbossman)
Five Days Of Pain: SUP 11 City Tour Announces 2013 Race Dates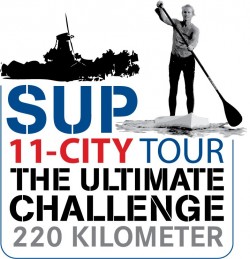 Feel like five days of pain on a Stand Up Paddleboard? Then mark your calendars for the end of August next year: The SUP 11 City Tour has just released its dates for 2013.
The 11 Cities is one of the most gruelling and definitely the longest Stand Up Paddle race in the world. The course covers 220km in five days, traversing through the canals and lakes of Friesland in the Netherlands. It's basically the Tour de France of SUP.
Dutch native and Starboard team rider Bart de Zwart (who now lives on Maui) has won the SUP 11 City Tour past three years straight. SUP's Mr. Endurance held off a strong challenge from the Danish Viking Casper Steinfath to claim the hat-trick in 2012 and will no doubt start favourite in the 2013 edition as well.
Dates for the 2013 SUP 11 City Tour:
Prologue: 27th August 2013
Stage 1: 28th August
Stage 2: 29th August
Stage 3: 30th August
Stage 4: 31st August
Stage 5: 1st September
The race may still be nine months away, but this is hardly the event you just rock up and complete on a whim, so start pencilling it into your 2013 SUP Race Calendars now.
This must be the week for endurance SUP racing announcements, as we just got word from Bart de Zwart about the Muskoka River X race in Canada, which is a 128km race that goes for 24 hours straight. This one is just two weeks after the 11 Cities: 14th September 2013.