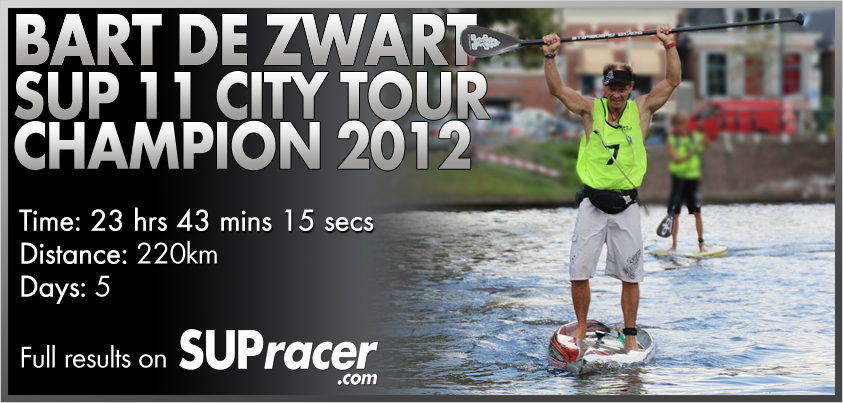 September 8, 2012
by Christopher Parker (@wheresbossman)
[RESULTS] Bart de Zwart WINS The SUP 11 City Tour
The 2012 SUP 11 City Tour has just finished. After five days and 220km of paddling, it was Bart de Zwart who came away with the overall victory. Mr. Endurance won all five stages to finish a total of six minutes clear of Casper Steinfath. In third place was Peter Bartl, just under 10 minutes behind de Zwart.
Meanwhile in the women's race, defending champ Anne-Marie Reichmann was bumped into second place by Laura Quetglas, who finished in a time of 26 hours, 59 minutes and 30 seconds.
The SUP 11 City Tour is a stage SUP race that's held over five days in the Dutch province of Friesland. The event has been running since 2009. Competitors paddle for up to 45km per day, with times from each stage combined in a Tour de France style format. To get an idea of just how long this race is, consider that the top three guys were the only paddlers to complete the race in under 24 hours.
Full results from the SUP 11 City Tour are below, and check back soon for more pics of the action…
*****
2012 SUP 11 City Tour (FINAL RESULTS)
Click "Day 1", "Day 2", "Day 3", "Day 4" or "Day 5" to view results from each day.
Click "Div." to sort results by each Division.

| # | Name | Day 1 | Day 2 | Day 3 | Day 4 | Day 5 | Overall | Deficit | Div. |
| --- | --- | --- | --- | --- | --- | --- | --- | --- | --- |
| 1 | Bart De Zwart | 5:19:10 | 5:27:05 | 4:47:33 | 4:51:34 | 3:17:53 | 23:43:15 | 0:00:00 | M Elite |
| 2 | Casper Steinfath | 5:24:43 | 5:27:07 | 4:47:45 | 4:51:38 | 3:18:03 | 23:49:16 | 0:06:01 | M Elite |
| 3 | Peter Bartl | 5:27:20 | 5:27:09 | 4:47:59 | 4:51:51 | 3:18:42 | 23:53:01 | 0:09:46 | M Elite |
| 4 | Ike Frans | 5:44:36 | 5:45:24 | 5:02:35 | 5:01:50 | 3:28:29 | 25:02:54 | 1:19:39 | M Elite |
| 5 | Ricardo Haverschmidt | 5:44:38 | 5:45:11 | 5:02:56 | 5:01:45 | 3:28:31 | 25:03:01 | 1:19:46 | M Elite |
| 6 | Emiel Halma | 5:43:48 | 5:45:20 | 5:02:42 | 5:05:19 | 3:28:51 | 25:06:00 | 1:22:45 | M Elite |
| 7 | Ruben Salvador | 6:03:11 | 5:46:53 | 5:07:03 | 5:11:03 | 3:31:14 | 25:39:24 | 1:56:09 | M Elite |
| 8 | Patrick Smits | 6:04:23 | 5:59:26 | 5:11:17 | 5:10:17 | 3:30:01 | 25:55:24 | 2:12:09 | M Elite |
| 9 | Richard Gratzei | 6:06:39 | 5:55:39 | 5:09:41 | 5:12:40 | 3:32:54 | 25:57:33 | 2:14:20 | M Tour |
| 10 | The Kitemobile | 6:03:26 | 6:06:21 | 5:22:35 | 5:00:01 | 3:30:00 | 26:02:23 | 2:19:08 | Team |
| 11 | The Spot - Men 1 | 6:11:38 | 6:01:55 | 5:07:35 | 5:10:21 | 3:30:58 | 26:02:27 | 2:19:12 | Team |
| 12 | Antonio De La Rosa | 6:07:36 | 6:05:22 | 5:16:44 | 5:18:36 | 3:46:18 | 26:34:36 | 2:51:21 | M Elite |
| 13 | Pieter Jan Postma | 6:42:56 | 5:57:08 | 5:12:41 | 5:29:00 | 3:33:24 | 26:55:09 | 3:11:54 | M Elite |
| 14 | Laura Quetglas | 6:08:41 | 6:12:46 | 5:22:06 | 5:28:20 | 3:47:33 | 26:59:26 | 3:16:11 | F Elite |
| 15 | Jasper Van Overbeek | 6:10:52 | 6:24:36 | 5:33:38 | 5:16:34 | 3:34:22 | 27:00:02 | 3:16:47 | M Elite |
| 16 | Benjamin Swails | 6:22:39 | 6:17:16 | 5:22:11 | 5:18:26 | 3:40:38 | 27:01:10 | 3:17:55 | M Tour |
| 17 | Romke Loopik | 6:18:02 | 6:16:22 | 5:16:38 | 5:27:50 | 3:46:18 | 27:05:10 | 3:21:55 | M Tour |
| 18 | Erik Bruining | 6:34:13 | 6:13:22 | 5:19:01 | 5:20:54 | 3:44:57 | 27:12:27 | 3:29:12 | M Tour |
| 19 | Crispin Jones | 6:37:11 | 6:21:38 | 5:23:12 | 5:18:28 | 3:31:58 | 27:12:27 | 3:29:12 | Team |
| 20 | Anne-Marie Reichman | 6:20:56 | 6:21:30 | 5:22:12 | 5:28:22 | 3:47:36 | 27:20:40 | 3:37:25 | F Elite |
| 21 | Roger Van Tongeren | 6:31:47 | 6:21:41 | 5:21:58 | 5:22:22 | 3:43:53 | 27:21:41 | 3:38:26 | M Elite |
| 22 | Dinant Roode | 6:19:31 | 6:40:10 | 5:21:38 | 5:21:49 | 3:40:29 | 27:23:37 | 3:40:22 | M Elite |
| 23 | Erik Gerritsen | 6:21:21 | 6:19:27 | 5:39:08 | 5:21:19 | 3:54:26 | 27:35:41 | 3:52:26 | M Tour |
| 24 | Von Orange | 6:55:38 | 6:27:45 | 5:11:41 | 5:29:13 | 3:41:53 | 27:46:10 | 4:02:55 | M Elite |
| 25 | Hightide Surf Men I | 6:19:39 | 6:35:02 | 5:21:08 | 5:14:26 | 4:25:39 | 27:55:55 | 4:12:40 | Team |
| 26 | Tolo Caellas | 6:37:07 | 6:59:35 | 5:22:45 | 5:29:05 | 3:39:23 | 28:07:55 | 4:24:40 | Team |
| 27 | Naish | 6:29:08 | 6:24:36 | 5:35:37 | 5:22:00 | 4:16:45 | 28:08:06 | 4:24:51 | M Elite |
| 28 | Mike Kranenburg | 6:45:01 | 6:40:10 | 5:30:51 | 5:28:19 | 3:47:30 | 28:11:51 | 4:28:36 | M Elite |
| 29 | Ed Reichman | 6:31:19 | 6:12:47 | 5:22:27 | 6:26:04 | 3:46:18 | 28:18:55 | 4:35:40 | M Elite |
| 30 | Starboard | 6:25:01 | 6:49:43 | 5:33:35 | 5:50:03 | 3:46:22 | 28:24:44 | 4:41:29 | Team |
| 31 | Hightide Surf Men II | 6:42:54 | 7:03:16 | 5:24:11 | 5:43:59 | 3:30:48 | 28:25:08 | 4:41:53 | F Tour |
| 32 | Erna Keet | 6:21:19 | 6:19:34 | 5:39:10 | 6:24:53 | 3:54:26 | 28:39:22 | 4:56:07 | M Elite |
| 33 | Dan Ashford | 6:38:14 | 6:13:30 | 5:35:40 | 6:26:08 | 3:47:40 | 28:41:13 | 4:57:58 | Team |
| 34 | Edwin Lamsma | 6:50:48 | 6:47:56 | 5:43:43 | 5:33:27 | 3:46:08 | 28:42:02 | 4:58:47 | M Tour |
| 35 | Hans Schouten | 6:55:22 | 6:59:31 | 5:43:42 | 5:33:22 | 3:54:26 | 29:06:23 | 5:23:08 | M Tour |
| 36 | The Spot - Ladies 1 | 6:44:21 | 7:27:12 | 5:59:51 | 5:33:39 | 3:46:20 | 29:31:23 | 5:48:08 | Team |
| 37 | Naish Women | 7:24:41 | 6:48:36 | 5:49:33 | 5:33:39 | 3:58:47 | 29:35:16 | 5:52:01 | Team |
| 38 | Kiteboardshop | 7:29:37 | 6:27:59 | 5:59:51 | 6:19:53 | 4:20:40 | 30:38:00 | 6:54:45 | Team |
| 39 | Sup4school F-One | 7:59:12 | 5:53:41 | 6:21:49 | 6:25:40 | 4:05:27 | 30:45:49 | 7:02:34 | Team |
| 40 | April Zilg | 7:18:07 | 7:17:18 | 6:01:51 | 6:03:17 | 4:06:58 | 30:47:31 | 7:04:16 | F Elite |
| 41 | Paul Ellis | 7:22:43 | 7:29:03 | 6:19:35 | 6:03:13 | 4:06:58 | 31:21:32 | 7:38:17 | M Elite |
| 42 | Hightide Surf Ladies | 8:12:37 | 7:39:23 | 6:07:07 | 6:19:53 | 4:50:24 | 33:09:24 | 9:26:09 | Team |
| 43 | Antix Sports Workum | 8:03:03 | 8:34:59 | 7:25:07 | 7:08:53 | 4:19:54 | 35:31:56 | 11:48:41 | F Tour |
| 44 | Ali Pereira | 8:12:37 | 8:34:55 | 7:44:26 | 6:24:19 | 5:07:14 | 36:03:31 | 12:20:16 | Team |
| 45 | Petra Offermanns | 8:04:27 | 8:28:49 | 7:03:25 | n/a | n/a | n/a | n/a | F Elite |
| 46 | Jorissa Neutelings | n/a | n/a | 7:25:07 | n/a | n/a | n/a | n/a | Day 3 |
| 47 | Bas Brouwer | n/a | n/a | 7:44:32 | 7:02:30 | 5:07:10 | n/a | n/a | M Tour |
| 48 | Jeroen Slok | 7:07:27 | n/a | n/a | n/a | n/a | n/a | n/a | M Tour |
| 49 | Tiffany Ward | n/a | 7:26:46 | 5:59:51 | | n/a | n/a | n/a | Day 2 |
| 50 | Lobke Berkhout | n/a | n/a | n/a | 7:07:53 | n/a | n/a | n/a | Day 4 |
| 51 | Anneke Bouwmeester | n/a | n/a | n/a | 7:08:56 | n/a | n/a | n/a | Day 4 |
| 52 | Renee Groeneveld | n/a | n/a | n/a | 7:09:03 | n/a | n/a | n/a | Day 4 |
| 53 | Annemieke Bes | n/a | n/a | n/a | 7:09:48 | n/a | n/a | n/a | Day 4 |
| 54 | Claire Blom | n/a | n/a | n/a | 7:13:58 | n/a | n/a | n/a | Day 4 |
| 55 | Jose Van Egmond | n/a | n/a | n/a | 7:42:56 | n/a | n/a | n/a | Day 4 |
| 56 | Tineke Merkus | n/a | n/a | n/a | 7:42:56 | | n/a | n/a | Day 4 |
| 57 | Dennis Van Der Panne | n/a | n/a | n/a | n/a | 3:39:51 | n/a | n/a | Day 5 |
| 58 | Wouter Hendrikx | n/a | n/a | n/a | n/a | 3:43:56 | n/a | n/a | Day 5 |
| 59 | Martijn De Man | n/a | n/a | n/a | n/a | 3:48:10 | n/a | n/a | Day 5 |
| 60 | Sebestiaan Plaizir | n/a | n/a | n/a | n/a | 3:49:58 | n/a | n/a | Day 5 |
| 61 | Robert Adrichen | n/a | n/a | n/a | n/a | 3:53:27 | n/a | n/a | Day 5 |
| 62 | Peter Mulder | n/a | n/a | n/a | n/a | 4:00:09 | n/a | n/a | Day 5 |
| 63 | Tiffany Ward | n/a | n/a | n/a | n/a | 4:02:56 | n/a | n/a | Day 5 |
| 64 | Manfred Malcorps | n/a | n/a | n/a | n/a | 4:03:19 | n/a | n/a | Day 5 |
| 65 | Morene Mm For Boga | n/a | n/a | n/a | n/a | 4:12:01 | n/a | n/a | Day 5 |
| 66 | Robin Akeroyd | n/a | n/a | n/a | n/a | 4:14:10 | n/a | n/a | Day 5 |
| 67 | Hanneke Eygenraam | n/a | n/a | n/a | n/a | 4:16:14 | n/a | n/a | Day 5 |
| 68 | Armand Verhoef | n/a | n/a | n/a | n/a | 4:16:42 | n/a | n/a | Day 5 |
| 69 | Roos Akeroyd | n/a | n/a | n/a | n/a | 4:24:54 | n/a | n/a | Day 5 |
| 70 | Otto De Jong | n/a | n/a | n/a | n/a | 4:28:47 | n/a | n/a | Day 5 |
| 71 | Katja Kleinveld | n/a | n/a | n/a | n/a | 4:32:14 | n/a | n/a | Day 5 |
| 72 | Tanja Bos | n/a | n/a | n/a | n/a | 4:32:14 | n/a | n/a | Day 5 |
| 73 | Kim Bos | n/a | n/a | n/a | n/a | 4:33:03 | n/a | n/a | Day 5 |
| 74 | Olaf Mm For Boga | n/a | n/a | n/a | n/a | 4:39:10 | n/a | n/a | Day 5 |
| 75 | Maaike Mm For Boga | n/a | n/a | n/a | n/a | 4:45:32 | n/a | n/a | Day 5 |
| 76 | Arjen Brinkman | n/a | n/a | n/a | n/a | 4:51:05 | n/a | n/a | Day 5 |
| 77 | Peter Nijsse | n/a | n/a | n/a | n/a | 4:51:08 | n/a | n/a | Day 5 |
| 78 | Shamana Scharler | n/a | n/a | n/a | n/a | 4:56:28 | n/a | n/a | Day 5 |
| 79 | Dirk Scharler | n/a | n/a | n/a | n/a | 4:56:30 | n/a | n/a | Day 5 |
| 80 | Brenna Schaap | n/a | n/a | n/a | n/a | 5:05:10 | n/a | n/a | Day 5 |
| 81 | Gerda Donkerbroek | n/a | n/a | n/a | n/a | 5:19:30 | n/a | n/a | Day 5 |
| 82 | Niels Van Der Beek | n/a | n/a | n/a | n/a | 5:20:16 | n/a | n/a | Day 5 |
| 83 | Pepijn Paanen | n/a | n/a | n/a | n/a | 5:28:25 | n/a | n/a | Day 5 |
| 84 | Annelies Labots | n/a | n/a | n/a | n/a | 5:28:25 | n/a | n/a | Day 5 |
| 85 | Jeroen Labots | n/a | n/a | n/a | n/a | 5:28:25 | n/a | n/a | Day 5 |
| 86 | Jose Van Egmond | n/a | n/a | n/a | n/a | 5:36:32 | n/a | n/a | Day 5 |
| 87 | Tineke Merkus | n/a | n/a | n/a | n/a | 5:36:32 | n/a | n/a | Day 5 |
| 88 | Arjanne Boersma | n/a | n/a | n/a | n/a | 5:46:59 | n/a | n/a | Day 5 |
| 89 | Ruud Van Wieren | n/a | n/a | n/a | n/a | 5:46:59 | n/a | n/a | Day 5 |