September 3, 2012
by Christopher Parker (@wheresbossman)
The SUP 11 City Tour Gives A Whole New Meaning To The Term "Distance Race"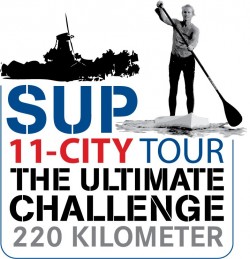 The 2012 SUP 11 City Tour gets started tomorrow in the Netherlands. This event has become known as the endurance race in Stand Up Paddling, with competitors covering an incredible 220km in five days.
The race stretches along the canals, lakes and waterways of the northern Dutch province of Friesland. Paddlers pass through 11 cities and plenty of towns and villages, as they recreate the historic "Elfstedentocht" (eleven cities tour) race made famous by Dutch ice-skaters during the winter freeze.
This year's Eleven Cities SUP race features defending champ and the Mr. Endurance himself, Bart de Zwart. Bart won the 2011 SUP 11 City Tour and will start as one of the strong favourites, though our money is on one of Europe's rising stars, Casper Steinfath of Denmark (the Danish Viking!).
On the women's side, race founder Anne-Marie Reichmann will be very hard to beat. Anne-Marie paddled the 11 Cities course in 38 hours back in 2008 as a personal test and to see whether such an event was possible on a stand up paddle board. That original expedition gave rise to the first race in 2009 and the event has been held each year since.
The SUP 11 City Tour is definitely one of the most unique and challenging SUP races in the world. Whoever wins needs to have not just some crazy endurance fitness, but also plenty of mental stamina. Bart de Zwart won the 2011 race in an overall time of 24:57:07. Bart's longest day on the water was 5 hours 47 minutes. And he won. Some paddlers were out there 7-8+ hours each day…
Where to follow the SUP 11 City Tour:
– There's an awesome race tracker GPS map that lets you follow the paddlers each day. While I don't encourage you to stare at your screen for six straight hours each day this week, it is very cool to be able to follow the race on a map in real time.
– Check out the official Facebook page for some live photo updates.
– The crew from SUP-Guide.com are entered in the race, so keep an eye on their Facebook page for post-race updates each day as well.
– Plus of course we'll keep you 100% covered right here on SUPracer.com, as well as on our our uber Facebook page (which you should totally be following by now).
To get a taste of the adventure check out some action from the 2011 SUP 11 City Tour below. Then check back over each of the next five days to see who's left standing after 220km of SUP racing…