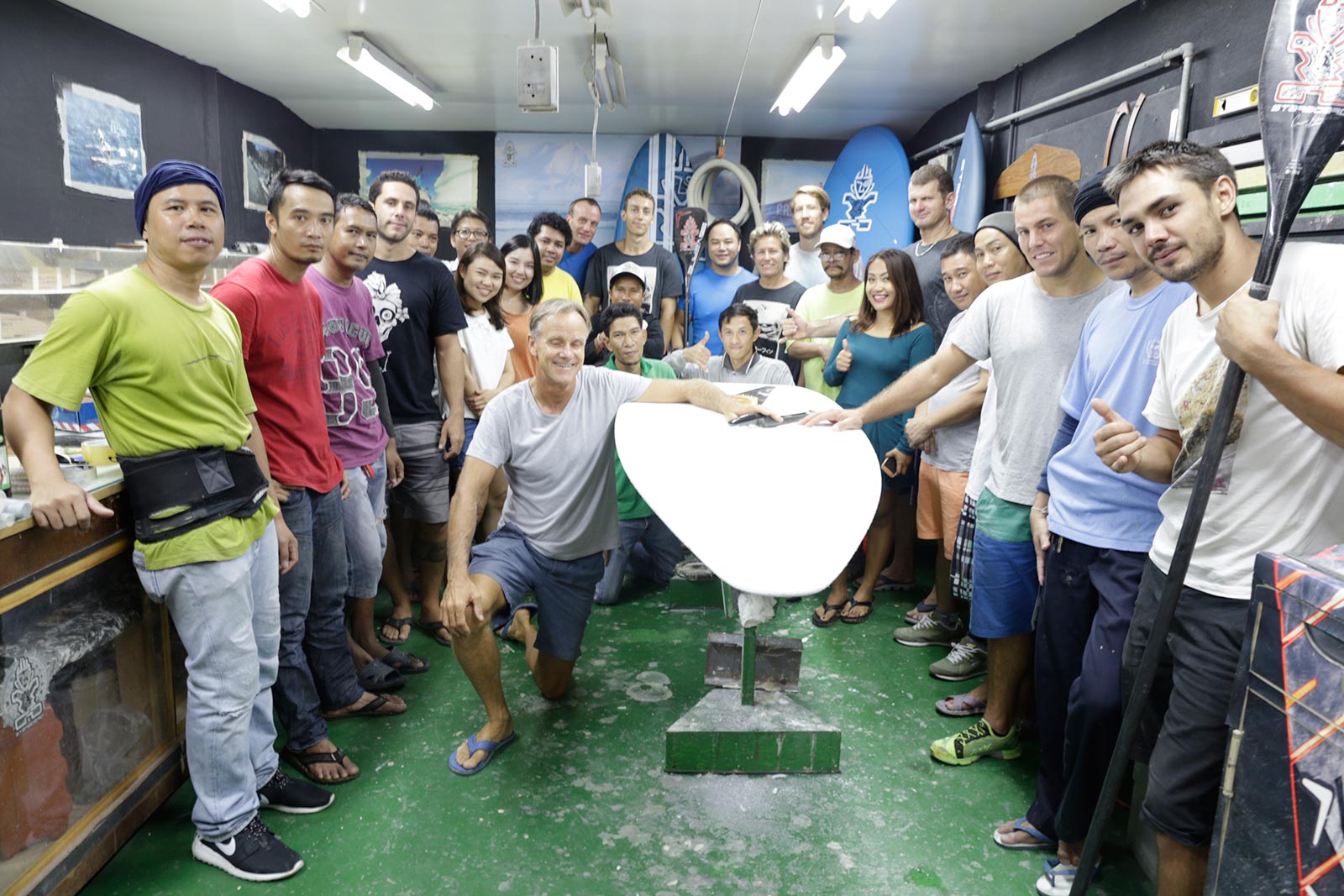 June 9, 2016
by Christopher Parker (@wheresbossman)
Starboard Goes Green, Partners with 'Sustainable Surf' to Promote More Environmentally Friendly Board Manufacturing
Starboard is really getting behind this whole World Oceans Day theme.
Wednesday morning they announced the collaboration with SUPKids, and then later in the day this piece came through the wires to announce a new partnership with Sustainable Surf, which will see the 2017 Starboard range stickered with the "ECOBOARD" label that highlights the more environmentally friendly board manufacturing processes the Tiki brand has embraced.
Sustainable Surf – a California-based environmental non-profit whose mission is to "Be the catalyst that transforms surf culture into a powerful force for protecting the ocean playground" – created the ECOBOARD project to promote the use of sustainable materials in the surf industry, and now Starboard is bringing it to the world of stand up paddling.
Starboard is not only one of the most innovative SUP brands when it comes to board design, they're also very big on being green. Company founder and CEO Svein Rasmussen is involved in another project to plant hundreds of millions of mangrove trees in Myanmar, while he's overseen the move within the Starboard shaping bays towards plant-based resins, which is just one of the many positive changes that earned them the ECOBOARD sticker.
Sustainable Surf seems like one of the most worthy causes you could get behind, so it's great to a brand as prominent as Starboard supporting the movement. After all, we're the ones who enjoy the ocean as our free playground, so it's up to us to look after it more than anyone…
For more info see the full news release below.
---
In celebration of the United Nations designated World Oceans Day, nonprofit environmental organization Sustainable Surf is proud to announce that leading Stand Up Paddleboard & Windsurf brand, Starboard, has joined their ECOBOARD Project program as their newest partner. This dramatically expands the reach of the ECOBOARD Project program into new markets, and to a wider global audience and ocean-minded community.
In a pioneering first for a global SUP and windsurf board company, all 2017 Starboard models will be eligible to carry the ECOBOARD Project label, as a result of shifting 100% of their global production to now use approved plant-based, low/zero VOCs, epoxy resin systems. Along with a host of other shifts towards more sustainable materials and processes, Starboard's actions will result in a smaller carbon footprint across their 2017 board range, and ultimately a healthier ocean for everyone.
Starboard's commitment to reducing impacts from all major components of their 2017 model boards goes beyond just the boards themselves – as all their composite SUP fins , and all composite paddle blades, will also be infused with an approved bio epoxy resin. Additionally, all their plastic fins will gradually shift during 2017 to 100% bio-based plastics, enabling the use of stronger and more durable materials with a lower carbon footprint. Production on 2017 models started in June, and boards will be shipping in July.
Additionally Starboard will be shifting all packaging to more sustainable materials (including removing the traditional dust protector bag). Starboard will also be shifting away from styrofoam-based protective packaging and instead using reinforced cardboard for added strength and more shock absorption protection than currently sourced packaging materials.
"We are just really getting started on our brand's sustainability pathway related to all of our products, say's Svein Rasmusen, founder and CEO of Starboard. "But we've been stoked to work with Sustainable Surf to reduce the carbon footprint of all our composite boards by switching to bio-based epoxy resins, reducing overall paint use / VOCs, and sourcing better packaging materials. We also have lots of other R&D in process for better performing materials related to traction pads, fins, inserts, paddles that use recycled materials and plant-based plastics. And I can't wait to see our "Concept Starboard" at our international dealers meeting in San Diego on the 25th of September, which will showcase the use of as many of these new materials and processes as possible. The big idea is to drive ourselves, and the whole industry forward, by creating a realistic model for what could be achievable over the next 3 years to produce a eco-revolution in high performance manufacturing.
Reinforcing their commitment to thinking globally but also acting locally, Starboard is partnering with several organizations on their home turf in South East Asia to support sustainability initiatives focused on cleaning up plastic pollution from beaches and waterways (Trash Hero), fighting climate change (Worldview international foundation) and recycling styrofoam (Polyfoam) among others.
"We're stoked to be working with Starboard, our largest SUP and windsurf partner, and the first to shift their entire board range to plant-based epoxy resins," says Michael Stewart, Co-founder, Sustainable Surf. "Their commitment to actively start the process to embed the values of sustainability throughout their entire product and packaging range, and to work with local communities to clean and protect the ocean is something to celebrate everyday – but especially on World Oceans Day."