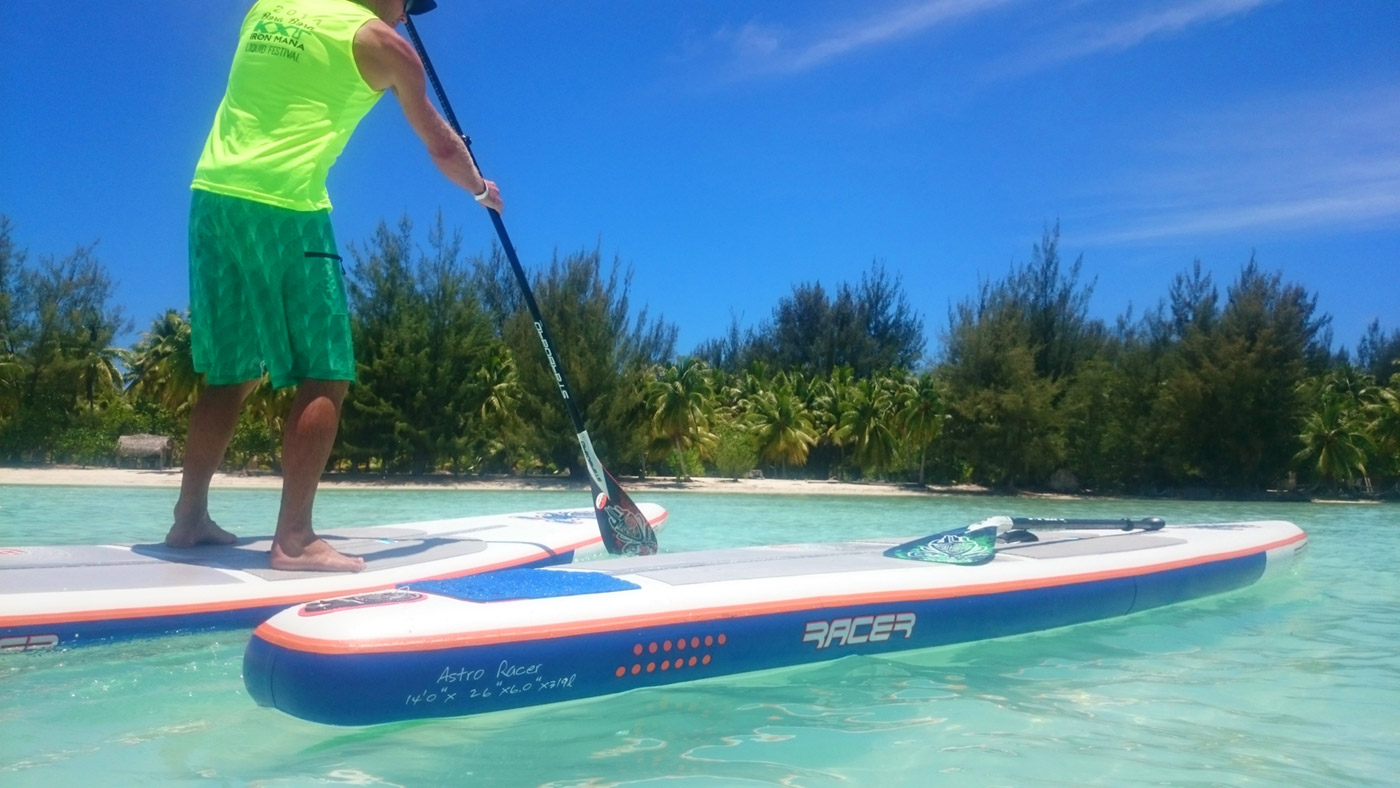 January 7, 2015
by Christopher Parker (@wheresbossman)
I Like This Board: Starboard's Inflatable "Racer" Leads The Charge Of Next Gen Blow-Ups
Here are a few pics of one of my favourite new boards: The aptly-named "Racer" inflatable from Starboard (no wonder I like it, it's the SUP Racer board ;).
I got to play around with the brand new 12'6 version a few months ago in Spain, while last month in Tahiti I spent virtually the entire week on the 14 footer.
Starboard's new design, which got released around the same time as that epic Frankenstein inflatable known as the STARSHIP, actually looks like a proper race board. It's definitely got a nice shape to it, even if is made of plastic. And it goes as good as it looks.
According to the Starboard website, the Racer comes in one width only, which makes the choice very easy: either 12'6″ x 26″ or 14′ x 26″. Although the board snob in me would love to see a spooky 22″ inflatable prototype, as far as consumers are concerned I think 26″ is a perfect compromise between stability and speed.
As for weight, the 12'6″ Racer officially tips the scales at 9.6kgs (that's 21.1 pounds, in case you're still living under the imperial system).
Though while I'm usually a big 14′ fan, I actually prefer the 12'6 Racer to its bigger brother. That extra foot and a half gives the inflatable board a little bit extra room to bend. The 12'6 seems just that little bit more rigid, while it's definitely more maneuverable.
While I don't recommend this board for a prone race (or a SUP race that's held in brutal side wind for that matter), overall I'm very impressed. Inflatables have come a long way in recent times, almost to the point where they're a viable option in elite-level racing (almost…).
And despite an utter lack of scientific records on the average speed difference between carbon and inflatables over the years, I do get the impression the gulf has narrowed very quickly in the past 18 months.
Inflatables already have a few advantages: Their transportability, durability and, with the new generation at least, their weight make them a perfect fit for many. They're also usually a fair bit cheaper than a solid race board.
For now I'd definitely still choose a carbon race board over an inflatable, every time, however it won't be long before inflatable stand up paddle boards are a serious option. In fact inflatables are already the de facto choice in some races, for example at the Payette River Games SUP Xross, where maneuverability through the whitewater and durability on the rocks outweigh any gains from pure straight-line speed.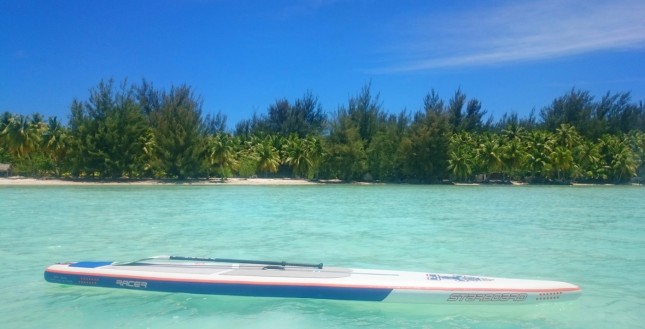 Plus when storage space or travel issues impact your board choice, or if you're simply not a total board snob that has to have the 99.99% fastest thing on water, inflatables become a practical answer.
No, they're not quite as cool as a shiny carbon creation I'll admit, however inflatables are definitely not those dorky little rental boards that we knew them to be just three or four years back.
While the "Big 3" of Australia, Hawaii and mainland U.S. have been slow to embrace the plastic blow-ups there is serious traction in Europe and Japan. So much so that I predict an inflatable arms race to go down in the next 2-3 years.
I know Starboard is investing very heavily in the inflatable stand up paddle board market, which is clear from the quality of the Racer. I also experienced the excellent quality of Mistral's new blow up technology at the SUP 11 City Tour in Holland last year, while I've paddled some damn fine Fanatic inflatables as well. Then you've got the inflato-only brands, such as Red Paddle Co. and ULI, who continue to push the boundaries.
I also keep hearing that 2016 is going to usher in the next level of inflatable board technology, with significantly lighter weight/more rigid designs on the horizon.
Maybe Dave Kalama was onto something after all…
---
Oh and just because I can't stop looking at my pics from the world's largest swimming pool, aka Bora Bora, here are a few more shots from the impromptu photo shoot Bart and I did: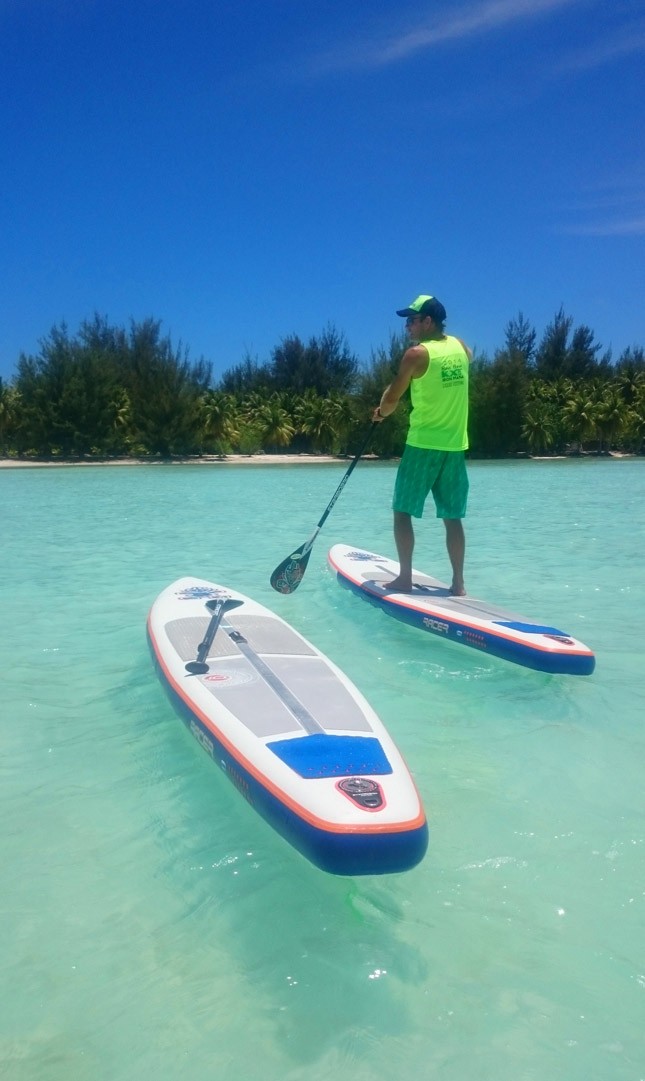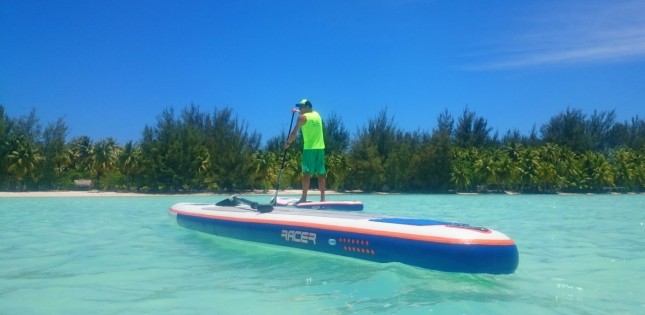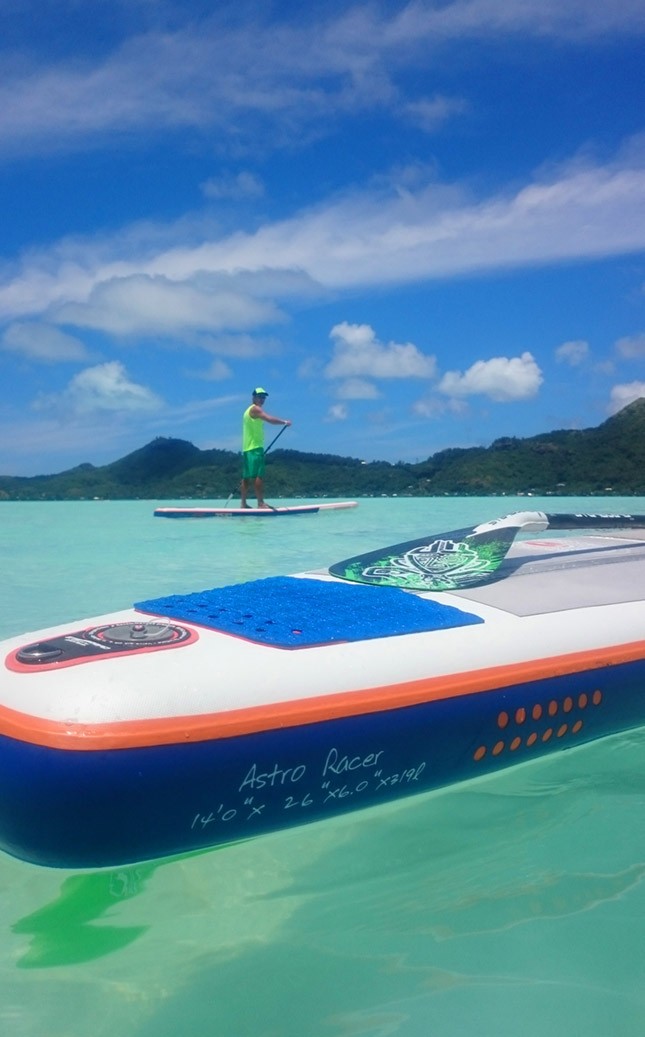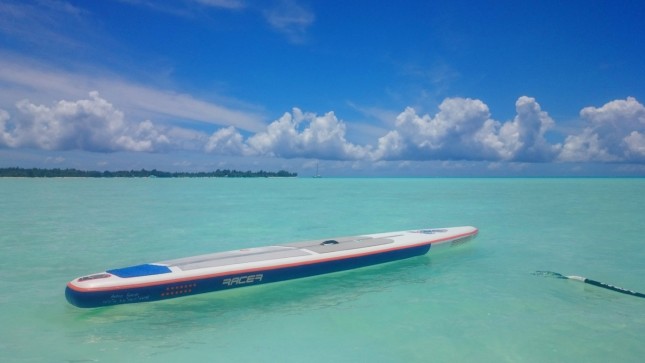 And one more shot that I took in Spain a few months back. This one gives a good idea of the nose shape on the 12'6 Starboard Racer inflatable: