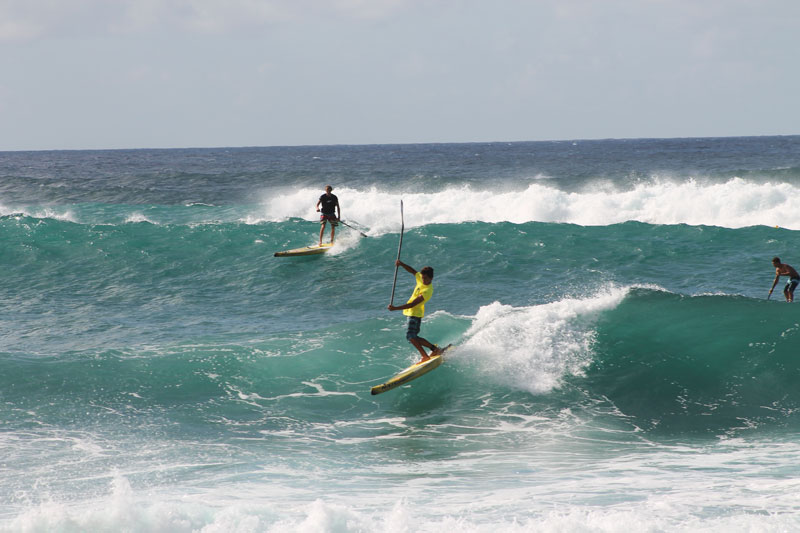 October 15, 2012
by Christopher Parker (@wheresbossman)
Race Recap: Stand Up World Series Finals @ Turtle Bay
The 2012 Stand Up World Series wrapped up in pretty awesome fashion on the weekend, with solid swell delivering plenty of action for the Stand Up World Series Finals @ Turtle Bay (Hawaii).
Kai Lenny dominated the weekend, taking out both Saturday's Distance Race as well as Sunday's Knockout Sprints. Though the Maui young gun didn't have it all his own way in the sprints, with the final coming down to a four-way sprint to the line and a photo finish. Young Danish charger Casper Steinfath snatched 2nd in the sprints to finish third overall, which, considering the big name paddlers he was racing against, was one of the performances of the event.
You can check out the early RESULTS from the Stand Up World Series Finals but to get an idea of how epic the conditions were, take a look at some of these pics…
German SUP mag StandUpMagazin.com covered the event really well, with plenty of pics from both days plus a full recap of each race.
>>> Distance Race Pics + Race Recap (TRANSLATION)
>>> Sprint Race Pics + Race Recap (TRANSLATION)
Here's a highlight of their coverage from the Sprint Race:
"In the finals of the sprint race everyone was expecting a big duel between Connor Baxter and Kai Lenny. Although Kai and Connor were in good form and led from the start, Casper Steinfath stole the show. At the first buoy he was in sixth place but was able to recover strongly on the rest of the first lap. Connor Baxter fell off his board and was overtaken by the chase pack. When Connor was back on the board, Kai Lenny was back in front again, with Casper Steinfath, Zane Schweitzer and Slater Trout not far behind.
Coming into the finish line, things got really exciting. Kai was still in the lead but the chase pack all scored set waves that let them get level with Kai. All four were now on the same wave and came almost simultaneously to the finish.
Kai managed to hold on, but Casper paddled as hard as he could and came in second place. Thus he created a sensation: For the first time in Hawaii in a race he was second behind Kai Lenny. The commentator first had to make sure everything was right, because nobody had expected a paddler from Denmark to be top two…"