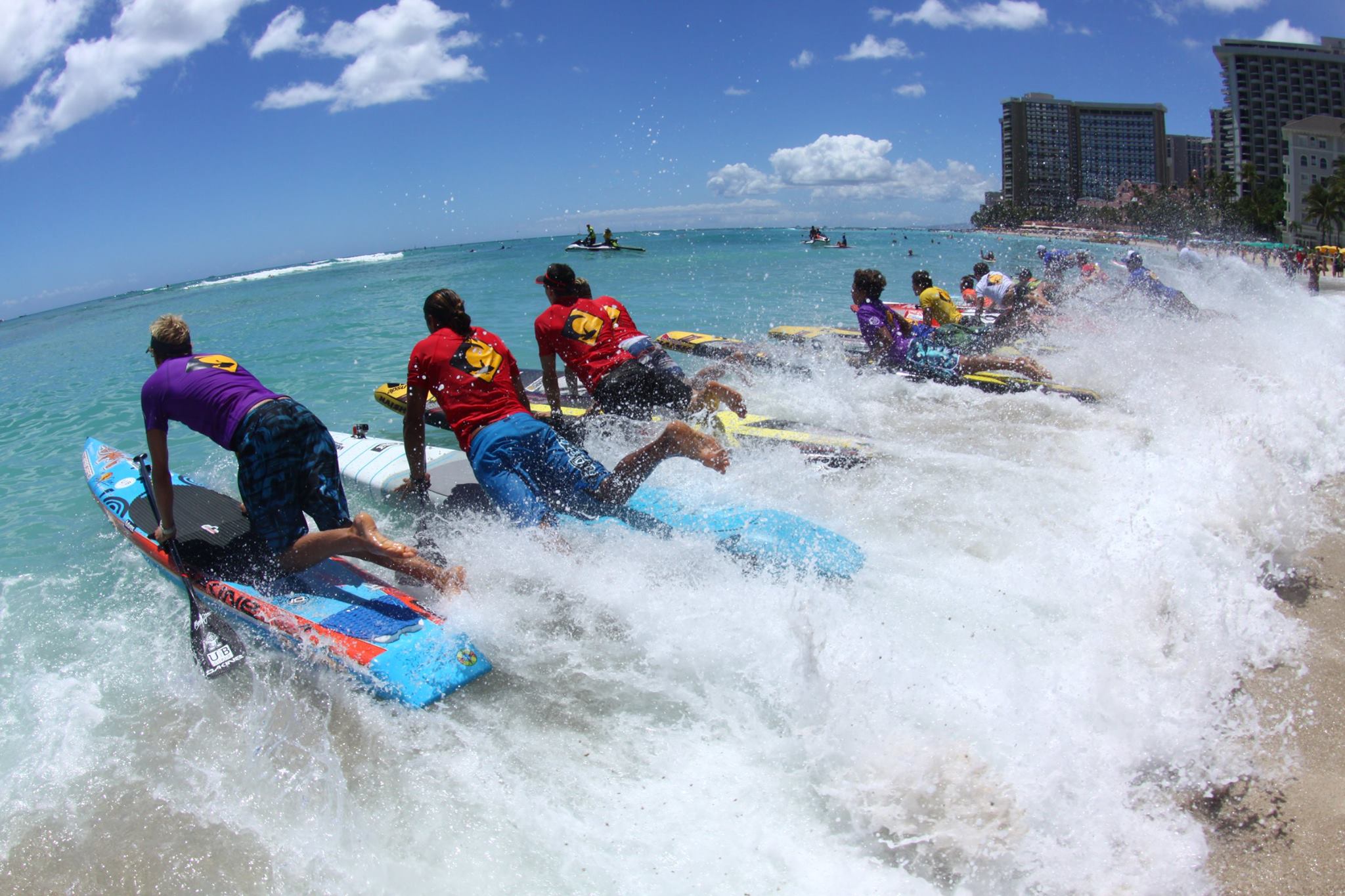 August 14, 2015
by Christopher Parker (@wheresbossman)
The Showdown Purge: 12 Months After The Second Biggest Race Of 2014, Changes To The World Rankings
Despite there being no big races this weekend there have still been a few changes to the SUP Racer World Rankings. Why? Because it's been exactly 12 months since the 2014 Ultimate SUP Showdown was held, which means it's now time for that event to be purged from the system. And considering it was the second highest scoring race of 2014, the Showdown's removal has had a big impact on the Men's Top 100 and Women's Top 50 Leaderboards.
The Showdown made a big splash in August last year, inviting dozens of the world's best paddlers to Waikiki for a unique surfing/racing format, before airing a groundbreaking show on CBS Sports Network the next month. But despite the hype it generated, the Showdown didn't make a return this year. There's a rumour swirling it'll be back in 2016, but for now the Showdown has been put on ice.
As a quick refresher: The SUP Racer World Rankings rate the world's best paddlers based on their performances at the world's biggest races. Every single SUP race in the world is eligible, but only events that attract a "minimum level of elite competition" (scoring 15.0% or higher on our Race Index) are counted. The more top ranked paddlers that are competing, the higher an event's Race Index score.
Right now there are 33 men's races and 26 women's races in the system. Events are only kept within the system for 12 months, which keeps the leaderboards fresh and relatively accurate. Each paddler is ranked on their best five results from the past 12 months.
So now that it's been 12 months since the Showdown, it's time to drop those points from the system. And because it counted for so any points, any athlete that got a good result in last year's Showdown will have seen their overall points tally, and possibly their World Ranking, drop today.
We'll see another one of these "purge" updates in early October, when the Battle of the Paddle (which has been permanently put on ice) is dropped from the system. We'll also see some big updates to the Leaderboards next weekend, with the Gorge Paddle Challenge set to be one of the top two or three international races of the year.
But who were the biggest sliders after this latest purge?
[notdevice] [/notdevice]
[notdevice] [/notdevice]
Former world number two Kai Lenny saw the biggest drop: His runner-up performance at the Showdown was worth 40.13 world ranking points, which was his third best result. With the Showdown now out of his equation, Kai's previously 6th highest result moved up into his best five. If a paddler is carrying a good sixth result, they won't drop down too many points when one of their best five is purged. However the Naish superstar competes much less than his rivals, so he doesn't have many good results to fall back on.
This all culminated in Kai dropping down 24.55 points, which moved his total points tally from 230.00 to 205.45. That was more than enough to push him below Danny Ching, which gives the 404 front man a free ride up to world number two, while it was almost enough for Kai to slip below Travis Grant as well.
Kai is now barely hanging onto a top three world ranking, and he's going to have to paddle fast in the next six weeks to avoid dropping even further when the BOP Purge comes into play. Kai won what was by far the highest scoring race of 2014, so when the Battle of the Paddle is dropped, Kai's points will slide a long way down. That's unless he can score some big results in the coming weeks (such as next weekend at the Gorge) to give himself a cushion.
As you'll see when you look at the latest World Rankings, we've added a "+/-" column for each athlete's total points, so that you can see how much a paddler has dropped even if their actual ranking position didn't change. That's particularly handy when judging Connor Baxter: The world number one stayed on top of the leaderboard, however his points slipped from 241.00 down to 227.00, which puts him at risk of losing his #1 spot for the first time ever. Danny Ching is just 1.97 points behind, and will overtake Connor if the Starboard superstar doesn't have a good result next weekend in the Gorge.
The Gorge Paddle Challenge was one of the top races of the 2014. In fact it was two of the top races of 2014, because the Gorge is actually two separate events (the Elite Course Race and the Double Downwinder). That means there's a bounty of points on offer up in Oregon, and nobody scored more points last year than Connor, with his clean sweep of the weekend landing him a big haul.
With the 2015 Gorge event expected to score roughly the same as last year (perhaps slightly higher), Connor needs to win both races next weekend just to tread water. Even a pair of runner-up finishes, which would usually be an amazing result, would actually see him lose points and would probably allow Danny to steal the world number one position. Travis Grant and Kai Lenny could also move into the world number one slot if results go their way in Hood River.
[notdevice] [/notdevice]
[notdevice] [/notdevice]
Other guys to slide were Riggs Napoleon, whose fourth place in last year's Showdown earned him a solid bag of world ranking points. Those have suddenly disappeared, sending Riggs tumbling. Riggs' position is made worse considering he hasn't competed in a single big race all year; A shoulder injury kept him out of the water for the first four months and he's only just getting back on the race board now. All of Riggs' results are from the back end of 2014, which means he'll drop out of the rankings completely if he doesn't get back on the start line soon.
Josh Riccio was another athlete who lost out with the Showdown's demise, losing eight positions after his solid result at Waikiki in August 2014 was wiped out. Josh is one of the most under rated paddlers on the planet, and his current world ranking of #38 undermines his supreme talents on the water. Hopefully we'll see him snag a good result at the Gorge next weekend so he can start climbing back up to where he belongs.
Check out the current Top 10 below or take a look at the full World Rankings – Men's Top 100 Leaderboard to see all the latest changes.
We can expect even more +/- changes next weekend, with the Gorge Paddle Challenge set to score somewhere between 50% and 60% on the Race Index based on my early predictions of who'll be competing. It looks like all of the world's top eight ranked guys will be up in Hood River, which should make it a very intense weekend of racing.
[notdevice] [/notdevice]

| # | +/- | Name | Points | +/- | Races | Nation | Brand |
| --- | --- | --- | --- | --- | --- | --- | --- |
| 1 | - | Connor Baxter | 227.00 | -14.00 | 18 | Hawaii | Starboard |
| 2 | +1 | Danny Ching | 225.03 | -0.90 | 9 | USA | 404 |
| 3 | -1 | Kai Lenny | 205.45 | -24.55 | 8 | Hawaii | Naish |
| 4 | - | Travis Grant | 197.40 | 0.00 | 11 | Australia | NSP |
| 5 | - | Jake Jensen | 161.58 | 0.00 | 16 | Australia | Fanatic |
| 6 | - | Mo Freitas | 147.95 | 0.00 | 9 | Hawaii | Focus |
| 7 | - | Georges Cronsteadt | 141.46 | 0.00 | 8 | Tahiti | SIC |
| 8 | - | Titouan Puyo | 133.18 | 0.00 | 13 | France | Starboard |
| 9 | - | Casper Steinfath | 110.61 | 0.00 | 12 | Denmark | Naish |
| 10 | - | Bicho Jimenez | 90.98 | 0.00 | 14 | Mexico | Rogue |
[notdevice] [/notdevice]
---
On the women's Top 50 Leaderboard there were some very interesting movements as well.
The most significant change was Lina Augaitis getting bumped up to world number two. Lina wasn't counting the Showdown in her best five results, so her points didn't move at all, however Candice Appleby certainly was. Candice only dropped 11.13 points, but that was all it took to fall below Lina and hand the Canadian a free ride up.
This change is quite amazing when you consider Lina has actually stopped racing: She's four months pregnant and won't be on another podium for a good year or so. That means the SIC team rider will eventually start dropping down the Leaderboard as her points are wiped and she can't replace them. But for now, Lina gets to go out with a bang, holding down a top two world ranking.
This also solidifies SIC's grip on the women's Top 50 Leaderboard. The team has two of the top five and three of the top ten world ranked women, with Sonni Honscheid (5th) and Andrea Moller (9th) joining Lina near the top.
[notdevice] [/notdevice]
[notdevice] [/notdevice]
Other women to see their points drop were Annabel Anderson, who won the Showdown final last year. The Kiwi slid almost 20 points, however Annabel is so far ahead she comfortably holds onto her #1 world ranking. The Lahui Kai team rider will need another good result next weekend at the Gorge though, with her double win from Hood River 2014 set to expire in a similar predicament to what Connor Baxter is facing.
The Gorge is looking set to be another big event. Last year it was actually the second- and third-highest scoring women's race of the year, surpassing the Showdown and only losing out to the BOP Elite Race. We can expect a similar level of competition among the leading ladies in Oregon next weekend, which should have a big impact on the Women's World Rankings.
[notdevice] [/notdevice]

| # | +/- | Name | Points | +/- | Races | Nation | Brand |
| --- | --- | --- | --- | --- | --- | --- | --- |
| 1 | - | Annabel Anderson | 217.08 | -18.63 | 11 | New Zealand | Lahui Kai |
| 2 | +1 | Lina Augaitis | 187.93 | 0.00 | 13 | Canada | SIC |
| 3 | -1 | Candice Appleby | 181.25 | -11.13 | 10 | USA | Bark |
| 4 | - | Fiona Wylde | 147.63 | 0.00 | 12 | USA | Starboard |
| 5 | - | Sonni Hönscheid | 144.39 | 0.00 | 14 | Germany | SIC |
| 6 | - | Angela Jackson | 127.60 | 0.00 | 12 | Australia | One |
| 7 | - | Terrene Black | 90.89 | 0.00 | 6 | Australia | ECS |
| 8 | - | Shae Foudy | 86.44 | 0.00 | 10 | USA | Riviera |
| 9 | +1 | Andrea Moller | 62.93 | 0.00 | 3 | Brazil | SIC |
| 10 | +1 | Celine Guesdon | 61.75 | 0.00 | 8 | France | BIC |
[notdevice] [/notdevice]