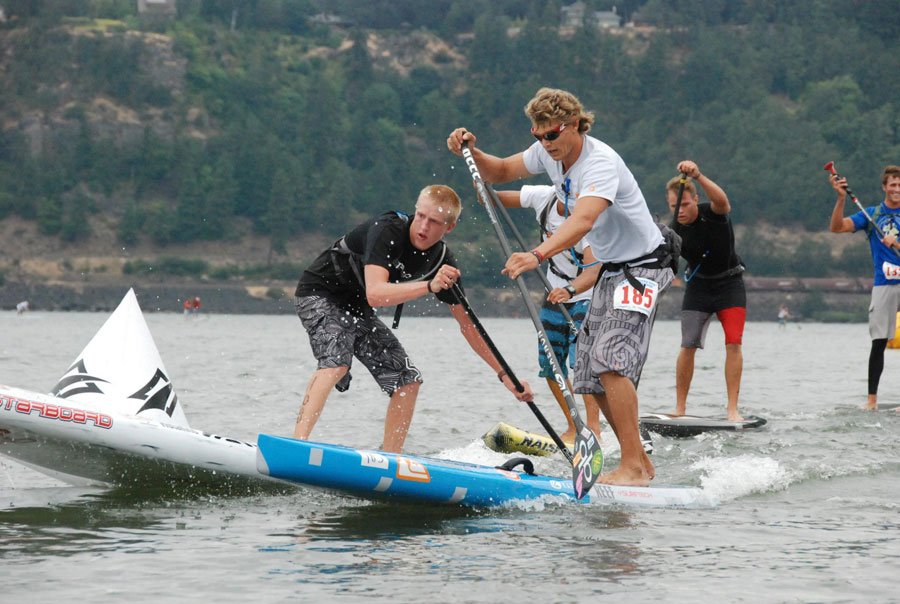 August 15, 2013
by Christopher Parker (@wheresbossman)
One Weekend. Three Big Races. $63,000 In Prize Money…
We're getting into the serious part of the SUP racing season now. Six weeks out from the BoP and things are starting to heat up, with this coming weekend set to be the biggest single two days of Stand Up Paddle racing all year long.
From San Fran and Oregon to Hamburg, Germany, three big SUP races will feature a huge chunk of the world's elite paddlers plus a huge chunk of prize money…
Here's what to look out for this weekend…
*****
Camp David SUP World Cup
Hamburg, Germany
(part of the Stand Up World Series)
$20,000 prize money
UPDATE: Check out Bart de Zwart's SUP World Cup Preview from Hamburg…
Despite a couple of big races in the States this weekend, many of the world's best will be in Hamburg, Germany for the fifth stop in the 2013 Stand Up World Series.
The Camp David SUP World Cup (no, I'm not sure where they got the title sponsor from either… last I heard that was a Presidential retreat) is a new name on the SUP racing circuit, but the event will carry a lot of history. This is a revival of the beloved "Jever SUP World Cup" that ran back in 2009/2010 and helped set the stage for SUP racing in Europe.
There's a lot of money on the line, the course runs through a busy section of Hamburg (meaning there's instant crowds) and there's an absolute tonne of eager paddlers from Northern Europe that'll be strapping their boards to their cars and driving over for this one.
Who to watch: Kai Lenny. It goes without saying that Kai will start favourite and should be feeling confident without his World Series rival Connor Baxter to contend with. Connor hasn't lost a single World Series event this year, while Kai hasn't been beaten by anyone other than Connor at a World Series event this year. With Connor back home in Hawaii, the door opens for Kai to regain some ground in the overall Series standings.
But it won't be easy for the Naish superstar… Looking to fill Connor's hole and take a crack at victory will be a whole stack of top Euro locals, including Eric Terrien and the Danish Viking Casper Steinfath. Throw in two of Australia's fastest paddlers in Paul Jackson and Beau O'Brian, as well as Mr. Endurance Bart de Zwart, and we should see an absolute cracker of a race in Hamburg. And that's just the men. On the women's side look for Annabel Anderson to be chased by local Sonni Honscheid as well as Aussie Angie Jackson.
We'll have insider updates from Hamburg this weekend thanks to our new correspondent Bart de Zwart, plus the entire Camp David SUP World Cup is set to be webcast live (and we'll be streaming it right here on SUPracer.com). So stick around all weekend to follow the action.
*****
Battle of the Bay
San Francisco, California
$10,000 prize money
The third annual Battle of the Bay hits San Fran this weekend and it looks like it'll be the most competitive event yet. There's plenty of cash on the line and a whole stack of top paddlers.
Who to watch: This could very well be the tightest race of the weekend. We're going to see half a dozen elite paddlers in with a shot in Saturday's distance race, including Fanatic Teammates Chase Kosterlitz and Jake Jensen. Throw in the likes of constantly-underrated Ryan Helm, master of technique Jim Terrell and Tahoe local Jay Wild, and the Battle of the Bay becomes anyone's race. On the women's side Morgan Hoesterey should be up there, while Silvia Mecucci, all the way from Italy, could give the podium a nudge as well.
However the most well-known name on the water this weekend probably won't be the guy on the podium (though based on current form, he'll go mighty close). Instead it'll be Jimmy Spithill, the captain of Team Oracle and youngest ever America's Cup winning skipper. Jimmy has fallen in love with SUP racing over the past year or two – I first met him at the Battle of the Paddle 11 months ago and since then his name has popped up on the results pages across the world. He did Molokai a few weeks ago and was in Tahoe last weekend, and seeing Team Oracle are based in San Fran (where the America's Cup will be happening next month) we can assume Jimmy will be back on his paddleboard again this weekend and giving the Battle of the Bay a solid boost of mainstream sporting publicity.
Look for results here on SUPracer.com Saturday afternoon (10 mile race) and Sunday afternoon (5 mile race).
*****
Naish Columbia Gorge Paddle Challenge
Hood River, Oregon (USA)
$18,000 prize money
What many call the funnest race of the year, thanks to both first class event organisation and first class downwind conditions. While Hood River, Oregon, is a long way from Maui, it has what many believe to be the finest bumps in the world. Dave Kalama recently told me that "When the Gorge is on, it's even more fun than Maliko."
The Gorge is a unique spot. It's a long way from the ocean yet it has some of the best downwind surfing conditions you could imagine. The wind is going one way and the current the other, meaning the waves stand up a lot more than ocean swells and almost become slow moving rapids. Instead of looking behind you for the coming bumps, you're often looking in front of you for the little waves you can catch up to. All of that makes for some insanely fun downwind runs and some very cool racing action. Last year this event was probably the second most competitive field of the year (after the BoP), and although the 2013 field will be spread a little thinner, we still should see some great racing at the Gorge all weekend.
Who to watch: I'm picking a race between Georges Cronsteadt and Kody Kerbox in the flat water course race, with a nod to the Tahitian. Meanwhile the downwinder could be anyone's, with the likes of Kody, Georges, Livio Menelau and Dave Kalama up against a stack of local dark horses who have some serious inside knowledge of this unique downwind run. Over on the women's side of the draw Candice Appleby should prove too strong, though we'll have to wait and see exactly who else made the trip to Oregon.
So there you go. Pretty big weekend huh…
Three races, two countries, about 37 of the world's best paddlers on display and $48,000 in prize money up for grabs.
It's awesome to see so many big races and some serious prize money on offer, though it's a bit of a shame they're all clashing…
Last year Kai won the Gorge but now he's in Germany. Chase Kosterlitz was in Oregon last year too, but this year he's in San Fran. Georges Cronsteadt is in 'could-beat-anyone-right-now' kind of form, but will have to settle for a battle against a watered down field.
Meanwhile guys like Connor Baxter and Jamie Mitchell aren't competing at all – they're heading to Oahu a couple of days early to get ready for Tuesday's $15k SUP Showdown debut (so if we made it a four-day weekend there would actually be $63,000 prize money in total up for grabs… woah!).
So while there's plenty of talent out there this weekend and we can look forward to analysing a stack of interesting race results on Sunday evening (not to mention the awesome photos and videos that'll be coming out of these three events…), it would be even more awesome to see all of these guys up against each other at the same race, don't you think?
Well, I guess we'll just have to wait for that…
Don't get me wrong, having a bunch of big events and $60k in prize money the same time is a great problem to have, but it's still a problem. Next year we'll hopefully see some more structure to the season, but in the meantime you'll just have to stay glued to SUPracer.com all weekend, so that you can get your fix from all corners of the SUP racing world 😉