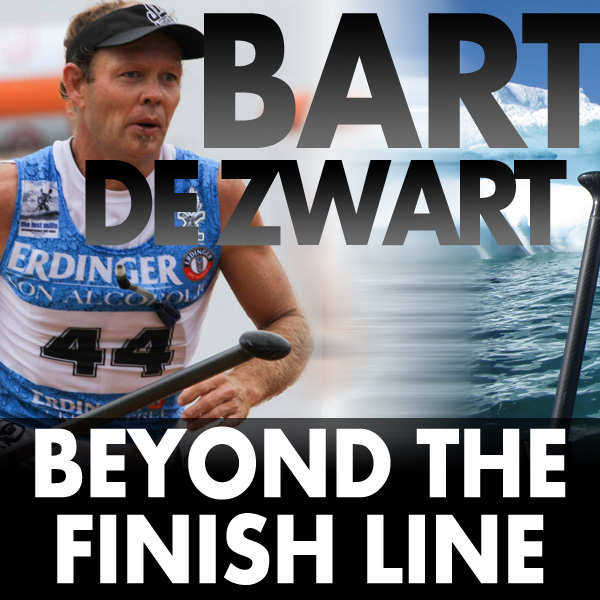 August 16, 2013
by Bart de Zwart
Bart de Zwart's Hamburg Preview: Rebirth Of The SUP World Cup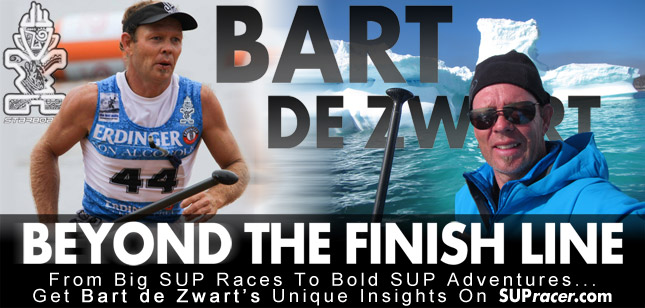 Boss Man's note: We're stoked to have one of the most experienced, talented and respected paddlers in the world contributing to SUPracer.com: Bart de Zwart. Mr. Endurace. The SUP Explorer. The wise old man of paddling… Bart is known around the world for not only being a phenomenal racer (as a member of the elite Team Starboard, Bart regularly beats guys half or even a third his age, including a three-peat at the SUP 11 City Tour) but also for his gnarly solo adventures, which include paddling the length of the Hawaiian Islands unsupported and exploring the wilds of Greenland.
Bart will be posting regular updates from the big SUP races to his bold SUP adventures all around the world under his new column "Beyond The Finish Line". The name sums up Bart for me: He races hard but isn't anywhere near done when he crosses the line… he keeps going well beyond it and into places few other paddlers could imagine.
So keep an eye out for Bart's regular posts on the site, starting this weekend with updates from the Stand Up World Series event in Hamburg, Germany.
This weekend's "Camp David SUP World Cup" is a reincarnation of the famous "Jever SUP World Cup" that ran in 2009 and 2010 but hasn't been since. There's a lot of history and fun memories surrounding this event, which really kickstarted SUP racing in Europe, so it's great to see the event back. We'll be streaming the live webcast Saturday and Sunday plus Bart will be sending us updates all weekend, starting with a preview of who to watch out for…
*****
Preview of the "Camp David SUP World Cup" in Hamburg
Tomorrow is the start of the Stand Up World Series in Hamburg, Germany. Three years ago, Hamburg was my very first Elite race, so for me there are a lot of good memories associated with this place. The original Jever SUP World Cup was the biggest race in Europe, being well organized and with many spectators.
Back then SUP was just starting here in Germany. I remember a lot of people asking "what is that called?". Also back then there was only a handful of races. But since then SUP has exploded.
Now, 3 years later, Hamburg is back on the map and it is going to be a big event again. The race is held in a side part of the old harbor, which is a perfect venue for the spectators to watch the live action.
The very best of Europe and any many more are here. One is Casper Steinfath. As a young kid only 3 years ago in Hamburg, Casper won the amateur race and has been improving ever since. Especially this year he as been doing very well, winning in Peru and racing very consistently.
Another stand out is Peter Bartl who has been winning most of the German races this year and placed 3rd in the 11-City Tour last year. But never count out Eric Terrien, the winner of Hamburg 3 years ago, who has won the most races in Europe the last 3 years and is set on doing well here. He is also one of the few true pros in Europe who lives solely from Stand Up Paddling.
Australian Beau O' Brian has been doing also exceptionally well this year with a lot of 3rd places in the European races. He is a strong sprinter and has good balance. But all eyes will be on Kai Lenny who hasn't won any of the World series events this year but has placed consistently 2nd at every event. Now that Connor Baxter is not here, he will be poised to take first place.
With over 25 female paddlers competing here, the women's Elite field has never been stronger at any of the past World Series events. Winning everything this year was Annabel Anderson. Strong, super dedicated and training very hard. Other women to watch out for are Olivia Piana, Angie Jackson and local Sonni Honscheid.
The weather looks great for the next two days so we should have a fun event.
Tomorrow the women will start at 10:00am the men at 2:00pm. I'll send another update right after the race.
Aloha from Hamburg
– Bart
[Watch the LIVE WEBCAST here on SUPracer.com from 10:00am Central European Time Saturday]