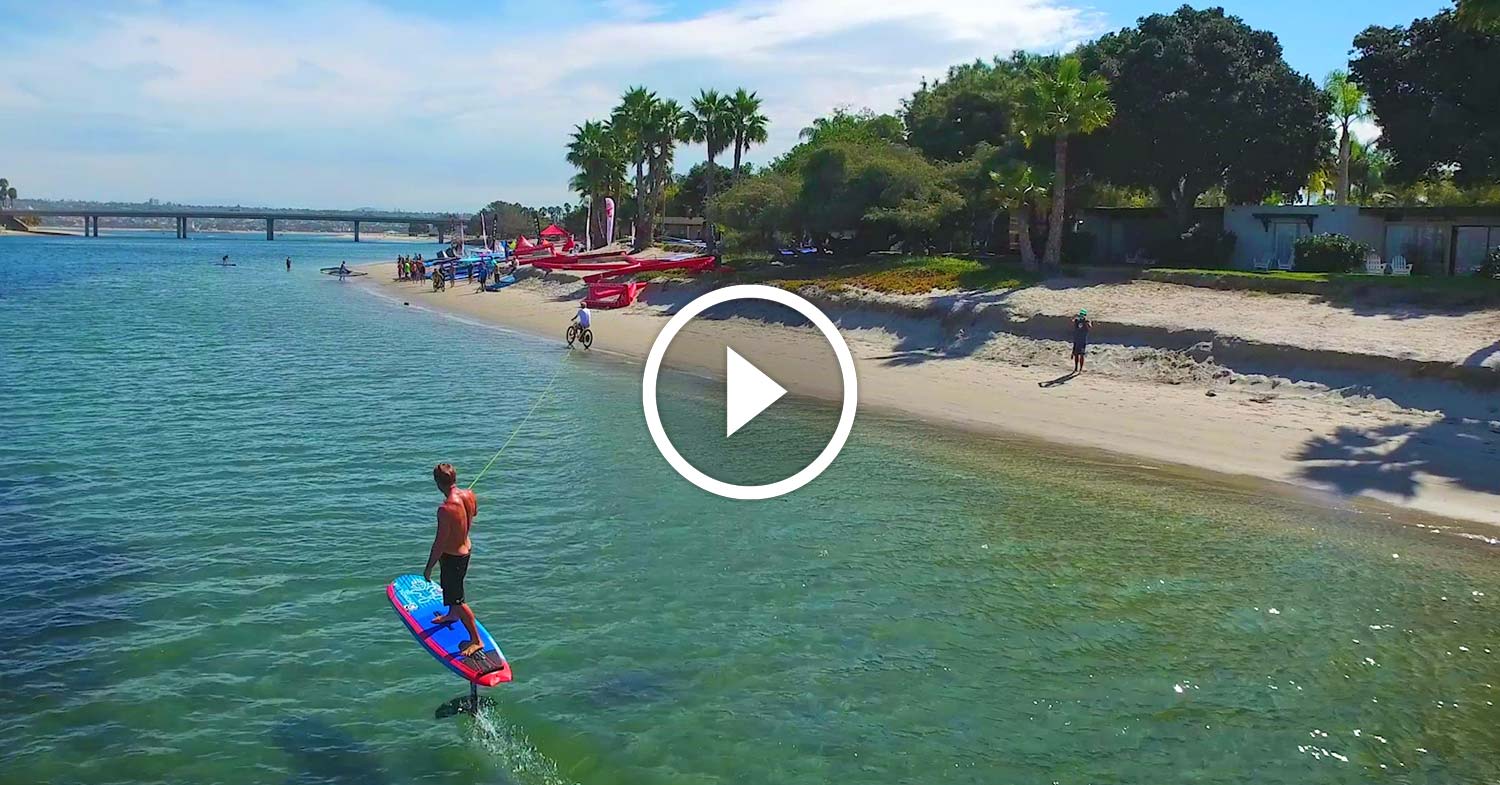 September 27, 2016
by Christopher Parker (@wheresbossman)
Zane and Connor Just Took the Foil Boarding Craze to a Bizarrely-Awesome New Level
[notdevice][fbvideo link="https://www.facebook.com/supracerr/videos/1118379984912718/" width="645″ height="363″ onlyvideo="1″][/notdevice][device][fbvideo link="#" width="322″ height="181″ onlyvideo="1″][/device]
Zane Schweitzer and Connor Baxter have just taken the hydrofoil craze to a bizarrely-awesome new level, showing off their freakish talents at the Starboard dealers meeting in San Diego the past couple of days.
First up, Zane getting some lift courtesy of a windsurf tow-in behind Connor yesterday afternoon, which I thought that was impressive enough, but what they did the next morning was beyond epic…
With the help of a Rayvolt electric bike (a creation of Starboard head designer and French Mad Scientist Mathieu Rauzier that is a pretty rad product by itself), the boys invented the new sport of "flat-water-hydrofoil-SUP-tow-surfing", which looks like insanely good fun.
https://www.instagram.com/p/BK6bzyLjUCP/
If you're curious, the board is a "Hypernut Foil" SUP surfing model, with the patented Go Foil hydrofoil on the bottom.
Thanks to Matty Schweitzer aka Mat5o Media for capturing the magic.
Not seen in the video was fellow Starboard Dream Team rider Leo Nika, who jumped on for and got straight up in the air (this was his first ever foil session).
But while these guys make it look easy, keep in mind that foilboarding is an extremely difficult thing to do. It can also be quite dangerous, so, unless you're a world class athlete, if you buy one of these things then make sure you take it out when the lineup is empty (see Jamie Mitchell's foiling PSA for a reminder of what happpens when foiling goes wrong).
Connor, Zane and Leo will be showing off their other talents next weekend, with the biggest race of the year, the Pacific Paddle Games, just four days away.