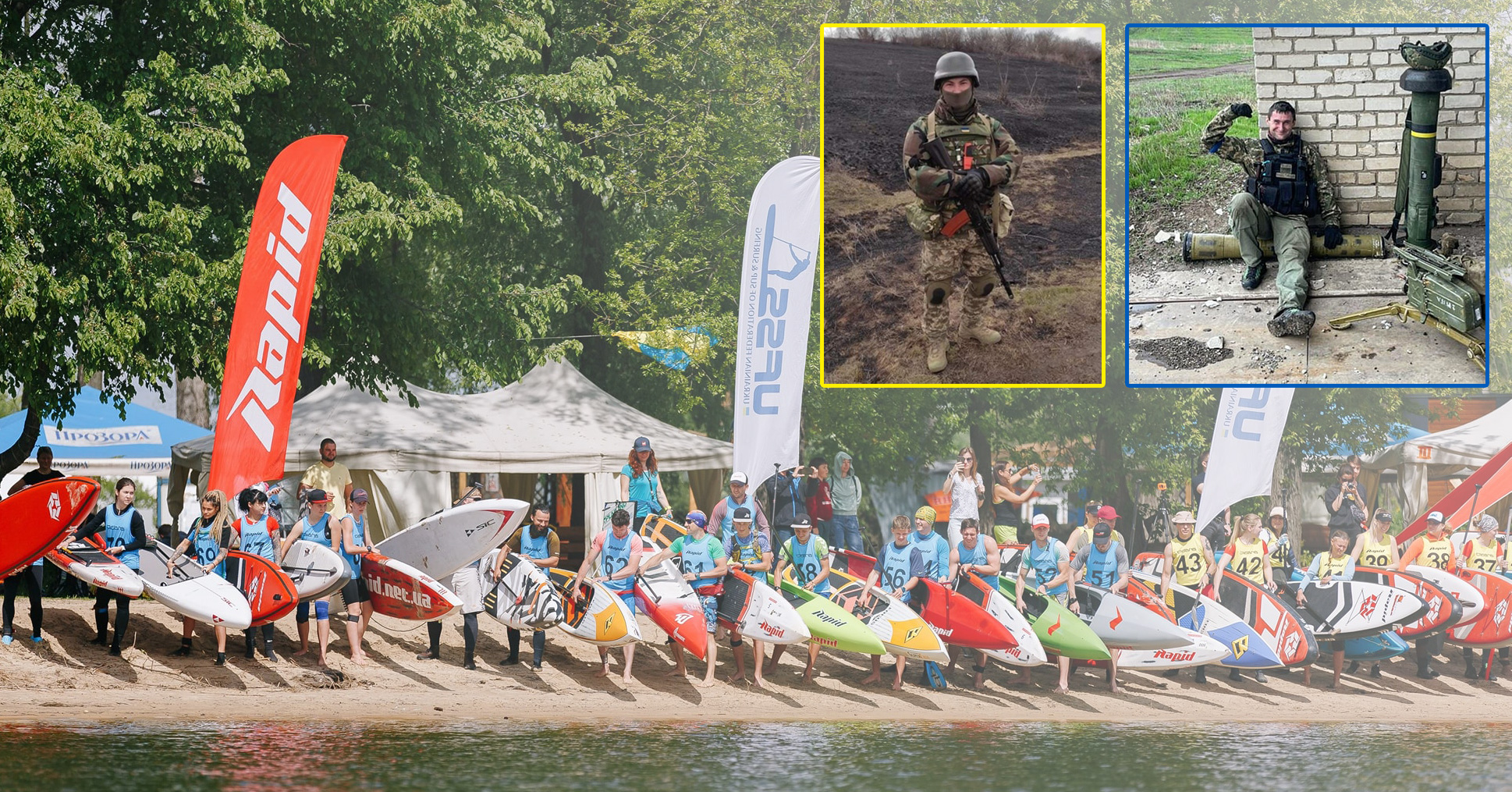 April 13, 2022
by Christopher Parker (@wheresbossman)
Ukrainian paddlers are fighting for their freedom – here's how you can support them
The first thing I noticed when I met Ukrainian paddler George Zamana is that he was always smiling. I thought he was just excited that we were about to paddle in Kyiv's sub-zero temperatures (adventure!) but it turns out George is one of those happy-go-lucky guys that's always sharing a positive face with the world.
George is smiling in his latest photo, too, except he's not standing next to his board with a paddle in hand — he's sitting beside an anti-tank missile launcher.
George is part of the Ukrainian national SUP team. Right now he should be training for the Kyiv Open, which was supposed to be happening on 14 May, along with the World Championships in Poland in September. Instead, George and fellow stand up paddler Yehor Tarasko are fighting in the Armed Forces of Ukraine on the "Eastern Front" where the climax of this senseless war is likely to be waged.
George and Yehor are two of the many Ukrainian sportspeople defending their country against Russia's genocidal invasion. These guys have had to swap their paddles for weapons, buoy turns for bombs and the carefree life of a paddler for that of a do-or-die soldier fighting for the freedom of their people.
And they're not alone — several members of the Ukraine SUP community have joined the resistance in the Territorial Defence or by helping with aid and logistics.
Whilst war can make sport seem insignificant, sport can also offer great hope in times of crisis. That's why, despite the surreality of life in their country right now, Ukraine's paddling community is looking ahead. But they need our support.
The leaders of the Ukraine SUP Federation have put out a request for donations from the international SUP community to support their team members. The following post was shared on Facebook today and I encourage everyone to donate. If you can't do that right now, please share and comment on the original post as a show of unity for our paddling family in Ukraine.
I hope we will see a big Ukrainian team at the Worlds in September, and I hope we can all travel to a free Ukraine soon for another edition of the Kyiv Open.
Слава Україні! 💛💙

View the original post on Facebook for more details and to leave a comment of support.