February 26, 2022
by Christopher Parker (@wheresbossman)
The day I went paddling in Kyiv
It was a cold February day, not unlike today. The ground was covered in fresh snow that crunched under foot like a strange kind of sand. Foreign but somehow familiar. The ice sheet covering the Dnieper River was starting to break up and release its grip on the city.
It was 2018 and I had stopped over in Kyiv on my way home from the GlaGla Race. I had met the core of the Ukrainian SUP community – Andriy, Alex and Slava – in France two weeks prior and was invited for a winter session in their hometown. I jumped at the opportunity and thus began one of the coldest paddling days of my life.
Wrapped in a drysuit, scarf and beanie to defend against subzero temperatures and a soul-piercing wind, it was an adventure. We paddled around the city, tried not to fall in, played on the ice.
And we talked.
We talked about their goals to build a thriving SUP community in Kyiv. The trio had just created the Ukrainian SUP Federation and wished to be part of the international scene. They were eager to learn, grow, travel. They wanted to host a major race in Kyiv. They knew several promising young athletes who wanted to cross over from canoe racing. There was a sense of hope and excitement.
I returned to Kyiv in November 2018 and took part in one of their local races. It was even colder than my first adventure. Huddled around an open fire on the shores of the river that chilly Saturday afternoon, again we talked about their plans to grow the sport in Ukraine.
Thanks to the work of Andriy and his crew, Ukraine is now home to a small but growing paddling community. A vibrant and passionate community. They love to travel and support the sport. Go to any big race in Europe and there's a decent chance you'll see the blue and yellow flag.
It sounds cliché at a time like this, but the Ukrainian paddlers are some of the friendliest I've ever met. And boy can they paddle.
Ukraine's most successful athlete, Oleksii Sidenko – a highly-regarded canoe racer who was an early convert to SUP – has already achieved strong results. Oleksii was in the lead pack at GlaGla this year finishing just 27 seconds behind the winner, Bruno, and only 2 seconds behind the world number one, Titou.
Led by Oleksii and joined by two up-and-coming prospects, Damodara Mokhniuk and Ivan Ulitenko, Ukraine won a bronze medal in the team relay at the 2021 ICF Worlds in Hungary. They stood next to Connor Baxter on the podium.
There's some serious talent on the Dnieper.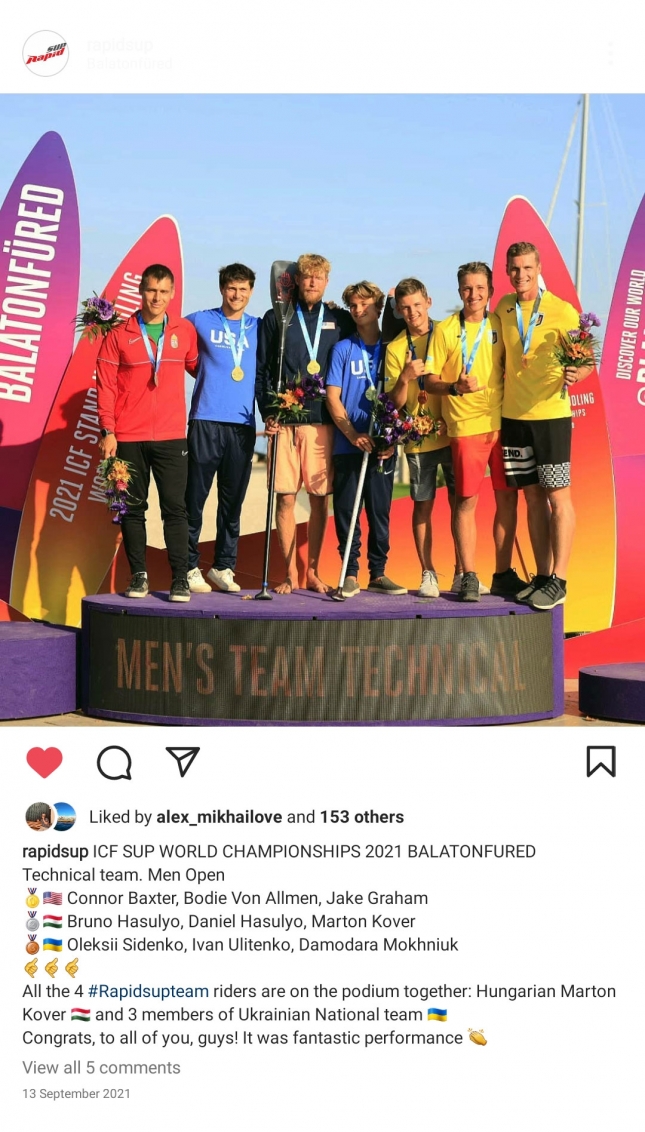 ---
I have made half a dozen trips to Ukraine over the years. The country has become one of my favourite destinations, Kyiv one of my favourite cities. I fell in love with the place and its people. Ukraine is beautiful, warm and welcoming (even if the water is a bit chilly in winter). After each trip, I would tell anyone who would listen that Kyiv would soon be a hotspot. I was referring to travel of course, not war…
Each time I visited Kyiv I would book an Airbnb in the historic district of Podil. I loved walking the streets of Podil particularly in the winter when it was quieter or late at night after the old trams stopped running and there was a calm, still serenity lingering in the air. I would wander up the hill to the beautiful cathedral, spend hours nestled in the quaint little cafes that dotted the district and explore the underground bar scene at night. It felt like another world, a wonderful world.
But those streets are no longer calm.
Last night I watched video of gunfire and explosions filmed on a road I remember walking down. I saw images of people huddled in subway stations I remember traveling through. Those are now bomb shelters. I was speaking to a dear friend as she took cover in her bathtub in the same area that a residential tower had already been hit. Air raid sirens wailed in the background as we spoke. It was surreal. Another friend is stuck in limbo overseas unable to fly to Kyiv and unsure when they can ever return home.
As Ukraine resists a fiery invasion started by a crazed dictator hell-bent on rewriting history, I think of my friends in Kyiv.
As you pick up your paddle today, think about some of our SUP friends in Ukraine who are being asked to pick up a gun.
It all seems like another world, and it seems like there is little we can do several oceans away. But while we cannot raise a weapon we can raise a voice: Support the Ukrainians heroically defending their homeland. Support the Russian people bravely protesting this war fought not-in-their-name. Protest in your own country. Tell your own leaders to do more to isolate the Russian government.
(edit: here is a comprehensive list of ways to help)
Or simply support your fellow paddlers in Ukraine. Remind them they are part of our big international family. If you've ever met one of the Ukrainian paddlers at a race, send them a message on Instagram. Tell them you look forward to paddling in beautiful Kyiv when this madness ends. Follow @rapidsup. Join the Ukrainian SUP Federation and Ukraine-based SUP Sport Community pages on Facebook and leave a symbol of support. Invite them to paddle in your own country when this crazy war is soon over.
Do whatever you can to show support even if it feels like it's just a drop in the ocean. Because as Martin Luther King once said, "In the end, we will remember not the words of our enemies, but the silence of our friends."
Слава Україні! Героям слава!
Побачимось дуже скоро, Київ 💛💙