October 21, 2013
by Christopher Parker (@wheresbossman)
Another Packed Weekend Of SUP Racing In France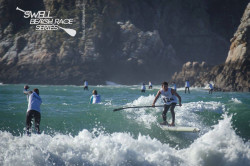 Stand Up Paddle racing continues to develop in Europe, and although May/June is the high season on The Continent there are races almost every weekend throughout the year, especially in hot-spots like France. This was highlighted on the weekend when there were two separate SUP races on the West coast of the country: First up was the Presqu'île Paddle Race, followed the next day by the first leg of the new Swell Beach Race Series.
Plenty of France's finest were on display in what was a good warm-up for the French National Titles, which are happening on the second weekend of November and will help decide who gets a ticket to Nicaragua 2014 for Les Bleus.
Young gun Arthur Daniel, fresh of his trip to California last month, stole the weekend, claiming both the Presqu'île downwinder as well as the Beach Race. There was also a welcomed return to racing for one of France's ocean stalwarts, Greg Closier, who missed most of the 2013 season through injury. Here's the official recap from the locals…
Presqu'île Paddle Race 
Crozon is known as one of France's best spots for surfing, windsurfing and off course downwinding. This year we had perfect conditions for the Long Distance race, which was a 14 km crossing between Crozon peninsula and Brest city. There were 20 to 25 knots full downwind. No buoys to turn around, just a straight line from start to finish.
The SUP racers had to manage the strong current which made the race fun but also difficult as the current against the wind made it challenging with big bumps. In the 12'6 division, Greg Closier came back after a 6 months break due to a hip surgery and got the win while Arthur Daniel the young gun killed it on his 14′ to claim the victory. Valerie Vitry won the ladies' division on her 12'6.
The organisation was amazing, with strong safety water patrol, welcoming people, cheap entry, good food and party, etc… It could have been a World Cup of SUP racing! A brand new OC1 full carbon (from "WOO") and a Fanatic 12'6 Falcon were on offer as well during the ceremony award.
Then on Sunday it was time for the first stop of the Swell Beach Race Series. The conditions were hard, cold and windy but the waves made it really fun! Once again Arthur Daniel got the victory in front of another youngster Martin Letourneur.
Scroll down past the pics for the full results. Photos copyright © Loic Olivier.
*****
Results: Presqu'île Paddle Series – Race #6
– Long Distance Downwinder
– Le Fret/Brest
– 19 October 2013
SUP 12'6 Women's
1- Valérie VITRY : 1H56'47''
2- Solange PRUVOST : 1H58'36''
3- Cécile GONDRE : 2H01'00''
4- Karine DORMET : 2H06'55''
5- Béatrice PIROTEAU : 2H07'58''
6- Anne CROZET : 2h11'28''
7- Joëlle TERRIEN : 2H18'59''
8- Béatrice GASTINEAU : 2H21'45''
SUP 12'6 Juniors
1- François PELLEN : 1H41'20''
2- Jean LE TOURNEUR : 1H43'43''
3- Yoann LE VEN : 1H48'18''
4- Tanguy RICHARD : 1H49'04''
5- Benjamin PERROT : 2H00'50''
SUP 12'6 Open
1- Greg CLOSIER : 1H30'14''
2- Yves GONDRE : 1h31'52''
3- Gaëtan SENE : 1H36'46''
4- Franck LEVEN : 1H37'24''
5- Marcelin SAUTOUR : 1H39'20''
6- Frédéric ISTIN : 1H39'40''
7- Grégoire VITRY : 1H40'08''
8- Lucas LEBAYON : 1H41'25''
9- Jérémy BRANCHU : 1h42'15''
10- Sylvain CHASTAGNIER : 1H42'59''
11- Christophe GUERIN : 1h43'49''
12- Simon MICHELIN : 1H44'18''
13- Eric PERON : 1H46'29''
14- Thomas KIMPFLIN : 1H17'05''
15- Ildut MARZIN : 1H48'01''
16- Frédéric LE COZ : 1H52'15''
17- Benjamin LANGUY : 1H54'23''
18- Eric PAUL : 1H56'33''
19- Eric DOLLE : 1H57'26''
20- Grégoire CHAUVET : 1H59'13''
21- Thomas LETOURNEUR : 2H00'39
22- Stéphane GUINOT : 2H03'05''
23- Mathieu RAYMON : 2H03'13''
24- Philippe TREBAUL : 2H03'57''
25- Ronan BOTREL : 2H04'32''
26- Loïc PICOT : 2H05'09''
27- Stephane CARABOEUF : 2H05'21''
28- Frédéric COSTALUNGA : 2H09'13''
29- William VERNACK : 2H19'18''
30- Gaël BRY : 2H21'53''
31- Julien PERREON : 2H22'56''
32- Julien ANQUETIL : 2H25'23''
33- Hervé MOLINERO : 2h28'46''
SUP 14' Open
1- Arthur DANIEL : 1H22'10''
2- Vincent VERHOVEN : 1H25'23''
3- Martin LETOURNEUR : 1H27'44''
4- Amaury DORMET : 1H31'02''
5- Pierre DE LA MONNERAY : 1H42'18''
6- Pascal POUGET : 1H45'08''
7- Loïc HELIES : 1H48'23''
8- Sébastien BILLOIS : 2h02'03''
9- Jean Pierre LE TOURNEUR : 2H06'08''
10- Frédéric LE PROVOS : 2H09'27''
11- Alain GEFFRAULT : 2H30'49''
Results: Swell Beach Race Series 2013/2014 – Race #1
– Beach Race
– Camaret sur Mer
– 20 October 2013
1- Arthur DANIEL: 26'40"
2- Martin LETOURNEUR: 28'22" (-18 ans)
3- Amaury DORMET: 28'36"
4- Christophe GUERIN: 28'48"
5- Grégoire VITRY: 29'32"
6- Mathieu RAYMOND: 29'32"
7- Franck LEVEN: 30'27"
8- Lucas LE BAYON: 30'28"
9- Fred ISTIN: 30'55"
10- Thomas LETOURNEUR: 32'16"
11- Jean LETOURNEUR: 34'14" (-18 ans)
12- Loïc HELIES: 35'05"
13- Ildut MARZIN: 35'15"
14- Tanguy RICHARD: 35'22" (-18 ans)
15- Yoann LEVEN: 36'03"
16- Daniel AMEMOUTOU: 37'11"
17- Ronan BOTREL: 37'19"
18- Franck GABORIAU: 38'41"
19- Clément MORANDIERE: 39'06"
20- Solange PRUVOST: 40'23" (Ondine)
21- Anne CROZET: 41'00" (Ondine)
22- Pascal POUGET: 42'25"
23- Romain LEBORGNE: 47'58"
24- Mathieu DESBOIS: 49'55"
25- Relais POUGET Samy/Tommy/Julien: 53'59"