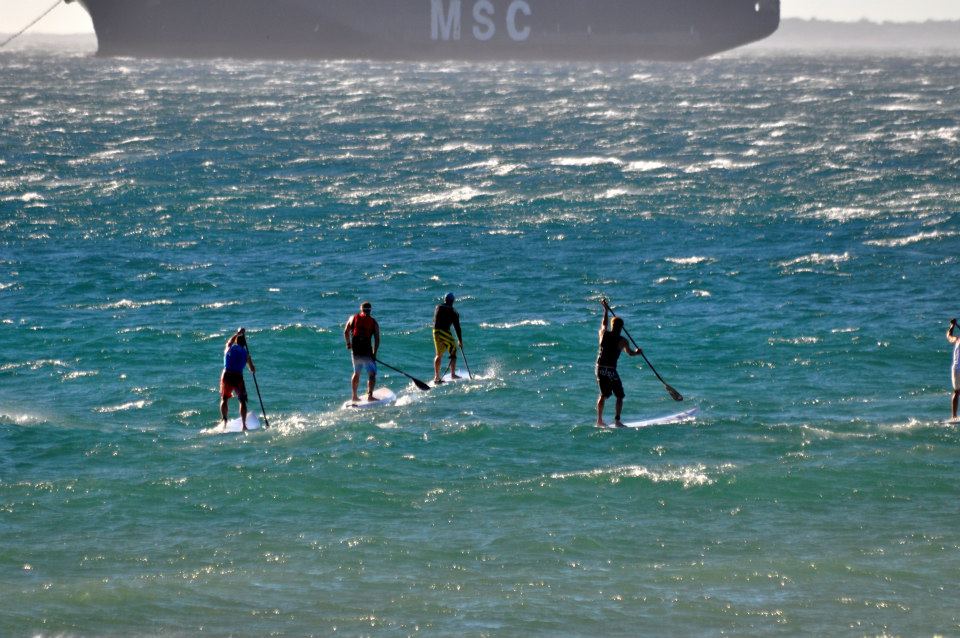 February 6, 2013
by Peter Petersen
South Africa's Downwind Dash Series Scores 40+ Knot Winds, Makes Rest Of The World Jealous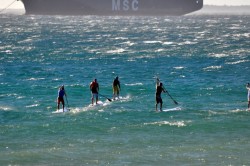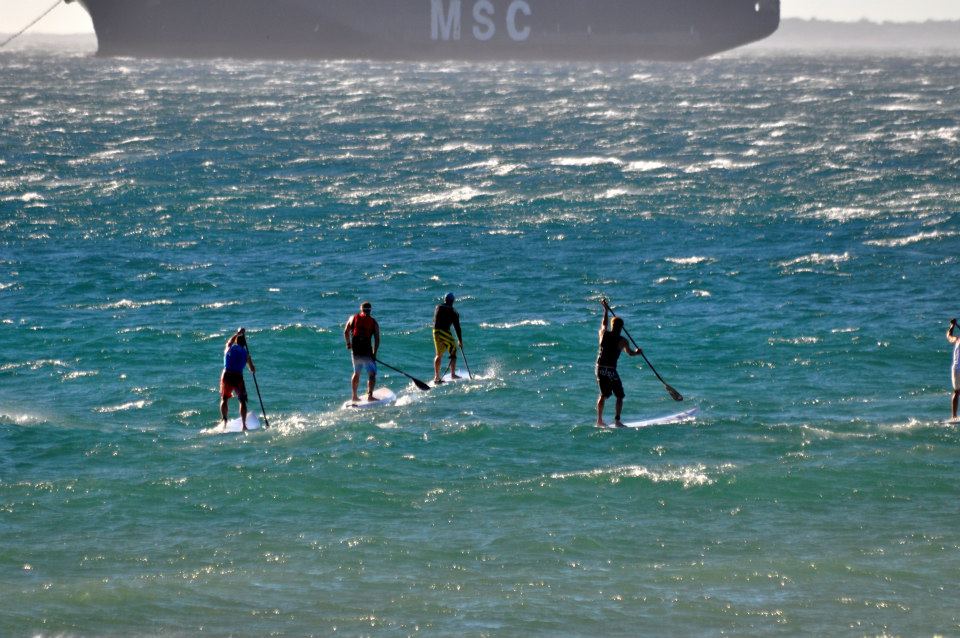 Cape Town's famous South-Easter once again produced the goods for the third race in the PRIMI Naish Downwind Dash Series, with a stonking 41knot max windspeed (30knots average). Windy all day meant everyone knew it was on so we had more paddlers on the runs, with 49 SUPs, 35 surfskis and 2 prone-paddlers lining up for start.
The extremely high winds caused problems for some with boards getting ripped out of paddlers hands on the start and the finish line! But no swell meant an otherwise easy start and it was a great spectacle to see all the paddlers set off into the stiff breeze. Everyone got runs today, and with 34x personal bests amongst the SUP's, it was clearly a great day.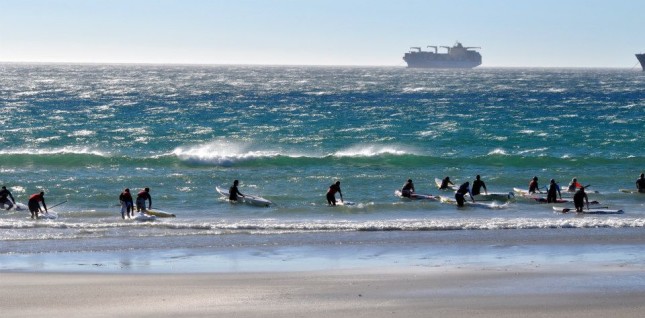 With Dylan and Francois Frick missing the race due to their focus on getting Dylan ready for ISA Worlds, it opened up the field to chase for some podium placings! Ivan van Vuuren once again demonstrated his high-wind skills, piloting his Coreban Dart to a clear victory only seconds shy of his course record in 43.06. Greg Bertish took a convincing 2nd in 44.14 and surprise of the night, Pietro Muscas, set an excellent PB of 44.34 to take 3rd.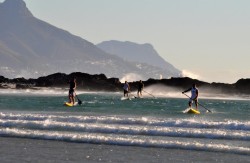 Pietro had come into Small Bay just behind Ethan Koopmans (Junior), Peter Petersen and Brad Adams but caught a small runner through the kelp-line. The same kelp caught out Ethan and made him fall but Ethan quickly got back up and set a fantastic PB time of 44.44 to take 4th – and he's only 15 years old! Brad Adams outran Peter Petersen to take 5th in 45.53.
There were great performances right through the field with windsurfing world champion and world windsurf speed record holder Antoine Albeau setting a very respectable time of 53.28 on his first outing! Highlight for Rob Munro was stumbling on his board but managing to stay on his backside whilst staying on a run and passing Antoine literally lying down! 34 PBs in all, and too many to mention – but check your times, most paddlers shaved minutes of their times!
Brigette van Aswegen was a little off her personal best in 52.36 but Tammy Robarts is roaring up the timing sheets and got 54.14 using a converted windsurfer! Well done Tammy! Monika Wohlgemuth once again got a taste of the podium with a fine third with 58.31.
As mentioned, Ethan killed it in the Juniors, but once again Joshua Robertson is not far behind, he also set a PB with 48.44 on his LE. Matthew van der Linden, back from a bout of bronchitis, had to settle for third with a 50.01.
Greg Bertish now assumes pole-position in the overall rankings and the next race will trigger a discard.
After the race we had a very special treat from Chris Bertish who talked us through his recent SUP adventure – a 325km, unassisted paddle along South Africa's West Coast. Hearing about the exploits directly from the great man was an incredible experience which had everyone spell-bound throughout the slide-show. If you ever want to be inspired and motivated to go out and do something unique then make sure you book a talk hosted by Chris Bertish – he has pushed himself to places few of us will ever reach and managed to come back and tell the tale in an intelligent, interesting and extremely entertaining manner. Thanks Chris – it was really special and your contribution to our SUP and paddling community is highly treasured. We wish you the best of luck with ISA Worlds and your Atlantic Crossing endeavour!
Thanks to Timekeepers Lollo, Jenn, Bruce, Aden – Jane Amory for pics, Big Bay Lifesaving Club for safety and sponsors: Primi, Naish, Vitaminwater, SUPHQ, SUPracer.com, BulkSMS, Buchulife, Xpression/Coreban, New Balance, BioKinetics Sunset Beach, Watersports Warehouse.
(all photos © Jane Amory)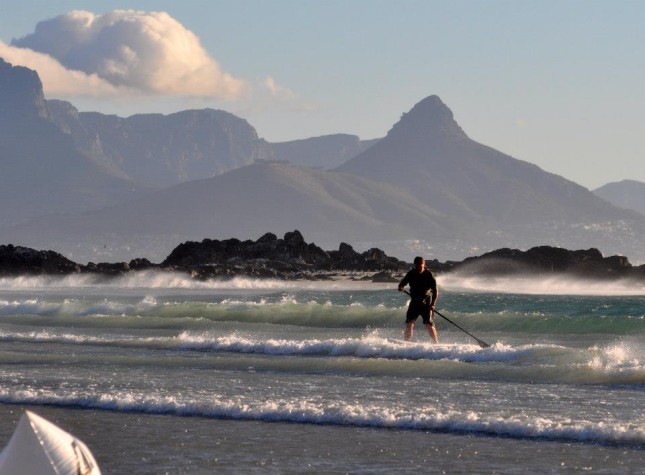 2013 PRIMI Naish Downwind Dash – Series Leaderboard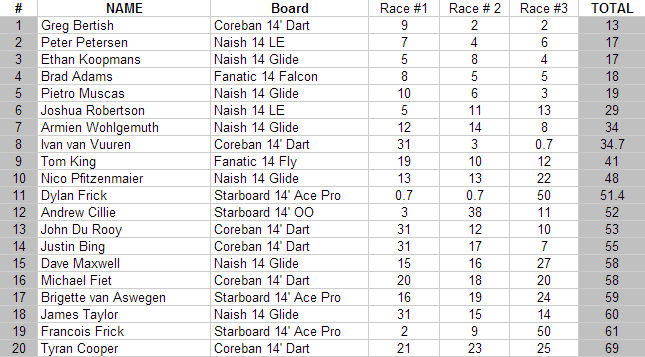 2013 PRIMI Naish Downwind Dash – Race 3 Results
Date: Wednesday 6th Feb, 2013
Wind: 30-41 knots
Swell: none
Course: 10.1km

| # | Name | Time | Class | Division | % | Grade | km/h | min/km | PB | Board |
| --- | --- | --- | --- | --- | --- | --- | --- | --- | --- | --- |
| 1 | Ivan van Vuuren | 0:43:06 | 14' | Masters | 100.00 | Elite | 14.06 | 0:04:16 | | Coreban 14 Dart |
| 2 | Greg Bertish | 0:44:14 | 14' | Open | 97.44 | Elite | 13.70 | 0:04:23 | | Coreban 14 Dart |
| 3 | Pietro Muscas | 0:44:34 | 14' | Masters | 96.71 | Elite | 13.60 | 0:04:25 | PB | Naish 14 Glide |
| 4 | Ethan Koopmans | 0:44:44 | 14' | Junior | 96.35 | Elite | 13.55 | 0:04:26 | PB | Naish 14 Glide |
| 5 | Brad Adams | 0:45:53 | 14' | Open | 93.93 | A | 13.21 | 0:04:33 | PB | Fanatic Falcon 14' |
| 6 | Peter Petersen | 0:46:05 | 14' | Masters | 93.53 | A | 13.15 | 0:04:34 | PB | Naish 14 LE |
| 7 | Justin Bing | 0:47:11 | 14' | Open | 91.35 | A | 12.84 | 0:04:40 | PB | Coreban 14 Dart |
| 8 | Armien Wohlgemuth | 0:47:39 | 14' | Masters | 90.45 | A | 12.72 | 0:04:43 | PB | Naish 14 Glide |
| 9 | Sebastian Cattelan | 0:48:09 | 14' | Open | 89.51 | B | 12.59 | 0:04:46 | PB | Starboard 14' OO |
| 10 | John de Roy | 0:48:29 | 14' | Open | 88.90 | B | 12.50 | 0:04:48 | PB | Coreban 14 Dart |
| 11 | Andrew Cillie | 0:48:30 | 14' | Masters | 88.87 | B | 12.49 | 0:04:48 | PB | Starboard 14' Ace |
| 12 | Tom King | 0:48:32 | 14' | Open | 88.80 | B | 12.49 | 0:04:48 | PB | Fanatic Falcon 14' |
| 13 | Joshua Robertson | 0:48:44 | 14' | Junior | 88.44 | B | 12.44 | 0:04:50 | PB | Naish 14 LE |
| 14 | James Taylor | 0:48:45 | 14' | Masters | 88.41 | B | 12.43 | 0:04:50 | PB | Naish 14 Glide |
| 15 | Mitch Wagstaff | 0:49:02 | 14' | Open | 87.90 | B | 12.36 | 0:04:51 | PB | Starboard 14' OO |
| 16 | Nic Muhl | 0:49:18 | 14' | Open | 87.42 | B | 12.29 | 0:04:53 | | Naish 14 Glide AST |
| 17 | Nicky Carstens | 0:49:30 | 14' | Open | 87.07 | B | 12.24 | 0:04:54 | | Proto |
| 18 | Mathew vd Linden | 0:50:01 | 14' | Junior | 86.17 | B | 12.12 | 0:04:57 | | Naish 14 Glide AST |
| 19 | Nicky Venter | 0:50:40 | 12'6 | Open | 85.07 | B | 11.96 | 0:05:01 | PB | Starboard 12'6 |
| 20 | Mike Fiet | 0:50:46 | 14' | Open | 84.90 | C | 11.94 | 0:05:02 | PB | Coreban 14 Dart |
| 21 | Neal Esterhuysen | 0:51:21 | 14' | Open | 83.93 | C | 11.80 | 0:05:05 | PB | Coreban 14 Dart |
| 22 | Nico Pfitzenmaier | 0:51:36 | 14' | Open | 83.53 | C | 11.74 | 0:05:07 | | Naish 14 Glide AST |
| 23 | Gavin Dace | 0:52:25 | 14' | Open | 82.23 | C | 11.56 | 0:05:11 | | Naish 14 Glide AST |
| 24 | Brigette van Aswegen | 0:52:36 | 14' | Ladies | 81.94 | C | 11.52 | 0:05:12 | | Starboard 14' Ace Pro |
| 25 | Tyran Cooper | 0:52:40 | 14' | Open | 81.84 | C | 11.51 | 0:05:13 | | Coreban 14 Dart |
| 26 | Dave Maxwell | 0:52:45 | 14' | Masters | 81.71 | C | 11.49 | 0:05:13 | PB | Naish 14 Glide |
| 27 | Mathew Maxwell | 0:53:10 | 14' | Open | 81.07 | C | 11.40 | 0:05:16 | PB | Naish 14 Glide |
| 28 | Rob Munro | 0:53:27 | 14' | Masters | 80.64 | C | 11.34 | 0:05:18 | | Fanatic 14 OO |
| 29 | Antoine Albeau | 0:53:28 | 12'6 | Open | 80.61 | C | 11.33 | 0:05:18 | PB | RRD 12'6 |
| 30 | Gary van Rooyen | 0:53:33 | 14' | Open | 80.49 | C | 11.32 | 0:05:18 | | Coreban 14 Dart |
| 31 | Craig Ginsberg | 0:53:48 | 14' | Masters | 80.11 | C | 11.26 | 0:05:20 | PB | Naish 14 Glide |
| 32 | Barry Boswell | 0:54:05 | 14' | Open | 79.69 | D | 11.20 | 0:05:21 | PB | Starboard 14' OO |
| 33 | Tammy Robarts | 0:54:14 | 12'6 | Ladies | 79.47 | D | 11.17 | 0:05:22 | PB | Starboard WS |
| 34 | Wayne Robertson | 0:55:50 | 14' | Masters | 77.19 | D | 10.85 | 0:05:32 | PB | Coreban 14 Dart |
| 35 | Steve Tripney | 0:57:10 | 14' | Masters | 75.39 | D | 10.60 | 0:05:40 | PB | Coreban 14 Dart |
| 36 | Wade Keet | 0:57:20 | 14' | Open | 75.17 | D | 10.57 | 0:05:41 | PB | Starboard 14' OO |
| 37 | Monika Wohlgemuth | 0:58:31 | 14' | Ladies | 73.65 | D | 10.36 | 0:05:48 | | Naish 14 Glide |
| 38 | Rory Smith | 0:58:45 | 14' | Ladies | 73.36 | D | 10.31 | 0:05:49 | PB | Naish 14 Glide AST |
| 39 | Jonathan Donner | 1:00:05 | 14' | Open | 71.73 | D | 10.09 | 0:05:57 | PB | Naish 12' Glide |
| 40 | Mark Herd | 1:00:26 | 12'6 | Open | 71.32 | D | 10.03 | 0:05:59 | | Naish 11'6 nalu |
| 41 | Anna Knotten | 1:02:41 | 12'6 | Ladies | 68.76 | D | 9.67 | 0:06:12 | PB | 10'6 Proneboard |
| 42 | Shaun Havney | 1:04:50 | 14' | Open | 66.48 | D | 9.35 | 0:06:25 | PB | |
| 43 | Craig Girdlestone | 1:04:52 | 14' | Masters | 66.44 | D | 9.34 | 0:06:25 | PB | Naish 14 Glide AST |
| 44 | Paul Ruger | 1:05:16 | 14' | Masters | 66.04 | D | 9.28 | 0:06:28 | PB | Coreban 14 Dart |
| 45 | Kim Docherty | 1:07:30 | 14' | Masters | 63.85 | D | 8.98 | 0:06:41 | PB | Coreban 14 Dart |
| 46 | Ryan Butcher | 1:08:13 | 12'6 | Open | 63.18 | D | 8.88 | 0:06:45 | PB | 10'6 Proneboard |
| 47 | Iva Lopes | 1:08:49 | 14' | Ladies | 62.63 | D | 8.81 | 0:06:49 | | Naish 14 Glide AST |
| 48 | Michaela Gabriel | 1:09:28 | 14' | Ladies | 62.04 | D | 8.72 | 0:06:53 | | Naish 14 Glide AST |
| 49 | Grant Donald | 1:11:15 | 14' | Open | 60.49 | D | 8.51 | 0:07:03 | PB | Starboard 14' Ace Pro |
| 50 | Andrew Henwood | 1:14:19 | 14' | Open | 58.00 | D | 8.15 | 0:07:21 | PB | Coreban 14 Dart |
| 51 | Gina Seegers | 1:15:23 | 14' | Ladies | 57.17 | D | 8.04 | 0:07:28 | PB | Coreban 14 Dart |