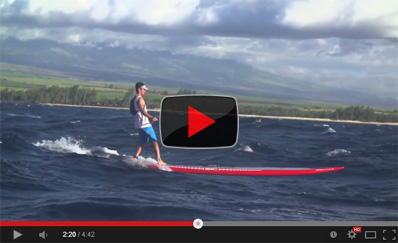 January 2, 2014
by Christopher Parker (@wheresbossman)
[WATCH] This Video Is A Little Bit Different But Totally Awesome
The latest clip from the SIC Maui crew has just dropped and this is definitely their best one yet. It's part downwind video and part short story about Mark Raaphorst's iconic Ding King factory on Maui (where SIC was born).
It's got super slow-mo action of Andrea Moller, Livio Menelau and Georges Cronsteadt. It's got endless scenic shots of Maui and its world famous Maliko downwind run. It's even got Mark Raaphorst sitting on some sort of bizarre tribal King's throne while he grins mischievously at the camera. In short: It's awesome.
Oh and it's also got a gnarly dubstep soundtrack just to give it that eerily futuristic feeling…
Crank it up to HD and enjoy.
In case you've been living under a rock, on Mars, with your eyes closed, then you would have seen the SIC clips in rotation the past couple of months. The brand is going all in when it comes to video, investing in some dramatic aerial shots, slow mo sequences and very crisp editing work. That's one of the main reasons they decided to sponsor our new SUP Showreel video feature.
Their investment has paid off with some very nice clips showing up lately. Check out their latest offering above and you'll see what I mean…
---
Did this clip get you in the mood for some more Stand Up Paddling vids? Head on over to the SIC SUP Showreel for 200  of the best clips in the world: