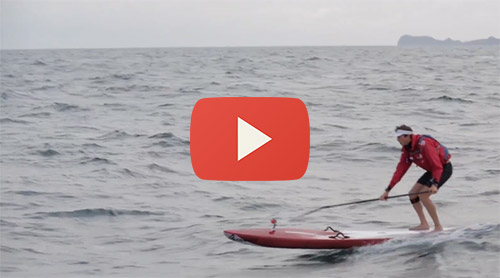 April 17, 2014
by Christopher Parker (@wheresbossman)
A New Zealander Just Paddled 88kms Non Stop. Because He Could.
In yet another episode of New Zealanders Who Make Us Feel Lazy, here's the story of a Kiwi doing an insanely long, solo paddle, just because they could. On Tuesday April 15th, Sam Thom paddled non-stop from Great Barrier Island back to Auckland city. That's 88 kilometres (54 miles).
Departing at 7am from the island, the 25-year-old paddled for almost 11 hours before reaching Auckland just before 6pm. Despite having an escort boat for support, Sam stayed on the water the entire time. Eleven hours straight.
As if that wasn't crazy enough, the guy was getting escorted by a pod of dolphins for part of the trip as well (check the vid at the 1 minute 34 second mark).
Fine effort.
There's clearly something in the water in New Zealand…