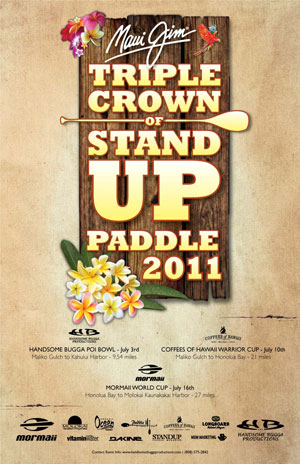 December 17, 2011
by Christopher Parker (@wheresbossman)
[RESULTS] 2011 Maui Jim Triple Crown of SUP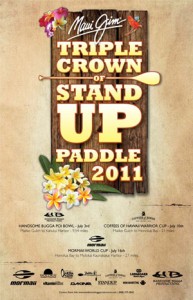 The first ever Triple Crown of Stand Up Paddling was held in Hawaii during July 2011.  The three races were:
The Poi Bowl race on July 3rd – 9.5 miles on the famous Maliko run.
The Coffees of Hawaii Warrior Cup on July 10th – 21 miles from Maliko Gulch to Honolua Bay.
The Mormaii World Cup on July 16th – 27 miles from Maui to Molokai (Honolua Bay to Kaunakakai Harbor)
Connor Baxter continued his stellar form to win all three events, though he was pushed the whole way (over three hours) in the World Cup by Dave Kalama.
The consistently strong Livio Menelau finished second overall, after picking up 2x thirds and a second. While Andrea Moller dominated the women's side, comfortably winning all three events.
Full results from all the three races (plus overall standings) are below…
*****
2011 Maui Jim Triple Crown of SUP
Overall Series Results
(click "M/F" to switch between Men's and Women's Results)
| M/F | # | Name | Time1 | Pts1 | Time2 | Pts2 | Time3 | Pts3 | Total |
| --- | --- | --- | --- | --- | --- | --- | --- | --- | --- |
| M | 1 | Connor BAXTER | 1:10:03 | 1000 | 3:25:53 | 10000 | 3:10:44 | 10000 | 21000 |
| M | 2 | Livio MENELAU | 1:11:22 | 860 | 3:27:26 | 8250 | 3:19:04 | 8250 | 17360 |
| M | 3 | Bart DE ZWART | 1:17:34 | 583 | 3:34:48 | 7750 | 3:35:55 | 6990 | 15323 |
| M | 4 | Kaeo ABBEY | 1:17:29 | 610 | 3:27:07 | 9000 | 3:51:18 | 5700 | 15310 |
| M | 5 | Mark RAAPHORST | 1:13:53 | 730 | 3:43:57 | 6330 | 3:27:09 | 7750 | 14810 |
| M | 6 | Andy DAVIES | 1:20:35 | 500 | 3:38:00 | 7320 | 3:49:25 | 6330 | 14150 |
| M | 7 | Armie ARMSTRONG | 1:23:38 | 488 | 4:37:53 | 5850 | 3:50:48 | 5850 | 12188 |
| M | 8 | Brennan ROSE | 1:26:59 | 475 | 4:20:54 | 6000 | 4:02:05 | 5550 | 12025 |
| M | 9 | Tyrrell ISSAK | 1:38:18 | 462 | 4:49:56 | 5700 | 4:21:25 | 5400 | 11562 |
| M | 10 | Dave KALAMA | | | | | 3:11:37 | 9000 | 9000 |
| M | 11 | Scott TRUDON | 1:14:54 | 670 | | | 3:35:42 | 7320 | 7990 |
| M | 12 | Sam PARKER | 1:19:56 | 528 | 3:39:45 | 6990 | | | 7518 |
| M | 13 | Jerry BESS | 1:18:15 | 555 | | | 3:38:25 | 6660 | 7215 |
| M | 14 | Robert TERIITEHOU | | | 3:41:23 | 6660 | | | 6660 |
| M | 15 | Tomoyasu M'YASHI | | | | | 3:49:30 | 6000 | 6000 |
| M | 16 | Maika NUKU | | | | | 4:21:59 | 5075 | 5075 |
| M | 17 | Dave KISSANE | 1:41:54 | 450 | | | | | 450 |
| F | 1 | Andrea MOLLER | 1:21:03 | 1000 | 4:16:38 | 10000 | 3:50:13 | 10000 | 21000 |
| F | 2 | Devin BLISH | 1:25:49 | 730 | 4:25:44 | 9000 | 4:12:31 | 8250 | 17980 |
| F | 3 | Alison FULLAGAR | 1:44:15 | 670 | 5:05:10 | 8250 | 4:38:19 | 7320 | 16240 |
| F | 4 | Jenny KALMBACH | | | | | 4:12:27 | 9000 | 9000 |
| F | 5 | Sky ROBBINS | | | | | 4:14:34 | 7750 | 7750 |
| F | 6 | Talia GANGINI | 1:24:03 | 860 | | | | | 860 |
Results, race #1: Poi Bowl
| M/F | # | Name | Time | Division | # | Points |
| --- | --- | --- | --- | --- | --- | --- |
| M | 1 | Connor BAXTER | 1:10:03 | Elite Men | 1 | 1000 |
| M | 2 | Livio MENELAU | 1:11:22 | Elite Men | 2 | 860 |
| M | 3 | Mark RAAPHORST | 1:13:53 | Elite Men | 3 | 730 |
| M | 4 | Jeremy RIGGS | 1:14:14 | 14' M30-39 | 1 | |
| M | 5 | Scott TRUDON | 1:14:54 | Elite Men | 4 | 670 |
| M | 6 | Kaeo ABBEY | 1:17:29 | Elite Men | 5 | 610 |
| M | 7 | Bart DE ZWART | 1:17:34 | Elite Men | 6 | 583 |
| M | 8 | Jerry BESS | 1:18:15 | Elite Men | 7 | 555 |
| M | 9 | Alan CAPIZ | 1:18:30 | Unlimited M40-49 | 1 | |
| M | 10 | Sam PARKER | 1:19:56 | Elite Men | 8 | 528 |
| M | 11 | Andy DAVIES | 1:20:35 | Elite Men | 9 | 500 |
| M | 12 | Michi SCHWEIGER | 1:20:52 | 14' M40-49 | 1 | |
| M | 13 | Masao FUKUYAMA | 1:20:56 | Unlimited M30-39 | 1 | |
| F | 14 | Andrea MOLLER | 1:21:03 | Elite Women | 1 | 1000 |
| M | 15 | Ralph SIFFORD | 1:21:10 | Unlimited M50-59 | 1 | |
| M | 16 | Andrew MCGURN | 1:22:30 | Unlimited M40-49 | 2 | |
| M | 17 | Jimmy FITT | 1:23:00 | Unlimited M30-39 | 2 | |
| M | 18 | Armie ARMSTRONG | 1:23:38 | Elite Men | 10 | 488 |
| M | 19 | Jack DYSON | 1:23:54 | Unlimited M60+ | 1 | |
| M | 20 | Bernd ROEDIGER | 1:24:00 | 14' M19U | 1 | |
| F | 21 | Talia GANGINI | 1:24:03 | Elite Women | 2 | 860 |
| M | 22 | Ron ST. JOHN | 1:24:30 | Unlimited M50-59 | 2 | |
| M | 23 | Travis BAPTISTE | 1:24:58 | 14' M19U | 2 | |
| M | 24 | Glenn TREMBLE | 1:25:37 | Unlimited M50-59 | 3 | |
| F | 25 | Devin BLISH | 1:25:49 | Elite Women | 3 | 730 |
| M | 26 | Justin GORDON | 1:26:30 | Unlimited M40-49 | 3 | |
| M | 27 | Jim GLINN | 1:26:44 | Unlimited M40-49 | 4 | |
| M | 28 | Brennan ROSE | 1:26:59 | Elite Men | 11 | 475 |
| M | 29 | Geoffrey GRANUM | 1:27:30 | Unlimited M40-49 | 5 | |
| F | 30 | Rebecca JAKEWAY | 1:27:44 | Unlimited F20-29 | 1 | |
| F | 31 | Theresa FELGATE | 1:30:27 | Unlimited F40-49 | 1 | |
| M | 32 | Charlie BUCKINGHAM | 1:30:43 | 14' M40-49 | 2 | |
| F | 33 | Kathy SHIPMAN | 1:31:06 | Unlimited F50-59 | 1 | |
| M | 34 | Kevin SHY | 1:31:55 | Unlimited M50-59 | 4 | |
| M | 35 | Peter MARTIN | 1:33:00 | Unlimited M60+ | 2 | |
| M | 36 | Noah YAP | 1:33:11 | 14' M19U | 3 | |
| M | 37 | Ed WHEELER | 1:33:19 | Unlimited M40-49 | 6 | |
| M | 38 | Bryan ALTHAM | 1:33:29 | Unlimited M40-49 | 7 | |
| F | 39 | Anne-Marie REICHMAN | 1:34:10 | Unlimited F30-39 | 1 | |
| M | 40 | Karl ROHLFING | 1:36:12 | Unlimited M50-59 | 5 | |
| M | 41 | Tyrrell IZAATZ | 1:38:18 | Elite Men | 12 | 462 |
| M | 42 | Antonio Carlos BONFA | 1:38:29 | 12'6" M30-39 | 1 | |
| M | 43 | Claudio CHAIN | 1:39:05 | 12'6" M40-49 | 1 | |
| F | 44 | Donna RAAPHORST | 1:39:30 | 14' F50-59 | 1 | |
| M | 45 | Cyrus MOTAMED | 1:40:10 | 14' M40-49 | 3 | |
| M | 46 | Dave KISSANE | 1:41:54 | Elite Men | 13 | 450 |
| M | 47 | Stuart PHINN | 1:42:01 | 14' M40-49 | 4 | |
| F | 48 | Tomoko OKAZAKI | 1:42:06 | 12'6" F40-49 | 1 | |
| M | 49 | Robert STONER | 1:43:37 | 14' M50-59 | 1 | |
| F | 50 | Alison FULLAGAR | 1:44:15 | Elite Women | 4 | 670 |
| M | 51 | Chris LEVINS | 1:45:22 | Unlimited M30-39 | 3 | |
| M | 52 | Anders THOREU | 1:47:14 | 14' M40-49 | 5 | |
| F | 53 | Sharon BALDWIN | 1:49:14 | 12'6" F40-49 | 2 | |
| F | 54 | Tiffany WARD | 1:49:25 | Unlimited F30-39 | 2 | |
| F | 55 | Barb UTECH | 1:50:50 | 14' F40-49 | 1 | |
| F | 56 | Abby STONER | 1:55:53 | 14' F19U | 1 | |
| F | 57 | Jill RIGGS | 1:57:34 | 12'6 F30-39 | 1 | |
| F | 58 | Victoria HAMILTON | 1:59:28 | Unlimited F50-59 | 2 | |
| F | 59 | Hillary HARDY | 2:18:32 | 14' F40-49 | 2 | |
Results, race #2: Warrior Cup
| M/F | # | Name | Time | Division | # | Points |
| --- | --- | --- | --- | --- | --- | --- |
| M | 1 | Connor BAXTER | 3:25:53 | Elite Men | 1 | 10000 |
| M | 2 | Kaeo ABBEY | 3:27:07 | Elite Men | 2 | 9000 |
| M | 3 | Livio MENELAU | 3:27:26 | Elite Men | 3 | 8250 |
| M | 4 | Bart DE ZWART | 3:34:48 | Elite Men | 4 | 7750 |
| M | 5 | Andy DAVIES | 3:38:00 | Elite Men | 5 | 7320 |
| M | 6 | Sam PARKER | 3:39:45 | Elite Men | 6 | 6990 |
| M | 7 | Robert TERIITEHOU | 3:41:23 | Elite Men | 7 | 6660 |
| M | 8 | Mark RAAPHORST | 3:43:57 | Elite Men | 8 | 6330 |
| M | 9 | Jeremy RIGGS | 3:47:54 | M30-39 | 1 | |
| M | 10 | Andrew MCGURN | 3:50:54 | M40-49 | 1 | |
| M | 11 | Zen SCHWEITZER | 4:03:47 | M Open | 1 | |
| M | 12 | Ron ST. JOHN | 4:05:23 | M50-59 | 1 | |
| M | 13 | Antonio BONFA/Claudio CHAIN | 4:12:35 | Team | 1 | |
| M | 14 | Masao FUKUYAMA | 4:14:25 | M30-39 | 2 | |
| F | 15 | Andrea MOLLER | 4:16:38 | Elite Women | 1 | 10000 |
| M | 16 | Jimmy FITT | 4:18:12 | M30-39 | 3 | |
| M | 17 | Brennan ROSE | 4:20:54 | Elite Men | 9 | 6000 |
| M | 18 | Ralph SIFFORD | 4:23:12 | M50-59 | 2 | |
| M | 19 | Jim GLINN | 4:23:16 | M40-49 | 2 | |
| M | 20 | Glenn TREMBLE | 4:25:11 | M50-59 | 3 | |
| F | 21 | Devin BLISH | 4:25:44 | Elite Women | 2 | 9000 |
| F | 22 | Robbins SKY | 4:26:49 | F Open | 1 | |
| M | 23 | Justin GORDON | 4:27:40 | M40-49 | 3 | |
| M | 24 | Armie ARMSTRONG | 4:37:53 | Elite Men | 10 | 5850 |
| F | 25 | Rebbeca JAKEWAY | 4:41:40 | F Open | 2 | |
| M | 26 | Peter MARTIN/Sharon COOK | 4:44:11 | Team | 2 | |
| M | 27 | Tyrrell IZAAK | 4:49:56 | Elite Men | 11 | 5700 |
| M | 28 | Ed WHEELER | 4:58:34 | M40-49 | 4 | |
| M | 29 | Jeremy WILMES | 4:59:56 | M30-39 | 4 | |
| F | 30 | Annabel ANDERSON | 5:01:55 | F Open | 3 | |
| F | 31 | Alison FULLAGAR | 5:05:10 | Elite Women | 3 | 8250 |
Results, race #3: Mormaii World Cup
| M/F | # | Name | Time | Division | # |
| --- | --- | --- | --- | --- | --- |
| M | 1 | Connor BAXTER | 3:10:44 | Elite Men | 1 |
| M | 2 | Dave KALAMA | 3:11:37 | Elite Men | 2 |
| M | 3 | Livio MENELAU | 3:19:04 | Elite Men | 3 |
| M | 4 | Mark RAAPHORST | 3:27:09 | Elite Men | 4 |
| M | 6 | Scott TRUDON | 3:35:42 | Elite Men | 5 |
| M | 7 | Bart DE ZWART | 3:35:55 | Elite Men | 6 |
| M | 8 | Jerry BESS | 3:38:25 | Elite Men | 7 |
| M | 11 | Andy DAVIES | 3:49:25 | Elite Men | 8 |
| M | 12 | Tomoyasu MURABAYASHI | 3:49:30 | Elite Men | 9 |
| M | 14 | Armie ARMSTRONG | 3:50:48 | Elite Men | 10 |
| M | 15 | Kaeo ABBEY | 3:51:18 | Elite Men | 11 |
| M | 19 | Brennan ROSE | 4:02:05 | Elite Men | 12 |
| M | 33 | Tyrrell ISSAK | 4:21:25 | Elite Men | 13 |
| M | 34 | Maika NUKU | 4:21:59 | Elite Men | 14 |
| F | 13 | Andrea MOLLER | 3:50:13 | Elite Women | 1 |
| F | 27 | Jenny KALMBACH | 4:12:27 | Elite Women | 2 |
| F | 28 | Devin BLISH | 4:12:31 | Elite Women | 3 |
| F | 30 | Sky ROBBINS | 4:14:34 | Elite Women | 4 |
| F | 41 | Allison FULLAGAR | 4:38:19 | Elite Women | 5 |
| F | 31 | Rebecca JAKEWAY | 4:16:40 | F Open | 1 |
| F | 36 | Tomoko OKAZAKI | 4:26:14 | F Open | 2 |
| F | 39 | Tomoe YASU | 4:28:55 | F Open | 3 |
| F | 42 | Meghan SOUKUP | 4:51:22 | F Open | 4 |
| F | 43 | Abby STONER | 5:06:49 | F Open | 5 |
| M | 9 | Zen SCHWEITZER | 3:47:00 | M19U | 1 |
| M | 26 | Chris CHANG | 4:12:26 | M20-29 | 1 |
| M | 5 | Jeremy RIGGS | 3:27:48 | M30-39 | 1 |
| M | 20 | Masao FUKUYAMA | 4:06:07 | M30-39 | 2 |
| M | 29 | Alex MATERS | 4:13:47 | M30-39 | 3 |
| M | 32 | Jimmy FITT | 4:19:06 | M30-39 | 4 |
| M | 35 | Sene GAETAN | 4:25:50 | M30-39 | 5 |
| M | 10 | Andrew MCGURN | 3:48:51 | M40-49 | 1 |
| M | 17 | Yves BOUWENS | 3:56:40 | M40-49 | 2 |
| M | 21 | Jim GLINN | 4:07:36 | M40-49 | 3 |
| M | 25 | Ed WHEELER | 4:11:40 | M40-49 | 4 |
| M | 37 | Justin GORDON | 4:28:02 | M40-49 | 5 |
| M | 16 | Ralph SIFFORD | 3:51:53 | M50-59 | 1 |
| M | 18 | Ron ST. JOHN | 4:02:03 | M50-59 | 2 |
| M | 23 | Jeff CHANG | 4:09:25 | M50-59 | 3 |
| M | 24 | Kamuela AEA | 4:10:21 | M50-59 | 4 |
| M | 44 | Robert STONER | 5:06:53 | M50-59 | 5 |
| M | 38 | Jack DYSON | 4:28:47 | M60+ | 1 |
| M | 22 | Antonio BONFA/Claudio CHAIN | 4:08:43 | Team | 1 |
| M | 40 | Teva FOURCADE/Vetea RIBET | 4:31:20 | Team | 2 |
2011 Triple Crown of Stand Up Paddling RESULTS provided by SUPracer.com