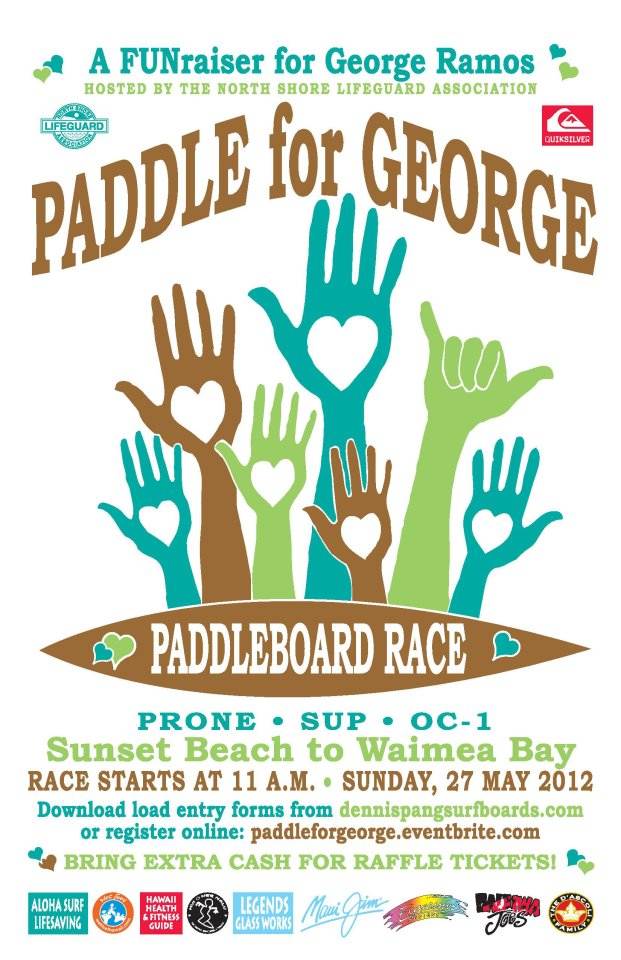 May 27, 2012
by Christopher Parker (@wheresbossman)
[RESULTS] Paddle For George
This weekend on Oahu's North Shore the paddleboarding community came together to help one of its own legends, George Ramos, in his fight against cancer.
The "Paddle For George" was a downwind race from the North Shore landmarks of Sunset Beach to Waimea Bay. Over 300 paddlers turned up, including almost 150 SUPs, helping raise thousands in support of Ramos. Conditions also turned it on to make it a great paddle.
Although it was a fun event designed purely to help a local legend, it's still cool to check out the results and see who was flying on the day.
Andrew Logreco (Unlimited) took line honours ahead of Robert Stehlik. Logreco is in fine form at the moment, fresh off a victory at the Waikiki Paddle Festival Long Distance race (stock class). Meanwhile Mahealani Hauanio was the fastest of the women.
Full results below…
*****
Paddle For George SUP Race Results
Click "M/F" to switch between Men's and Women's Results
Click "Class" or "Division" to sort results by Board Class or Age Division
(and to view the prone and OC-1 Results click here)

| # | M/F | M/F # | Name | Time | Class | # | Division | # |
| --- | --- | --- | --- | --- | --- | --- | --- | --- |
| 1 | M | 1 | Andrew LOGRECO | 0:28:24 | Unlim | 1 | Open | 1 |
| 2 | M | 2 | Robert STEHLIK | 0:29:00 | Unlim | 2 | Open | 2 |
| 3 | M | 3 | Greg PAVAO | 0:29:28 | Unlim | 3 | Open | 3 |
| 4 | M | 4 | Jeff CHANG | 0:31:10 | Unlim | 4 | Open | 4 |
| 5 | M | 5 | Ryan FOLEY | 0:31:42 | 12'6" | 1 | Men 18-34 | 1 |
| 6 | M | 6 | Jimmy FITT | 0:32:01 | Unlim | 5 | Open | 5 |
| 7 | M | 7 | Dale HOPE | 0:32:40 | 14' | 1 | Men 50+ | 1 |
| 8 | M | 8 | Hilton ALVES | 0:32:50 | 12'6" | 2 | Men 18-34 | 2 |
| 9 | M | 9 | Denis MASSEY | 0:32:53 | Unlim | 6 | Open | 6 |
| 10 | M | 10 | Brian AMANTIAD | 0:32:55 | 12'6" | 3 | Men 35-49 | 1 |
| 11 | M | 11 | Robert NOTTO | 0:32:59 | Unlim | 7 | Open | 7 |
| 12 | M | 12 | Ingo RADMACHER | 0:33:04 | 12'6" | 4 | Men 35-49 | 2 |
| 13 | M | 13 | John DEMARCO | 0:33:10 | Unlim | 8 | Open | 8 |
| 14 | M | 14 | Sam ALAMA | 0:33:24 | 14' | 2 | Men 50+ | 2 |
| 15 | M | 15 | Leleo KINIMAKA | 0:33:26 | 14' | 3 | Men 35-49 | 1 |
| 16 | M | 16 | Kevin SEID | 0:33:32 | 14' | 4 | Men 35-49 | 2 |
| 17 | M | 17 | Kione DAHLIN | 0:33:40 | 12'6" | 5 | Men 18-34 | 3 |
| 18 | M | 18 | Brad FELDMAN | 0:33:43 | 14' | 5 | Men 50+ | 3 |
| 19 | M | 19 | Kenneth MCOMBER | 0:34:02 | 14' | 6 | Men 18-34 | 1 |
| 20 | F | 1 | Mahealani HAUANIO | 0:34:25 | F14' | 1 | Female 18-34 | 1 |
| 21 | M | 20 | Ed WHEELER | 0:34:44 | 12'6" | 6 | Men 35-49 | 3 |
| 22 | M | 21 | Matt FRAGALE | 0:34:50 | 12'6" | 7 | Men 18-34 | 4 |
| 23 | M | 22 | Kelvin PASCUA | 0:35:13 | Unlim | 9 | Open | 9 |
| 24 | M | 23 | Jan TILLMANN | 0:35:24 | 14' | 7 | Men 35-49 | 3 |
| 25 | M | 24 | Walter MACHADO | 0:36:09 | 12'6" | 8 | Men 50+ | 1 |
| 26 | M | 25 | Cory LAR RIEU | 0:36:25 | 14' | 8 | Men 50+ | 4 |
| 27 | M | 26 | Robert PICAYO | 0:36:56 | 14' | 9 | Men 35-49 | 4 |
| 28 | M | 27 | Herbie TITCOMB | 0:36:57 | 14' | 10 | Men 50+ | 5 |
| 29 | M | 28 | Bodo VAN DER LEGEDEN | 0:37:05 | 14' | 11 | Men 50+ | 6 |
| 30 | M | 29 | Sam PAE | 0:37:12 | 12'6" | 9 | Men 35-49 | 4 |
| 31 | M | 30 | Cory MILLER | 0:37:14 | 12'6" | 10 | Men 18-34 | 5 |
| 32 | F | 2 | Sue SHEARD | 0:37:20 | F14' | 2 | Female 35+ | 1 |
| 33 | M | 31 | Mike NELMS | 0:37:22 | 14' | 12 | Men 35-49 | 5 |
| 34 | F | 3 | Monique MIRONESCO | 0:37:24 | F12'6" | 1 | Female 35+ | 1 |
| 35 | M | 32 | Kaleo BUCK | 0:37:50 | 14' | 13 | Men 35-49 | 6 |
| 36 | F | 4 | Sandra CLEGG | 0:38:18 | Unlim | 10 | Open | 10 |
| 37 | M | 33 | David CORDELL | 0:38:43 | 12'6" | 11 | Men 50+ | 2 |
| 38 | M | 34 | Dalbert Jr RIVERA | 0:39:01 | 12'6" | 12 | M 17 & Under | 1 |
| 39 | F | 5 | Laura BIRSE | 0:39:02 | F12'6" | 2 | Female 18-34 | 1 |
| 40 | M | 35 | Michael BURNS | 0:39:49 | 12'6" | 13 | Men 18-34 | 6 |
| 41 | M | 36 | Alex CACHUELA | 0:39:54 | Unlim | 11 | Open | 11 |
| 42 | M | 37 | Teene FROISETH | 0:40:01 | Unlim | 12 | Open | 12 |
| 43 | M | 38 | Hoku GORAINES | 0:40:10 | 12'6" | 14 | Men 35-49 | 5 |
| 44 | M | 39 | Matthew CATINO | 0:40:13 | 14' | 14 | Men 18-34 | 2 |
| 45 | M | 40 | Josh HAYEN | 0:40:48 | 12'6" | 15 | Men 35-49 | 6 |
| 46 | M | 41 | Alika TOM | 0:41:38 | Unlim | 13 | Open | 13 |
| 47 | M | 42 | Jim RUSSI | 0:41:59 | 12'6" | 16 | Men 50+ | 3 |
| 48 | M | 43 | Ryder SNOW | 0:42:00 | 12'6" | 17 | M 17 & Under | 2 |
| 49 | M | 44 | Kane PAI | 0:42:26 | 14' | 15 | Men 18-34 | 3 |
| 50 | F | 6 | Megan ABUBO | 0:42:31 | F12'6" | 3 | Female 18-34 | 2 |
| 51 | M | 45 | Ron CORDEIRO | 0:42:53 | 12'6" | 18 | Men 50+ | 4 |
| 52 | M | 46 | Kyle PAO | 0:42:55 | 12'6" | 19 | Men 18-34 | 7 |
| 53 | M | 47 | Jim BOOTH | 0:44:06 | 12'6" | 20 | Men 50+ | 5 |
| 54 | M | 48 | David KAMINSKAS | 0:44:32 | 12'6" | 21 | Men 35-49 | 7 |
| 55 | M | 49 | Liam WILMOTT | 0:44:39 | Unlim | 14 | Open | 14 |
| 56 | M | 50 | Ed DASCOLI | 0:44:42 | 14' | 16 | Men 50+ | 7 |
| 57 | M | 51 | Mike TAYLOR | 0:44:46 | 12'6" | 22 | Men 50+ | 6 |
| 58 | M | 52 | Michael KAUKAHI | 0:45:13 | 12'6" | 23 | Men 35-49 | 8 |
| 59 | M | 53 | Harald LEHNARDI | 0:45:28 | 12'6" | 24 | Men 35-49 | 9 |
| 60 | M | 54 | Darren KELA | 0:45:35 | 12'6" | 25 | Men 35-49 | 10 |
| 61 | M | 55 | Larry MONDIRIN | 0:45:56 | 12'6" | 26 | Men 50+ | 7 |
| 62 | M | 56 | Ethan CHANG | 0:46:31 | 12'6" | 27 | Men 18-34 | 8 |
| 63 | M | 57 | Jeff HARRIS | 0:46:48 | Unlim | 15 | Open | 15 |
| 64 | F | 7 | Peg TATUM | 0:46:49 | F12'6" | 4 | Female 35+ | 2 |
| 65 | M | 58 | Ryan BURKETT | 0:46:57 | 12'6" | 28 | Men 18-34 | 9 |
| 66 | M | 59 | Dana EDMUNDS | 0:47:05 | 12'6" | 29 | Men 50+ | 8 |
| 67 | F | 8 | Kelly PAO | 0:47:12 | F14' | 3 | Female 18-34 | 2 |
| 68 | F | 9 | Tanys CABRA | 0:47:34 | F12'6" | 5 | Female 35+ | 3 |
| 69 | M | 60 | Mark PAO | 0:47:45 | 12'6" | 30 | Men 50+ | 9 |
| 70 | M | 61 | David HAACK | 0:47:53 | 12'6" | 31 | Men 18-34 | 10 |
| 71 | M | 62 | Gary GOLDSTEIN | 0:48:09 | 14' | 17 | Men 35-49 | 7 |
| 72 | M | 63 | Stanley JACINTO | 0:48:19 | 12'6" | 32 | Men 35-49 | 11 |
| 73 | M | 64 | William GUALDARAMA | 0:48:31 | 12'6" | 33 | Men 18-34 | 11 |
| 74 | M | 65 | Mike STEVENS | 0:48:52 | 14' | 18 | Men 35-49 | 8 |
| 75 | M | 66 | Craig LONGOBARDI | 0:48:54 | 14' | 19 | Men 18-34 | 4 |
| 76 | F | 10 | Rochelle BALLARD | 0:49:37 | F12'6" | 6 | Female 35+ | 4 |
| 77 | M | 67 | Stephen Jr. DEWALD | 0:49:38 | 12'6" | 34 | M 17 & Under | 3 |
| 78 | F | 11 | Angela CORDEIRO | 0:49:58 | F12'6" | 7 | F 17 & Under | 1 |
| 79 | M | 68 | Scott GORDON | 0:50:03 | 12'6" | 35 | Men 18-34 | 12 |
| 80 | M | 69 | Charlie HERR | 0:50:11 | 12'6" | 36 | Men 35-49 | 12 |
| 81 | M | 70 | Jim STANFILL | 0:50:17 | 12'6" | 37 | Men 35-49 | 13 |
| 82 | M | 71 | Brad MARTIN | 0:50:31 | 12'6" | 38 | Men 18-34 | 13 |
| 83 | M | 72 | Tommy SIVLA | 0:50:46 | 14' | 20 | Men 50+ | 8 |
| 84 | M | 73 | Roger SEIBEL | 0:50:48 | 12'6" | 39 | Men 50+ | 10 |
| 85 | M | 74 | Gordon W. TAMARRA | 0:50:51 | Unlim | 16 | Open | 16 |
| 86 | F | 12 | Barbara BUMATAY | 0:51:01 | F12'6" | 8 | Female 18-34 | 3 |
| 87 | F | 13 | Jessica DOS SANTOS | 0:51:09 | F12'6" | 9 | Female 18-34 | 4 |
| 88 | M | 75 | Armando BERRIT | 0:51:15 | 12'6" | 40 | Men 35-49 | 14 |
| 89 | M | 76 | Edward NUGENT | 0:51:24 | 14' | 21 | Men 35-49 | 9 |
| 90 | M | 77 | Fred RICE | 0:51:27 | 12'6" | 41 | Men 50+ | 11 |
| 91 | M | 78 | Aukai FER | 0:51:32 | Unlim | 17 | Open | 17 |
| 92 | M | 79 | Pono WALKER | 0:51:44 | 12'6" | 42 | Men 18-34 | 14 |
| 93 | M | 80 | Adam WALKER | 0:52:44 | 12'6" | 43 | Men 18-34 | 15 |
| 94 | M | 81 | Ross MARTIN | 0:52:55 | 12'6" | 44 | Men 18-34 | 16 |
| 95 | M | 82 | Chad TERRELL | 0:53:08 | 12'6" | 45 | Men 35-49 | 15 |
| 96 | M | 83 | Lokahi BARBIETO | 0:53:13 | 12'6" | 46 | M 17 & Under | 4 |
| 97 | M | 84 | Aaron WOODS | 0:53:18 | 12'6" | 47 | Men 35-49 | 16 |
| 98 | F | 14 | Jill SEIBEL | 0:53:23 | F12'6" | 10 | Female 35+ | 5 |
| 99 | F | 15 | Dani TOMIYASU | 0:53:26 | F12'6" | 11 | Female 35+ | 6 |
| 100 | M | 85 | Patrick HIGASHI | 0:53:27 | 12'6" | 48 | Men 50+ | 12 |
| 101 | M | 86 | Kai FORNES | 0:53:28 | 14' | 22 | Men 35-49 | 10 |
| 102 | F | 16 | Brandee TAYLOR | 0:53:37 | F12'6" | 12 | Female 18-34 | 5 |
| 103 | F | 17 | Nicole PUAKEA | 0:53:43 | F12'6" | 13 | Female 35+ | 7 |
| 104 | F | 18 | Elizabeth VARY | 0:54:03 | F12'6" | 14 | Female 18-34 | 6 |
| 105 | F | 19 | Kelsey BARDEN | 0:54:18 | F12'6" | 15 | Female 18-34 | 7 |
| 106 | M | 87 | Sean SWEET | 0:54:21 | 14' | 23 | Men 50+ | 9 |
| 107 | M | 88 | Albert CHAMPAGNE | 0:54:27 | 12'6" | 49 | Men 35-49 | 17 |
| 108 | M | 89 | Ed FEELEY | 0:54:40 | 14' | 24 | Men 35-49 | 11 |
| 109 | M | 90 | Leroy PAO | 0:54:46 | 14' | 25 | Men 50+ | 10 |
| 110 | F | 20 | Sasha KAUHANE | 0:54:49 | F12'6" | 16 | F 17 & Under | 2 |
| 111 | F | 21 | Maria HERNANDEZ | 0:55:08 | F12'6" | 17 | Female 18-34 | 8 |
| 112 | F | 22 | Barbara TOWLE | 0:55:15 | F12'6" | 18 | Female 35+ | 8 |
| 113 | F | 23 | Pascale LAFONTAINE | 0:55:20 | F12'6" | 19 | Female 18-34 | 9 |
| 114 | F | 24 | Ruth GERRITY | 0:55:22 | F12'6" | 20 | Female 35+ | 9 |
| 115 | M | 91 | Kimo AKAKA | 0:56:44 | 14' | 26 | Men 50+ | 11 |
| 116 | M | 92 | Phil BOOTH | 0:56:57 | Unlim | 18 | Open | 18 |
| 117 | M | 93 | Michael GERMAIN | 0:58:08 | 12'6" | 50 | Men 50+ | 13 |
| 118 | M | 94 | Fred PAINE | 0:58:30 | 12'6" | 51 | Men 50+ | 14 |
| 119 | M | 95 | Jakob DEWALD | 0:58:34 | 12'6" | 52 | M 17 & Under | 5 |
| 120 | F | 25 | Rebecca KRYSZKISWICZ | 1:00:24 | F12'6" | 21 | Female 35+ | 10 |
| 121 | M | 96 | Jonathan MIELE | 1:01:35 | 12'6" | 53 | Men 18-34 | 17 |
| 123 | M | 97 | Travis ROSS | 1:01:45 | 12'6" | 54 | Men 18-34 | 18 |
| 122 | F | 26 | Mercedes JOHNSEN | 1:01:45 | F12'6" | 22 | Female 18-34 | 10 |
| 124 | F | 27 | Seachelle RIVERA | 1:02:22 | F12'6" | 23 | F 17 & Under | 3 |
| 125 | M | 98 | Dalbert RIVERA | 1:02:24 | 14' | 27 | Men 35-49 | 12 |
| 126 | F | 28 | Karin ROSENQUIST | 1:03:25 | F12'6" | 24 | Female 18-34 | 11 |
| 127 | F | 29 | Kupono AKAKA | 1:03:27 | F12'6" | 25 | Female 18-34 | 12 |
| 128 | F | 30 | Sylvia AKAKA | 1:03:31 | F12'6" | 26 | Female 35+ | 11 |
| 129 | F | 31 | Mahina AKAKA | 1:03:32 | F12'6" | 27 | F 17 & Under | 4 |
| 130 | F | 32 | Rosie WARFIELD | 1:04:31 | F14' | 4 | Female 18-34 | 3 |
| 131 | F | 33 | Linda KRESS | 1:07:37 | F12'6" | 28 | Female 35+ | 12 |
| 132 | F | 34 | Amber BUNCH | 1:08:26 | F14' | 5 | Female 18-34 | 4 |
| 133 | M | 99 | Cal SPATES | 1:12:14 | 12'6" | 55 | Men 35-49 | 18 |
| 134 | M | 100 | Johnny KRESS | 1:16:16 | 12'6" | 56 | M 17 & Under | 6 |
| 135 | M | 101 | James KRESS | 1:16:18 | 12'6" | 57 | Men 35-49 | 19 |
| 136 | F | 35 | Christine BUNCH | 1:18:24 | F14' | 6 | Female 35+ | 2 |
| 137 | M | 102 | Phillip Jr MEEK | 1:28:06 | 12'6" | 58 | Men 50+ | 15 |